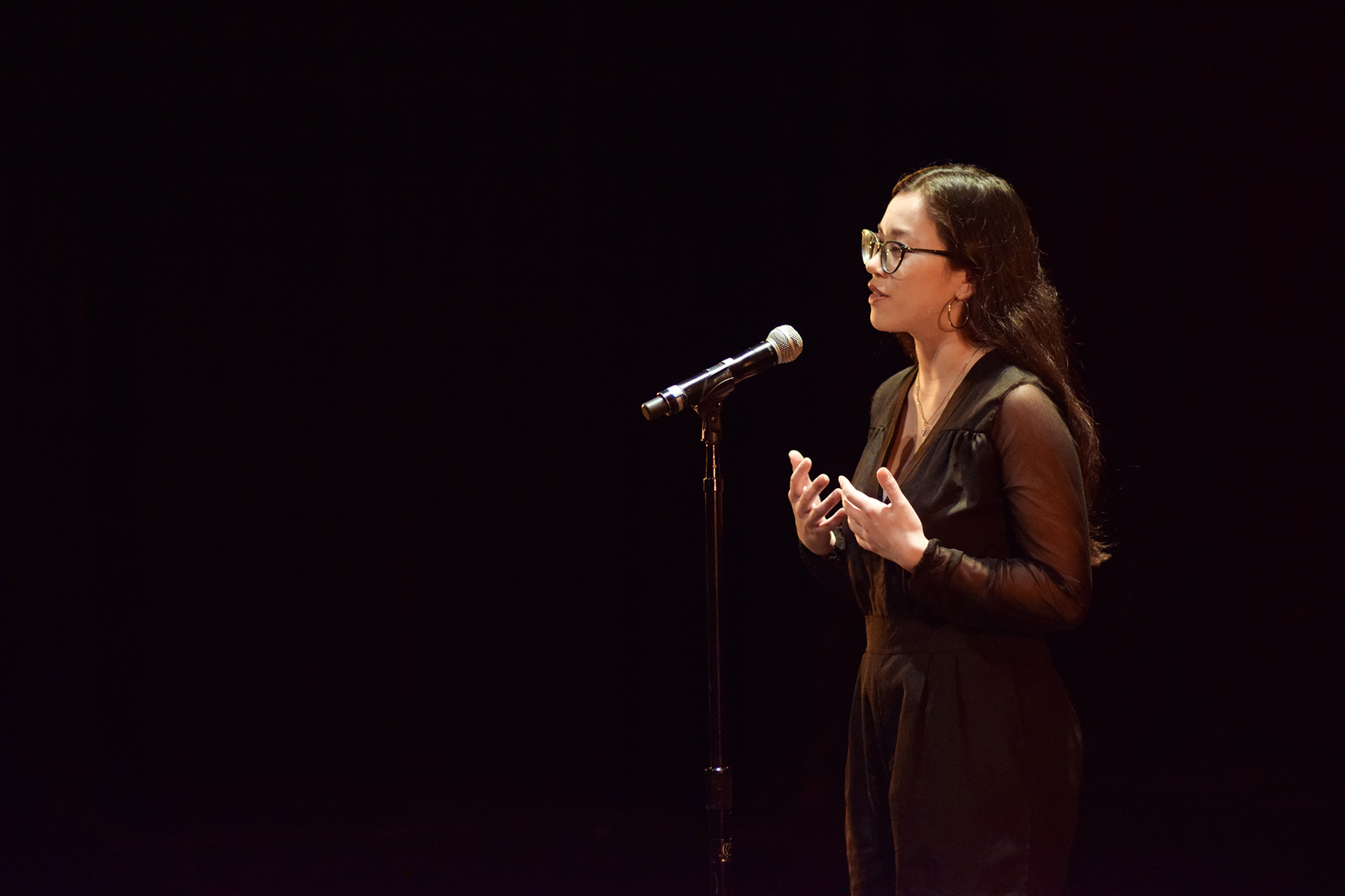 As Ollie Kim Dupuy approached the stage, heart pounding, the audience chanted encouragement: "Get free! Go in, poet!" Dupuy took a deep breath and began to share a story from memory. The most powerful lines, addressing tough issues like intergenerational trauma, were met with snaps and hums. When Dupuy stumbled, or forgot a line, the audience of poetry enthusiasts and fellow writers shouted, "You got this!" and Dupuy continued. 
This welcoming community helped Dupuy gradually progress from having terrible stage fright to reading poems for small groups of friends as a teen growing up in Orange County, California, to performing as a senior in high school for more than 100 people at The Get Lit Classic Slam in Los Angeles.
This summer Dupuy, now a sophomore in the College of Arts & Sciences, brought their passion and talent for performance poetry to an internship working on the Humanizing Stories project. Led by Ebony Elizabeth Thomas, associate professor in the Graduate School of Education (GSE), Humanizing Stories is designed to bring together diverse voices from the world of children's media, literature, and culture through digital advocacy, community projects, and classroom resources.
"What I love about poetry is that it's forced me to step outside of my comfort zone," says Dupuy, who is interested in studying urban education. "It was healing for me to find a platform where I could literally go on stage and shout about something I'd been silent about for a really long time."
For Dupuy, who often turned to books to find themself while growing up, the opportunity to work on the project with Thomas was their first choice. 
"I was looking for something that brought together my love of writing and my interest in education policy," says Dupuy. 
The internship was offered through Penn's Center for Undergraduate Research Fellowships (CURF), specifically the Penn Undergraduate Research Mentorship Program for freshman and sophomores, which comes with a $4,500 stipend. 
In the internship interview, Dupuy pitched Thomas and the team of graduate students working on the Humanizing Stories project on an original idea: a syllabus on performance poetry. 
For Thomas, who says she believes in "decentering power" and allowing students to work independently, Dupuy's eagerness to contribute their own passions to the project made them the obvious choice for the internship. "Ollie was an excellent fit," she says.
Dupuy co-directs Penn's Excelano Project Spoken Word Collective, which puts on performances, and supports the members' writing processes. The syllabus grew from their work teaching a poetry curriculum at Paul Robeson High School last year, as a part of a collaboration between the Collective, Penn's Netter Center for Community Partnerships, and the school in West Philadelphia. When the pandemic hit, Dupuy was inspired to make the lessons accessible through the initiative. 
Humanizing Stories consists of a number of projects, including a Twitter account that promotes children's literature by and about people of color, ongoing relationships with local community groups like the Paul Robeson House and Museum, and support for events like the African American Read-In. 
The Humanizing Stories team adapted rapidly to working remotely, connecting on Zoom calls, through emails, and via Twitter. Dupuy worked closely with Thomas and Christopher Rogers, a Ph.D. candidate at GSE and a member of the group of graduate students known as "The Superfriends" to build out the Initiative's website. 
"They contributed to not only database management, which is typical for an internship like this but also served as our social media manager across multiple platforms," says Thomas of Dupuy. 
Dupuy shared recommended reading through the @healingfictions Twitter account and conducted an Instagram-based survey of Black writers and editors about working in the world of children's literature. 
"It was our first experience utilizing Instagram for community feedback and would not have been a vibrant experience without them," says Rogers. "Ollie did, and hopefully will continue to, create resources for us, drawing on knowledge and love of spoken word poetry, that we can post to the blog of the eventual public website for Humanizing Stories." 
Rogers and Dupuy collaborated on an opinion piece for GSE's academic journal. Rogers also introduced Dupuy to local organizers, and the two now are working with Penn's restorative justice office to establish a new reading circle. 
In addition to the internship, this summer Dupuy ran an independent tutoring business and a college mentorship program, as well as developed virtual programming for Kelly Writers House and the Excelano Project.  
"I remember in high school sometimes people would tell me that slam wasn't 'real poetry' or 'real art,' that it was 'too angry' or 'too loud,'" says Dupuy. "A lot of that has to do with the fact that the field was founded by Black poets and other poets of color, especially LGBTQ+ poets of color." 
Overall, Dupuy says the experience of working with Thomas' team has opened up their view of academia and opportunities. Dupuy, who had once considered going to law school, is now looking at GSE's education policy program. 
"Dr. Thomas and Chris have really made academia safe for me: offering to help me, telling me it's okay to ask questions," says Dupuy. "I really appreciate that they've done that for me." 
And humanization, as a concept, has taken on new meaning. In describing humanization in their  poster presented at CURF's virtual Fall Research Expo, they quoted the poet Ross Gay: 
"The corrupt imagination might become visible. Inequalities might become visible. Violence might become visible. Terror might become visible. And the things we've been doing to each other, despite the fact that we don't want to do such things to each other, might become visible. If we don't, we will all remain phantoms—and, as it turns out, it's hard for phantoms to care for one another, let alone love one another."
"When I think about humanization," Dupuy says, "I think about the act of becoming human from phantom, becoming real, full life. And even though becoming full people, becoming humanized, might bring to light a lot of horrible stories about horrible truths, at the end of the day there's no way to have these conversations and talk about racism, sexism, transmisogyny, if we don't first become human."