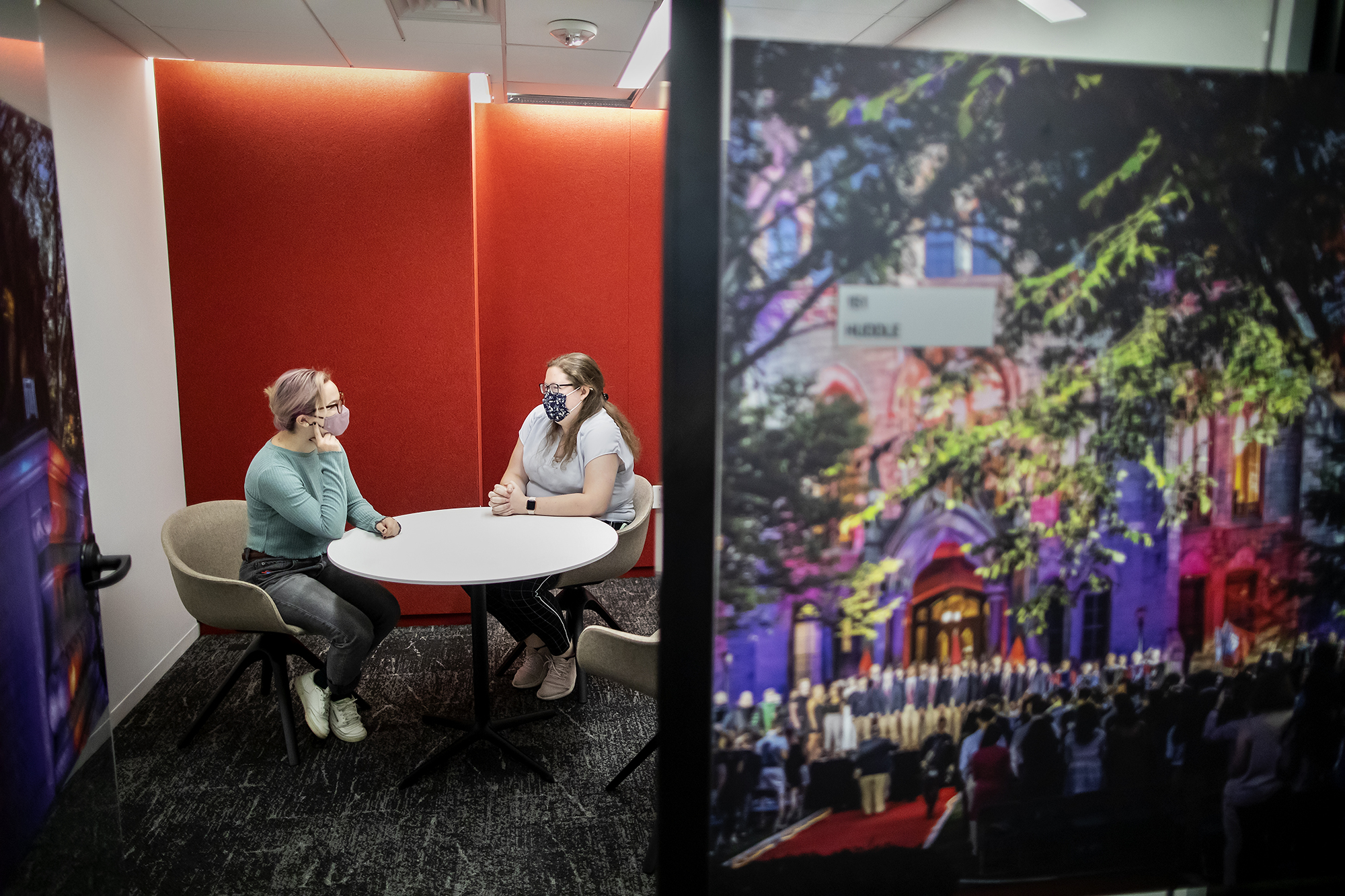 The door to the new Student Service Center opens up to a bright space. There are large windows, workstations with available computers, lots of outlets for device charging, and low-slung ottomans in blue and red. A blonde wood waterfall-style bar runs through the center, offering information on work study programs along with student publications. Students are scattered throughout the space, either being helped by counselors or quietly working on their own. While the Center serves students in three main areas, representing the bursar's office, the registrar, and Student Financial Aid, students are also encouraged to hang out, to make this space their own. They are welcomed not only by the staff but also with snacks, a seltzer dispenser, and seasonal decorations.
It's quite a dramatic change from the old Franklin Building. "The office felt like a doctor's office, right?" says Paul Richards. "You sit and you wait, you know a little bit anxiously." The physical transformation of this space is meant to evoke a different set of emotions, a sense of calm and confidence. Talking about finances, he says "shouldn't start from a place of anxiety."
For MaryFrances McCourt, opening the Student Service Center has been a long-time dream. "The newly renovated space is a welcoming, modern front door to Student Registration & Financial Services," says McCourt, vice president of finance and treasurer. "Our goal is to provide world-class service to our world-class students, faculty, and staff, and this space and our team of Service Center Counselors are really transforming the customer experience for our community."
"The space itself is designed to be contemporary but comfortable," says Jeffrey Greenberg, senior director of the Student Service Center. Some of the feedback his team received was that students were bouncing around from building to building, unsure of where to go or what forms to fill out and wanted one-stop shopping. "One of the things that a student might visit for is a scholarship check," he says. "And they might wander in holding it and looking around. It's nice for them to be able to hand it to a person, as opposed to dropping it in the mailbox, and then you're not entirely sure what happens to it. Those sorts of touches can be a personalized experience that may have been missing before."
Originally slated for opening in the fall of 2020, the Center began welcoming students back in September 2021, Monday through Friday, 9 a.m. to 5 p.m. Walk-ins are encouraged. Once the concierge in the building entrance checks that all visitors are adhering to Penn's COVID guidelines, students can check in at one of two kiosks with their Penn cards. They're placed in a queue, and when counselors becomes available they greet the students by name. The counselor quickly assesses whether or not they can answer the student's question or if they need to call in a subject matter expert from another office. In addition to the desks, there are also three "huddle rooms" with partial privacy banners. The huddle rooms are used temporarily and repeatedly, for multiple purposes. "You don't have to book it," Richards says. "Is the door open? Great, go."
There is also a veterans' lounge, a dedicated office to serve the veteran and military-affiliated population at Penn for the almost 300 students taking advantage of VA benefits, says Stephanie Brocklehurst, the Center's associate director. This includes students who are veterans themselves as well as undergraduates whose parents have transferred their benefits.
"The theory behind this space is a one-stop shop with a series of generalists who are able to solve the majority of student issues, concerns, questions in that first encounter," Richards says. "And if not, to quickly get them to the expert who can." The idea is to limit the number of touches and enhance the service experience so that students are leaving with their issue actually resolved, he says.
"After the past year and a half of doing everything virtually," Greenberg says, "it's a good feeling to be able to look somebody in the eye and get a personal experience with someone, a real person with a name, with whom you can follow up and know that you've met them before."
One of these real people is Wynter Adams, one of five peer counselors employed as student workers by the Financial Wellness @ Penn program, which uses the space for educational programming. On the topic of personal finance, "a lot of people come in to talk about one thing and need help with another," Adams says. Investing is a trending topic, so students will come in for that, but in the short term they might need help with budgeting, she says, referencing a recent interaction. "We ended up just having a conversation about how do you do price comparisons on groceries."
Originally from Statesville, North Carolina, Adams is earning her master's degree in environmental studies, concentrating in resource studies. It's a "great experience being able to connect with people and help them," says Adams. "My mom is an accountant, so she always made finances less intimidating for me." Her college friends didn't have the same relationship to money, Adams says. "They were really, really intimidated and just put it off until they had to do something about it. That really connected me to the mission of financial wellness."
Psychology major Mennal Zafar is a financial wellness program associate who has used the service center herself. The junior from Brooklyn, New York, wanted to drop a class but was unsure if she would still be considered a full-time student with fewer credits. The counselor "sat down, gave me a lot of assurance," Zafar says. "For anyone who is struggling with navigating the financial aid process, it's definitely worth it."
In addition to financial wellness peer counselors, the center employs 10 full-time staff members, in addition to the 11th counselor dedicated to veteran's affairs. The counselors spend part of their time in the back office answering email and phone queries and the other part meeting students. "It's been a very rewarding experience," service center counselor Susan Mclaughlin says. "When someone comes in, right away you have a whole different rapport with somebody. You're not just having that verbal contact, you're having non-verbal contact. You can get a better feel for what their concern is."
"My favorite thing is sitting at the front counter and seeing students when they come in," Mclaughlin says. She loves "that satisfaction of helping them on the spot." The center makes her feel like she's part of something bigger. "We're here to service the students and to do that in person is really nice," she says.