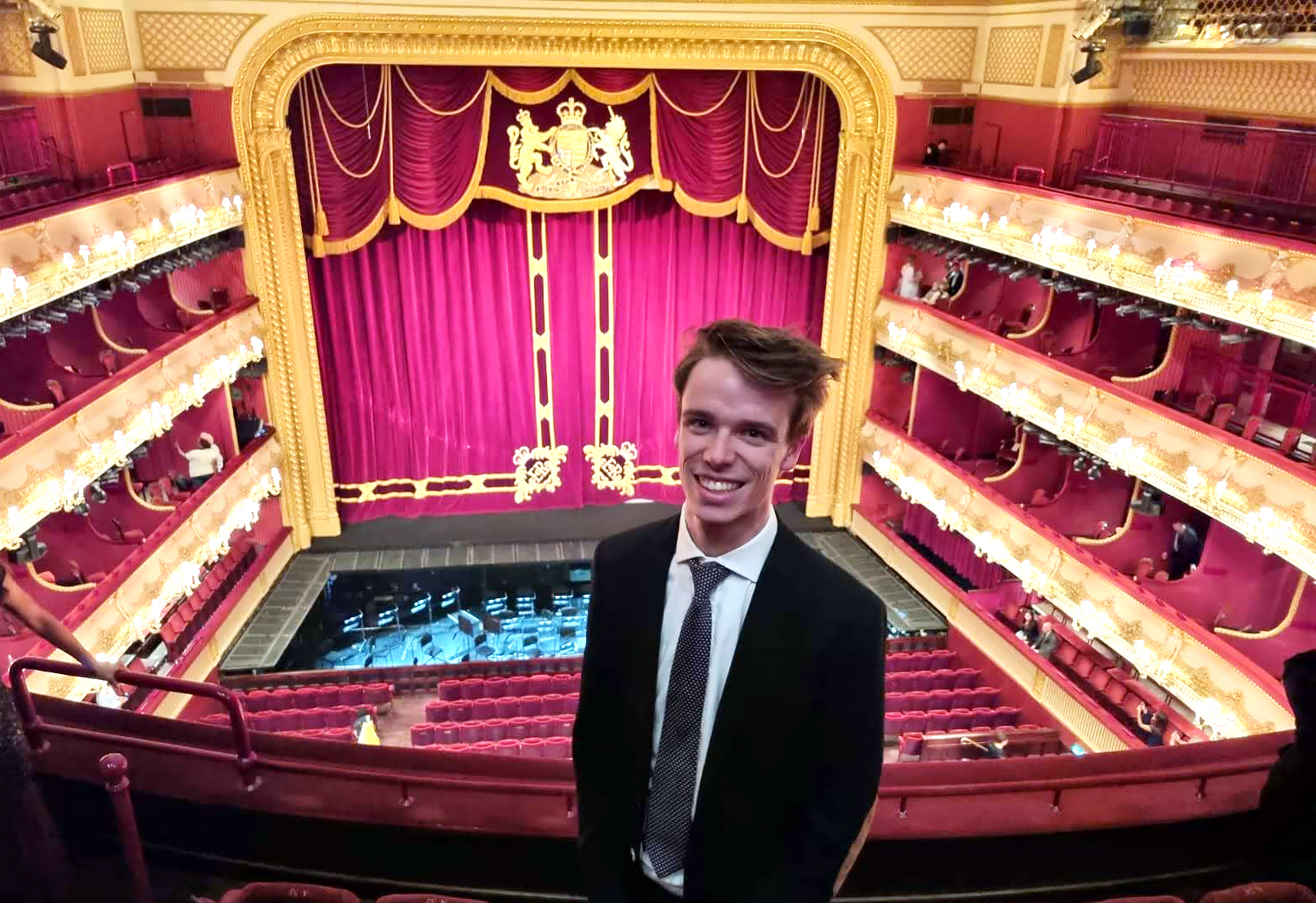 When he was very young, Thomas Sharrock's mother would balance him on her knee while playing the cello. That's where a passion for music started for the Penn rising second-year.
"I've always been surrounded by music. It's always been a part of my life," says Sharrock, who is from Winchester, England. "I feel very connected with my emotions when I listen to music, and that's always been extremely important to me."
Sharrock is a cellist, and a pianist, and he sang as a chorister at Winchester College. So, it was not a surprise when his grandparents planned to take him to see his first opera, "Madame Butterfly," for his 16th birthday. But the pandemic intervened, and they instead went last year for his 18th birthday.
"I think that opera is one of those things that is not for everyone, but for me, sitting down in a theater and hearing the first notes from the orchestra pit, there was genuinely an immediate connection," he says.
And the connection continues. He attended seven operas at the Royal Opera House in London this summer through a Penn-funded research project of his own to explore audience perceptions about opera.
"Opera is an art form that I love so deeply, but I also care very much that everyone has fair access to the arts, without undemocratically dictating which arts should receive government funding" says Sharrock, who plans to double major in international relations and French and Francophone, Italian, and German studies, with a minor in music.
Music in urban spaces
Sharrock took a first-year seminar, Music in Urban Spaces, which is cross-listed between the Music Department and the Urban Studies Department in the College of Arts and Sciences, taught by Molly McGlone, associate dean and director of academic affairs. It is a yearlong course, meeting on Friday afternoons, and includes a requirement to volunteer three hours a week in music classrooms in West Philadelphia.
"Thomas is just so energetic, thoughtful, and engaging," McGlone says. "I knew he would be a great fit, and it turned out to be so."
Sharrock volunteered at the Henry C. Lea School, a K-8 Philadelphia public school, assisting in the after-school music program by accompanying the choir on the piano.
"He took a very active role in the classroom," McGlone says, noting that he would often suggest song selections. "The music teacher really loved having Thomas there."
The Music in Urban Spaces course explores the sociology of music, McGlone says, with readings that connect "social class and musical experiences and the ways they intertwine and surprise us, and sometimes reinforce our stereotypes, and sometimes break apart from them." Sharrock's final project applied these questions to opera. "It's really clear that it's very personal to him," McGlone says.
Sharrock wanted to continue his research during the summer, and asked McGlone if he could work with her. She supported him following up with his own research project. "I wanted to do something that was worthwhile, and something that was important to me. This is very much a passion project," Sharrock says.
Sharrock applied for funding through Penn's Center for Undergraduate Research and Fellowships. He is a Benjamin Franklin Scholar, which made him eligible for summer research funding. He also received a Paul and Kathleen Barthmaier Award. Together the Penn grants totaled $3,000, making it possible for him to devote his summer to the research while living at home.
The project explores how the audience's demographic variables affect the way that people perceive opera as an art form, Sharrock says. It originated from his question, Is opera elitist?
"People generally tend to have very polarizing views on this," he says. "It's either, yes, opera is definitely elitist or, no, opera isn't elitist in any way. I think it is a really, really difficult question, with a great many more variables than first meets the eye."
Survey at seven operas
While McGlone agreed to be the advisor on the project, she suggested he consult with Mark Stern of the School of Social Policy & Practice, whose research focuses on the arts and culture, social well-being, and urban policy. Sharrock also had to apply for approvals to conduct international research, which required support from a professor in the UK. He worked with Geoffrey Crossick, Distinguished Professor of the Humanities at the School of Advanced Study at the University of London.
Crossick helped to design an eight-question survey to discern how patrons perceive opera. The study is specific to opera in the United Kingdom, where some opera is partially state-funded, and there have historically been strong ties between opera and the government in power and the monarchy, Sharrock says.
Sharrock conducted the survey at each of seven operas at the Royal Opera House in London, one of the city's two main opera houses, approaching patrons two hours before and during the intermission. The performances, between May 27 and July 20, included: "Aida," "Il Trovatore," and "La Traviata" by Giuseppe Verdi; "Le Nozze di Figaro" by Wolfgang Amadeus Mozart; "Werther" by Jules Massenet and "Wozzeck" by Alban Berg.
"I literally went around audience members, handing out paper copies of the survey or getting them to scan a QR code and fill it out online," Sharrock says. "I was going around and asking people 'I'm doing a study about public perception of opera, will you do this survey?'"
Surprisingly, few people refused to participate, and he received 420 survey responses in total, or an average of 60 each performance. "The overwhelming majority of people that I approached were more than happy to participate, and to share their thoughts on the questions," Sharrock says. "I think partly because I am a student, and also because this is a topic a lot of operagoers are very engaged in."
Even with his success, he found the task somewhat daunting. "You have to build up a lot of courage inside to just walk up to people and interrupt their conversation to ask if they might participate," he says.
One of the more fulfilling aspects about the project, he says, has been "surveying audience members and then walking past them five minutes later, and hearing them having an in-depth conversation about the questions that it raises. I've really enjoyed listening to that and seeing that people really care about this."
And he also was able to attend seven operas. "It was like a dream to be able to see that much opera," he says, "at the Royal Opera House specifically, one of the leading opera companies, with renowned singers from all over the world."
He went twice to "La Traviata," his mother's favorite, because he took his parents and younger sister. "The four of us had never been to an opera together before, and so that was really special," he says.
Because he loves it
Continuing with his own musical pursuits, Sharrock plays the cello in the Penn Symphony Orchestra, and he sings in the choir, a second bass, at Christ Church in Old City Philadelphia.
He has accepted a paid position to work with the Lea School choir, as an accompanist and assistant, in the coming academic year. "I love those kids, and the music teacher. I'm really excited about that," he says.
He also has a job with Financial Wellness at Penn as a peer educator and communications associate. And he's on the board of the Penn German Society, and is involved with the Assembly of International Students.
But before returning to campus, Sharrock plans to work with a statistician to analyze the survey data and write a report by September. Eventually he hopes to write an article to submit to an academic music journal. He also plans to share the results with the Royal Opera House.
"I think there is definitely enough data to make some solid conclusions," he says. "We want to understand whether these places are evolving socially and culturally, and what people's perception of this art form is today, in one of the largest state operas in the world."