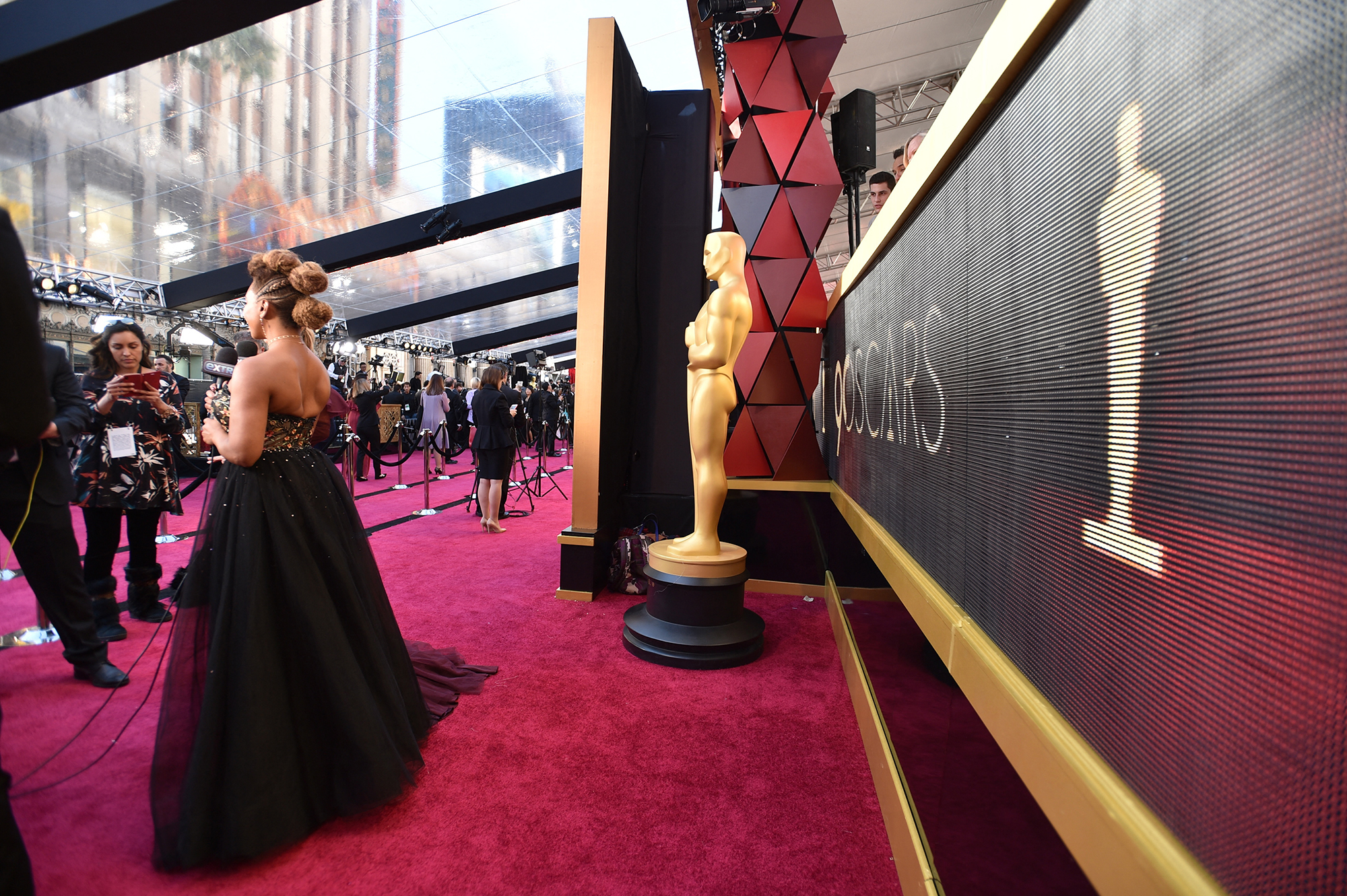 Ahead of the 94th Academy Awards, which will return to the Dolby Theatre in Los Angeles on March 27, Penn Cinema and Media Studies and Theatre Arts faculty contributed their thoughts on this year's cohort of Oscar nominees, according to their areas of expertise.
Below, with only mild spoilers, find predictions about—and reflections on—this year's Oscars season. See the full list of 2022 Academy Award nominees at Oscars.org.
Marcia Ferguson, a senior lecturer of theatre arts, on Acting
This year's Oscar nominations for Actor in a Leading Role present a cornucopia of styles and approaches. From Javier Bardem's controlled, many-layered performance as Desi Arnaz (the man, the philandering-yet-loving husband, the musician, the star) in "Being the Ricardos," to the rather one-note, constant borderline-hysteria of Andrew Garfield's turn as Jonathan Larson in "Tick, Tick, Boom!" there is something for everyone. For my money, though, Benedict Cumberbatch's terrifying, divinely needy performance in "The Power of the Dog" has too much depth and too many layers to be denied. He has my nod for Best Actor this year. If I was a gambling gal, however, I'd probably put my money on Denzel Washington to win—there is too much poetry in the fact that, with his nomination for "The Tragedy of Macbeth," he broke his own record of the most-nominated Black actor in Oscar history (10).
For Actress in a Leading Role, there is delightfully strong competition. Despite the power of performances that demonstrate a rare talent for morphing into real-life characters, such as Nicole Kidman's uncanny Lucille Ball ("Being the Ricardos") and Kristen Stewart's convincing Lady Diana ("Spencer"), I would like to see the mastery behind Olivia Colman's mysterious and evocative performance of a strangely tormented fictional character in "The Lost Daughter" acknowledged as the winner. For the rest, J.K. Simmons' take on the famously grumpy, whiskey-guzzling William Frawley in "Being the Ricardos" and Kirsten Dunst's oddly tremulous, powerful performance in "The Power of the Dog" should win for Actor/Actress in a Supporting Role, respectively.
Who should win? For Best Leading Roles: Benedict Cumberbatch for "The Power of the Dog," Olivia Colman for The Lost Daughter; for Best Supporting Roles: J.K. Simmons for "Being the Ricardos," Kirsten Dunst for "The Power of the Dog."
Who will win? For Best Leading Roles: Denzel Washington for "The Tragedy of Macbeth," Kristen Stewart for "Spencer"; for Best Supporting Roles; Kodi Smit-McPhee, "The Power of the Dog," Ariana DeBose, "West Side Story."
Julia Alekseyeva, assistant professor of English and cinema and media studies, on Best Documentary Feature
This year's documentary nominees are quite unusual, especially due to the presence of an animated documentary: Jonas Poher Rasmussen's Danish film "Flee," which collaborates with a queer Afghan refugee residing in Denmark, Amin Mawabi, and depicts his family's attempt to find safety within extraordinary circumstances. "Flee" is not the first animated documentary to have been nominated for Oscars—2008's "Waltz With Bashir" (2008) is especially notable, and took the prize for Best Foreign Language Film—no film has ever been nominated for Best Animated Feature, Best International Film, and Best Documentary Film. In both form and content, "Flee" is groundbreaking. That said, Questlove's "Summer of Soul (…Or, When the Revolution Could Not Be Televised)" is itself an incredible work of documentary, revisiting a deeply important time in Black history—the 1969 Harlem Cultural Festival—that was practically erased from music and cultural archives. In any other year, "Summer of Soul" would—and should!—take the lead here, as its canny interviews with musicians, celebrities, and political luminaries are both beautifully edited and shed crucial light on a missing era of history. But, given that (in my opinion) "Flee" might not win in its other two important categories (several Disney/Pixar picks in the animated realm and the (perhaps over-) praised "Drive My Car" giving it a run for its money in the international feature category), this very well could be the year of "Flee," potentially making it the first animated film to win this category.
Meta Mazaj, a senior lecturer of cinema and media studies, on Best International Feature
Many nominees in this category are ambitious, unique, and deserving, but a clear standout—and one whose win seems locked—is Ryusuke Hamaguchi's "Drive My Car." An innovative adaptation of Haruki Murakami's short stories, this stunning, epic tale of grief, loss, and art truly shook up the Oscars race well beyond the international film category. Unlike Bong Joon-ho's "Parasite," which took the Oscars by storm in 2019, this film is not an easy and palatable sell, to say the least. Three hours long, opening with a 30-minute extended prologue, the film has a quiet, meditative and complex approach to the narrative structure and cinematic time, and is built on a layered relationship between art and life. Rather inaccessible to mainstream audiences, without any large studio financing its awards campaign, this Japanese masterpiece managed to find its way into Best Picture, Best Director, and Best Adapted Screenplay categories. And, of course, it will almost certainly win Best International Feature. After a relatively quiet debut at Cannes last summer, where it won a screenplay prize, the film went on to sweep numerous critics' prizes, and became the buzziest arthouse title of 2021.
Following the stunning success of "Parasite," the recognition of "Drive My Car" is another important sign that the Academy is more global than ever before, and that world cinema is no longer relegated to the category of international film. Moreover, in a film landscape dominated by streaming, the film speaks to the continued importance of theatrical distribution. Initially perceived as having ambiguous marketplace potential, and not suitable for VOD or the streaming world that tends to look for easier sells, "Drive My Car" became a slow-burn theatrical phenomenon, finding sustained and dedicated audiences in theaters across the world.
Linda Simensky, a visiting professor of cinema and media studies, on Animation
Some years, it's clear exactly which animated film is going to win the Oscar. It's often a standout Disney or a Pixar film and an obvious choice. Other times, like this year, there's not a clear winner. Historically, many of the voters are not terribly interested in which film will win what's considered the "kids' category." The Hollywood Reporter will sometimes have an Oscars voter anonymously discuss their ballot, and for the animation category, the reason is often along the lines of "my kids like this film."
In a year where there were several noteworthy films, it's easy to assume that "Encanto," probably the most popular of the animated features, will take home the trophy. "The Mitchells vs. the Machines" was a big hit with ASIFA-Hollywood's Annies-voting crowd, and the animation insiders who comprise this group awarded the film the Annie for Best Feature. "Flee," which won an Annie for Best Indie Feature, could have a chance, but it's more likely to win for its other categories. As for the animated shorts, the film "The Beast," a terrifying Chilean film about the monstrous Chilean war criminal Ingrid Olderock, won the Annie for best short. But "Robin Robin," from Aardman Animations and Netflix, has the best chance of winning, due to its cute animation and accessible story about a young robin trying to fit in with the family of mice who raised her.
Peter Decherney, a professor of English and cinema and media studies, on Best Cinematography
The theme: What's old is new again
The film industry's greatest competition has always been the living room sofa. Before 1908, the American middle class preferred novels to mixing with working class audiences in nickelodeons. In the 1950s, Hollywood made films wider and more colorful to lure viewers away from the small screens on the other side of their coffee tables. The COVID pandemic has further glued global audiences to their sofas, both out of public health fears and because movies started appearing on TVs the same day that they opened in multiplexes.
If there is a theme to the cinematography of this year's Oscar nominees, it is an attempt to compete with COVID inertia by returning the grandeur and nostalgia of the pre-digital cinematic experience. Fully seven films nominated across categories this year were shot on analog film, including "Licorice Pizza," "The French Dispatch," 'Bergman Island," and "No Time to Die." "Spencer"'s Director of Photography Claire Mathon used a mixture of 35mm and 16mm film to achieve a palpable and psychological division between Princess Diana's different mental states.
Many other films used vintage lenses to combat the sterility of the digital image, and "Coda" was shot using very high ISOs to capture the grainy look of analog film. "C'mon C'mon," "Belfast," and "The Tragedy of Macbeth" all pulled out the oldest trick in the cinematic nostalgia toolbox, shooting (beautifully I would add) in black and white. Other films recreated the experience of old Hollywood grandeur with anamorphic and spherical lenses that produced the widescreen impact of the 1950s. The nostalgic looks, of course, often appropriately accompanied films' subjects like "West Side Story," "Being the Ricardos," "tick, tick… BOOM!," and "The French Dispatch."
Surprisingly, what's missing from this year's nominees are visual effects. Yes, we had a year full of superhero movies. But you wouldn't know it from the Oscar nominees. Oscar season is a time for Hollywood to celebrate itself and highlight the films the industry wants the world to think of when they think Hollywood. Tellingly, even this year's fantasy blockbuster, "Dune," while filled with visual effects, is shot largely on location—not against green screens—using vintage lenses. And "Dune" achieves much of its distinctive look using a digital process designed to mimic the bleaching effect of analog push processing. In interviews, "Dune" Director of Photography Greg Fraser has said that he tested shooting on analog film before finally deciding on these other film-like adjustments to the digital image. He didn't want to be left out of this year's vogue.
Kathy DeMarco Van Cleve, a senior lecturer of cinema and media studies, on Screenplays
Screenplays are both a "finished" work of writing and a launching pad for a different finished work: a film. This year, the nominees in both Original and Adapted Screenplays reflect the film business's current and traditional mandates: reliance on existing intellectual property, passionate intensity about contemporary ills, rags-to-riches stories predicated on character traits, examinations of past events/cultures from a new perspective, "quirky" and/or intentionally provocative relationships and, in my opinion, the most successful, a perspective-changing look at deafness that avails itself of both the visual and the aural possibilities in cinema.
I'm talking, of course, about "CODA," written by the director of the film, Sian Heder. From a screenwriting perspective, CODA is a coming-of-age story about the high school senior who, unlike the rest of her family, can hear and, not coincidentally, can sing. This could have been just a crowd-pleasing, minorly memorable movie. But then: the third act. (The last third of a movie.) "CODA" uses all the levers of screenwriting to construct a climax that makes you feel as if you've been surfing a wave the whole time, and just didn't know it—and that the wave was going to crest at exactly the right place, leaving you exhilarated and safe, in a different place, with a different mindset. The duet at school–BOOM! The moment between the deaf father and the hearing daughter, at night, searching for understanding. And the finale: the audition at Berklee School of Music. If you don't know what I mean, go see the film and if you do, thank Sian Heder, whom I sincerely hope wins the Best Adapted Screenplay Award, and whose future work I will eagerly watch, and read, and teach.