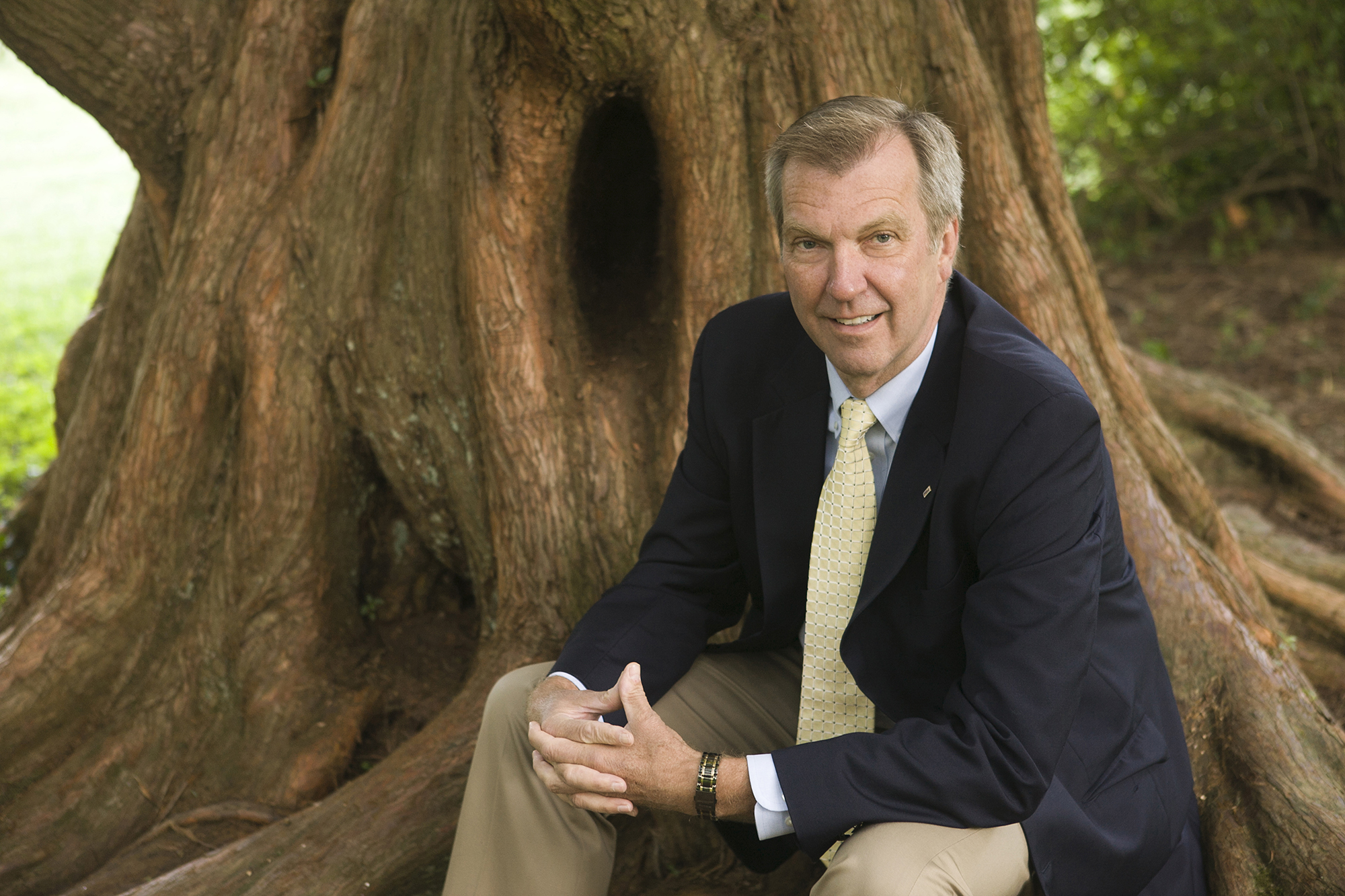 After 43 years, the Morris Arboretum's executive director, Paul Meyer, has uprooted into retirement. 
Meyer, whose last day was March 31, oversaw major additions to the Arboretum, such as the beloved quarter-mile Garden Railway, the Arboretum's Internship Program, and newly introduced plant species, all of which led Arboretum attendance numbers to balloon since he took over as director in 1991.
In some of his last moments as director, Meyer reflected with Penn Today on his time as a horticulturist and his legacy at the Arboretum as he thinks about what's next.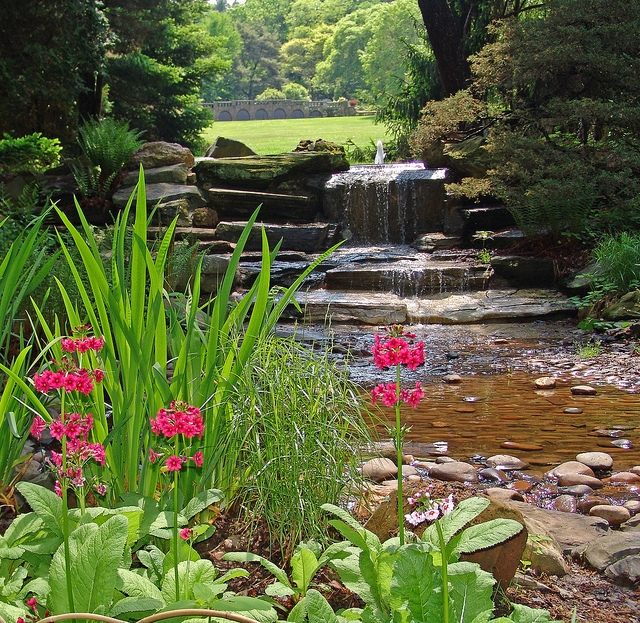 What was your initial interest in plant sciences? Where did that come from?

From the time I was a boy, I enjoyed gardening. As far back as I can remember, I was growing tomato plants and helping my parents and grandparents grow things in the garden. It's in my blood. My parents and grandparents enjoyed gardening, but they weren't professionals, just ordinary backyard gardeners. But, somehow, that influenced me. I never really thought of it as a career growing up, it was just something you do to take care of the garden around your house, to make your house look nice, but is also a way to produce fresh vegetables to eat at home.
When did that pivot to something more professional?

In high school, I started working for the neighbors by mowing grass and cutting hedges, that kind of thing, nothing sophisticated—just what high school kids did. Then when I went to college, I went to Ohio State. In my freshman year my declared major was engineering, and that year I was taking basic freshman level courses—math, science, English, all the regular things. At that time, toward the end of my freshman year, I heard about the horticulture department and thought, 'Wow, that sounds interesting.' And I went over, in May of my freshman year, to meet one of the professors, and came away with a summer job offer in the university botanic garden. And so that was the big 'pivot.' I spent the summer working for the university arboretum. I was just a laborer but I got to know some of the horticulture majors and professors, and got to work a little bit in the greenhouses. That fall I took Horticulture 101 and the rest is history.
When did all that evolve to being director? 

That was a long evolutionary process. I wound up studying horticulture at Ohio State, and when I graduated I was interested in working abroad. So, I got a job working in an arboretum in England, the Hillier Arboretum. A year later, I came back to the Longwood Graduate Program and studied botanic garden management. That's what brought me to Philadelphia, and through that I was introduced to the Morris Arboretum. When I graduated in 1976, I was recruited to work as curator at the Morris Arboretum, and I served as curator for 15 years before I was appointed director in 1991.
Any part of you that enjoyed being a curator more?
Yes! I loved my work as curator. And not just caring for the collections, but I was very involved with plant exploration and had opportunities to travel to Korea and China. It was just very richly rewarding work. And when the opportunity came along to be director, I wasn't sure I wanted to do it, because, of course, it entails a lot of financial worries, a lot of fundraising, and just all the challenges that any manager faces in running this kind of institution. But I soon decided that it was my duty to lead and I certainly have continued my interest in plants. And as director, I've been able to continue some plant exploration work. Not as much as before, but certainly I've kept my finger in it a bit. Also, being director has offered me a whole array of other rewards.
What is the accomplishment you're most proud of?
It's not any one project. The big picture is the fact we were able to take what was a rundown, forgotten neighborhood garden and transform it into a world-class arboretum. We made a big plan, we stuck to it, and implemented it one step at a time, little by little by little.
What was a challenge along the way?
Probably the biggest challenge was when I was appointed director, the Arboretum was deep in red ink. I was charged to immediately downsize Arboretum staff, and I had to lay off eight friends and colleagues in 1991. That was the only way to balance the budget. But those steps put us on a firm financial basis, and also put us on a trajectory for growth in the future.
I feel like we're often reluctant to acknowledge failures, but what is something you'd have done differently looking back on it?

In these jobs, there's always work left undone. And I think one of the biggest things I have failed to achieve is the completion of the education and research center. That is a big challenge. We have met many challenges along the way, but that is one left unmet and it will be left for my successor to raise the money and implement that goal.
What are some plants you brought here that illustrate your legacy?

One of the things I collected very early on was the Asian dogwood; the botanic name is Cornus kousa, sometimes called Chinese dogwood. It was a plant that was known in the Philadelphia area but its genetic diversity was very narrow. And, it was represented only by a very few introductions. In the 1980s we collected this species a number of times from different habitats in South Korea. Later, we collected it in China. Today, we have one of the most diverse genetic collections of Cornus kousa anywhere in the world.
Another example: In 1994 we collected paper bark maple in Hubei, China, and that represented the first time it had been collected in nearly 100 years.
These are both examples of plants that were known in cultivation but their genetic base in the Western world was very narrow.
Do you ever lose sight of the fact that you're looking out your window at all these plants and realize it's not a normal workday image?

I have always been truly grateful to have the opportunity to work at the Morris Arboretum. I do recognize that, in spite of challenges and difficulties, it is a remarkable privilege to be part of a great and beautiful institution like this. Just before we started talking, we were having a horticulture committee meeting outdoors to brainstorm a new landscape. We lost a giant tree last summer and we were discussing what we were going to do to replace it. That whole process was just so rewarding and exciting. Then after that meeting, I walked down to see the work going on with the new Patrick Dougherty sculpture installation. It was a gorgeous day outside and, as I was walking, I ran into people I knew who were happy and enthusiastic about being at the Arboretum. That is not your average workday for most people.
Have you thought about what you'd say to the Morris family if you met them today?

The Morris family were very thoughtful and very specific in their will as they laid out their vision for the Arboretum. It is a vision of a beautiful public garden with a strong research and education mission. When we have supporters visit, we go around the Arboretum and look at plants, look at historic structures, landscapes, and vistas, and talk about programs. I imagine if the Morris family were here today—John died in 1915 and Lydia died in 1932—I just fantasize that I would show them all the things going on. And, in my fantasy, I think they would nod and say, 'Yes, this is indeed what we envisioned.' But had they come back 50 years ago, I think they would have been very sad. Physically, the garden was very run down and it wasn't really achieving their educational research potential.
Are you ready for this long journey to be over?
[Laughs] No. I don't think I'll ever be ready. People say to me, 'How can you leave with this project underway, that project underway?' and truth is, no matter when I retire there's going to be important things going on and important things in progress. And if there are not, it means I waited too long to retire. [Laughs]
What does retirement look like for you?
Well, we have travel plans. One of the things we're going to do at the end of May is a speaking engagement I have with the Korean National Arboretum in South Korea. So certainly, I hope I can continue to do things like that, to travel and lecture. Then in June we're going to Kazakhstan. That's more of a pleasure tour, but we're traveling with the International Dendrology Society, which is an international group of tree lovers. And the exciting thing about this is my wife and I are the only Americans on the trip; it's mostly a European group. We certainly enjoy international travel and enjoy traveling with people who are not Americans and outside of the normal sphere of people we would meet from day to day.
Imagine you're, like with the White House tradition, leaving behind a letter on the desk to your successor with advice. What does that letter say?
I think an important thing—I've been thinking about this because I'm delivering a talk at my retirement gathering—is 'Make big plans.' But more important, figure out what small steps are toward that. Because sometimes you make plans that are too big and nothing happens. Make big plans and implement in small steps. That's one thing. And engage many people. One of the great successes of the Morris Arboretum is we have been able to engage staff, hundreds of volunteers, we have an active board, and we have a group called the Director's Guild who are people  keenly interested in the Arboretum and want to help in various ways. It takes so many resources, human resources and financial resources, to run institutions like this. The only way you can do it is with a big team of highly engaged people.
Anything you want to add?
To the Penn community: Cherish the Arboretum. It really is one of Penn's great arts and culture institutions that represents the University of Pennsylvania to the much broader community. We alone touch 140,000 visitors every year.