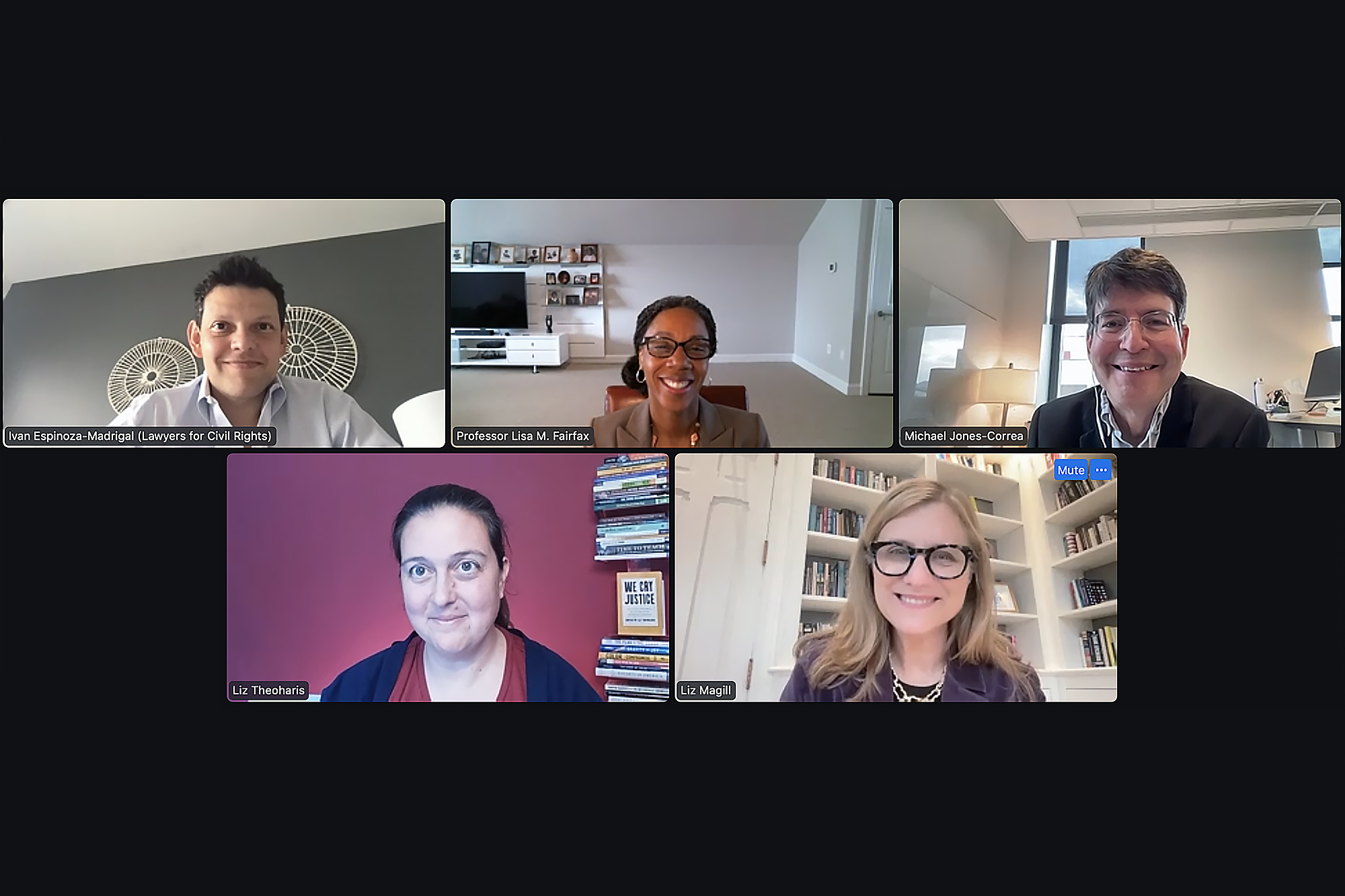 Voter suppression and the struggle for voting rights has a long and fraught history in the United States, an issue that has persisted in recent years. A distinguished panel of experts—all with strong ties to Penn—convened on March 23 to discuss the topic, part of an annual forum hosted by the Office of Social Equity and Community (SEC).
Introducing the program and the speakers was the Rev. William Gipson, who serves as a special adviser at the Office of SEC, and Alek Davis, a fourth-year student at Penn and a fellow in the Office. The conversation, moderated by President Liz Magill, included Iván Espinoza-Madrigal, a Penn alumnus and executive director of Lawyers for Civil Rights; Lisa Fairfax, presidential professor and co-director of the Institute of Law and Economics at Penn Carey Law; Michael Jones-Correa, president's distinguished professor of political science and chair of the Political Science Department at the School of Arts and Sciences; and the Rev. Liz Theoharis, a Penn alumna and co-chair of the Poor People's Campaign and director of the Kairos Center for Religions, Rights, and Social Justice at Union Theological Seminary.
Magill, a legal scholar herself, noted how the forum's theme was timely—"a very needed conversation to be having here at Penn and on campuses and in communities around the country."
She added: "The number of bills and proposed legislation that attempt to control and thereby limit voting has grown notably in recent years. It's only right that here in Philadelphia, the cradle of liberty, we would want to confront this fundamental question about voting rights' present and future."
The hourlong discussion was enlightening and informative, with panelists touching on the various barriers ordinary Americans face when voting (such as not having off work on Election Day, not having transportation to their polling places, or not having on hand what would be considered a valid ID), and how those barriers are amplified for certain groups of people, including those who are much older or much younger, low-income, of color, single parents, or immigrants. The issues are not contained to a certain region or area of the country, either—they're happening everywhere, the panelists agreed.
"We need to think through: 'How do we modernize and frankly democratize more access to the ballot?' and how we do that not just across the country, region by region, but also think through interventions that could be done locally," Espinoza-Madrigal said.
Jones-Correa touched on the history of voter suppression in the U.S., from how property holders were singled out, to limiting voting to white men only. Now, due to the 2013 U.S. Supreme Court decision on Shelby County v. Holder, which found Section IV (4b), and thus Section V (5), of the Voting Rights Act of 1965 to be unconstitutional, we are seeing, he explained, restrictions or laws at the state level that are "more neutral on their face but which have very unequal effects."
It was not lost on the panelists, either, that we are in a period where even the legitimacy of elections is being challenged at the highest levels in the U.S.
Theoharis' work with the Poor People's Campaign and at the Kairos Center focuses on the impact of poor and low-income voters, who, although making up a third of the electorate, she said, face significant voter suppression through laws. "We can go through election campaign and election over and over for really decades now and not hear the needs and priorities of poor and low-income voters," Theoharis said, adding how she not only wants to protect and expand voting rights for this population but also inspire and empower them to vote.
Poor and low-income voters have the ability to "shift the entire political landscape," Theoharis explained. "When we fight to protect this democracy, we can indeed win."
Fairfax, whose legal scholarship focuses on corporate law and governance, brought a unique perspective to the table that isn't always top of mind: How corporations are, and always have been, deeply embedded in the legislative process. Because of that, she argued, corporations should be part of the solution in addressing voter suppression.
"Corporations recognize what we all know: Voting is essential to democracy and actually a strong democracy is essential to a strong economy and to strong businesses," Fairfax said. "It is all linked, this question about voting."
Each panelist was able to build off each other, making for an engaging discussion that detailed, as Magill said, "the complex web that is voting." They also were challenged with a question about whether the U.S. could or should make voting mandatory, and what such a mandate would entail. During a lightning round concluding the forum, Magill asked the speakers to name one thing—and one thing only—they would change if they could improve voting in the country. The responses were short by design, but meaningful nonetheless: Make Election Day a federal holiday, restore federal oversight over elections, reverse Citizens United, and reinstate all the sections of the 1965 Voting Rights Act.
Vice President for the Office of SEC the Rev. Charles "Chaz" Howard, also the University's chaplain, offered closing remarks, and noted how he was "inspired," "fired up," and "proud" to be associated as a colleague and fellow alum with the speakers. Thanking Magill, too, he said, "It's no small thing I think to have our University president weighed into this conversation around voting rights and pushing back on voter suppression."
This event was the third annual Forum on Social Equity and Community. Visit YouTube to view a recording of the conversation.