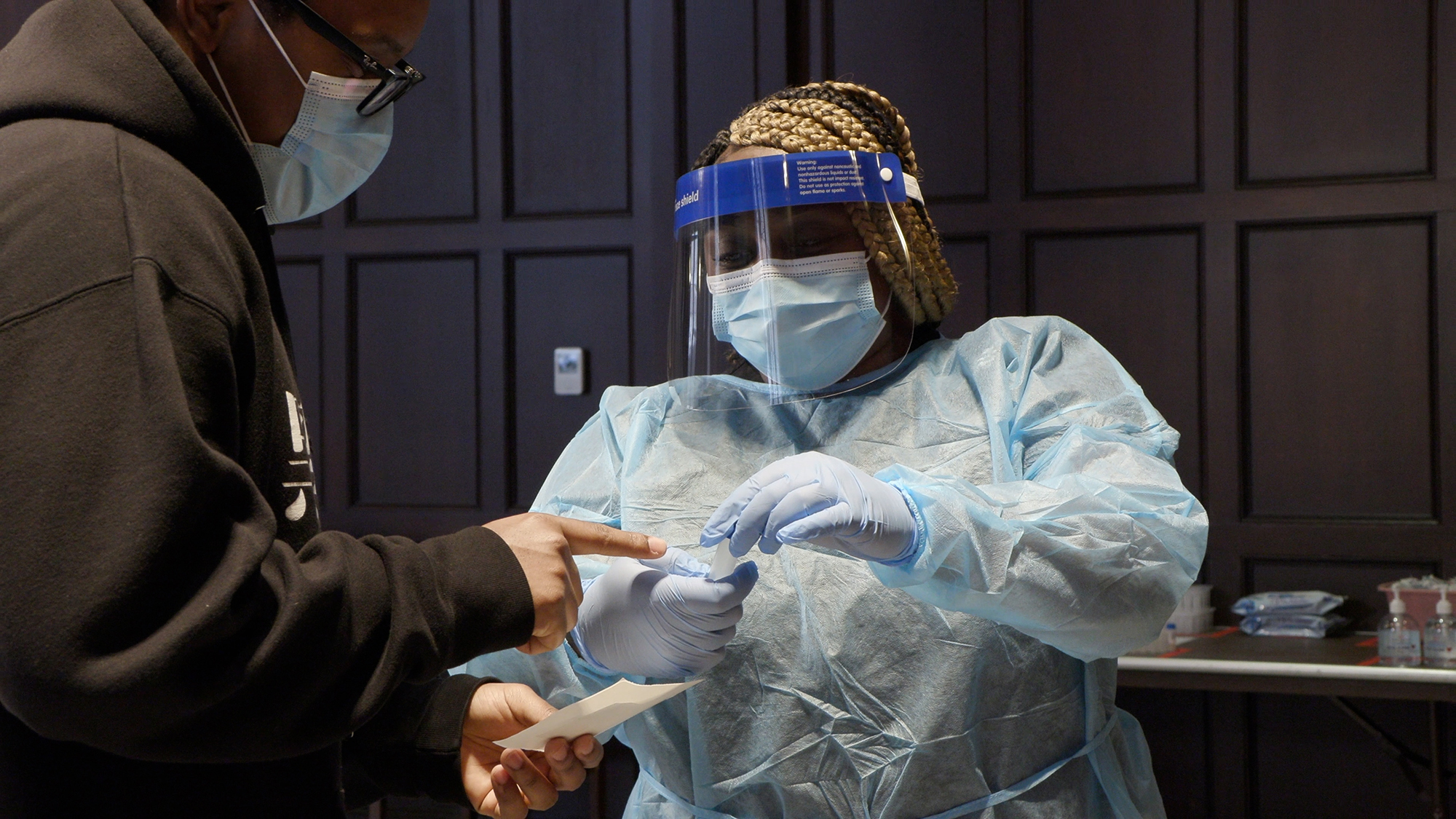 Ten years ago, University City District—a partnership among local anchor institutions including Penn, small businesses, and neighborhood residents—founded the West Philadelphia Skills Initiative (WPSI). The Skills Initiative connects Philadelphians who are under- or unemployed to the region's major employers, in an effort to move city residents into higher wage, secure careers, from which they have been historically disconnected.
A driving motivation behind launching the workforce development program was the fact that, despite vibrant economic activity in University City, fueled by the region's "meds and eds," 28 percent of West Philadelphia families live in poverty. Over the last decade, WPSI has evolved from a small internship program into one of the nation's most successful organizations of its kind.
Today, in the mist of the pandemic, that vibrant organization is enabling the University of Pennsylvania Health System to tap into a workforce in its own backyard to expand COVID-19 testing efforts.
Fifty newly hired laboratory assistants trained through WPSI will play a pivotal role in collecting and processing large quantities of testing samples within Penn Medicine.
"Hiring our talented neighbors not only ensures that we will continue to meet the testing needs of the community, but also that we are creating pathways to healthcare and laboratory science careers for local jobseekers, many of whom have been living in intergenerational poverty," says Kevin Mahoney, CEO of the University of Pennsylvania Health System. "We recognize that they will make an important contribution to our health system and our city's health care infrastructure, and they're joining us in a crucial time in our fight against COVID-19."
To meet the increased demand for COVID testing in Philadelphia, Penn Medicine made plans in the fall to not only keep its 4040 Market Street community testing site operational, but also to open eight additional testing sites throughout campus, in order to screen Penn students, faculty, and staff for the virus. The health system also worked with the University to convert a campus anatomy lab into a saliva-based testing processing center and is preparing to open a laboratory in Rittenhouse Square later this spring. Knowing these plans would require a large and well-trained staff, Penn Medicine joined forces with the University City District to utilize the group's longstanding community workforce program.
Bridging the gap
The Skills Initiative was created in order to bridge the gap between major local institutions and long-time neighborhood residents by building customized pipeline training for new staff—connecting employers seeking talent with West Philadelphians seeking opportunity. With the scarcity of new frontline jobs due to the pandemic, Penn Medicine opened the door to new career possibilities for WPSI graduates during difficult economic times.
"The Skills Initiative succeeds because of deep-rooted collaboration with Philadelphia's leading employers," says Matt Bergheiser, president of University City District. "As a founding WPSI partner, Penn Medicine has long been a leader in recruiting untapped local talent to transform workplaces while changing lives."
Three cohorts of employees from the WPSI program joined Penn Medicine this past fall. Among them, 93 percent are Black, 90 percent are women, and five hold bachelor's degrees. Training for the new hires included professional development delivered virtually by WPSI staff and laboratory skills taught by Penn Medicine staff. The model consisted of a condensed, two-and-a-half-weeks of self-paced, classroom content and small group work sessions, paired with about 40 hours of hands-on technical experience.
Lab assistant jobs such as these can often be inaccessible for applicants without college degrees or laboratory experience, according to Robert Challender, chief operating officer and corporate director of laboratory services for Penn Medicine.
"While a bachelor's degree isn't required for these entry-level roles, health systems typically hire college graduates for the positions, and then further train the individuals to progress into more senior roles in the laboratories," Challender says. "Post-pandemic, Penn Medicine will transition the cohorts of lab assistants into other parts of the health system, depending on the employee's interests and skillsets."
David Roth, chair of pathology and laboratory medicine, says "the WPSI program is giving people a path to careers in fields like laboratory science, medical technology, nursing, and pathology," and broadening Penn Medicine's reach to job applicants who may have been overlooked.
Planning has already begun to evaluate the opportunities throughout the health system where the lab assistants can make a meaningful impact in the future, according to Dwaine Duckett, senior vice president and chief human resources officer for Penn Medicine.
"We are pleased that we've widened the scope of how we evaluate and recruit candidates for jobs, giving people from the community access to positions they may not have thought about, taking into account their innate talents and skills. The WPSI-Penn partnership also gives more people of color access to Penn Medicine's professional development benefits and tuition assistance," Duckett says. "We are looking forward to working with this cohort of lab assistants and other community-based hires who will come after them, growing their careers within the health system."
Homepage image: The new lab assistants hired through WPSI went through a training delivered by both WPSI and Penn Medicine staff, in which they learned laboratory skills virtually as well as hands-on.