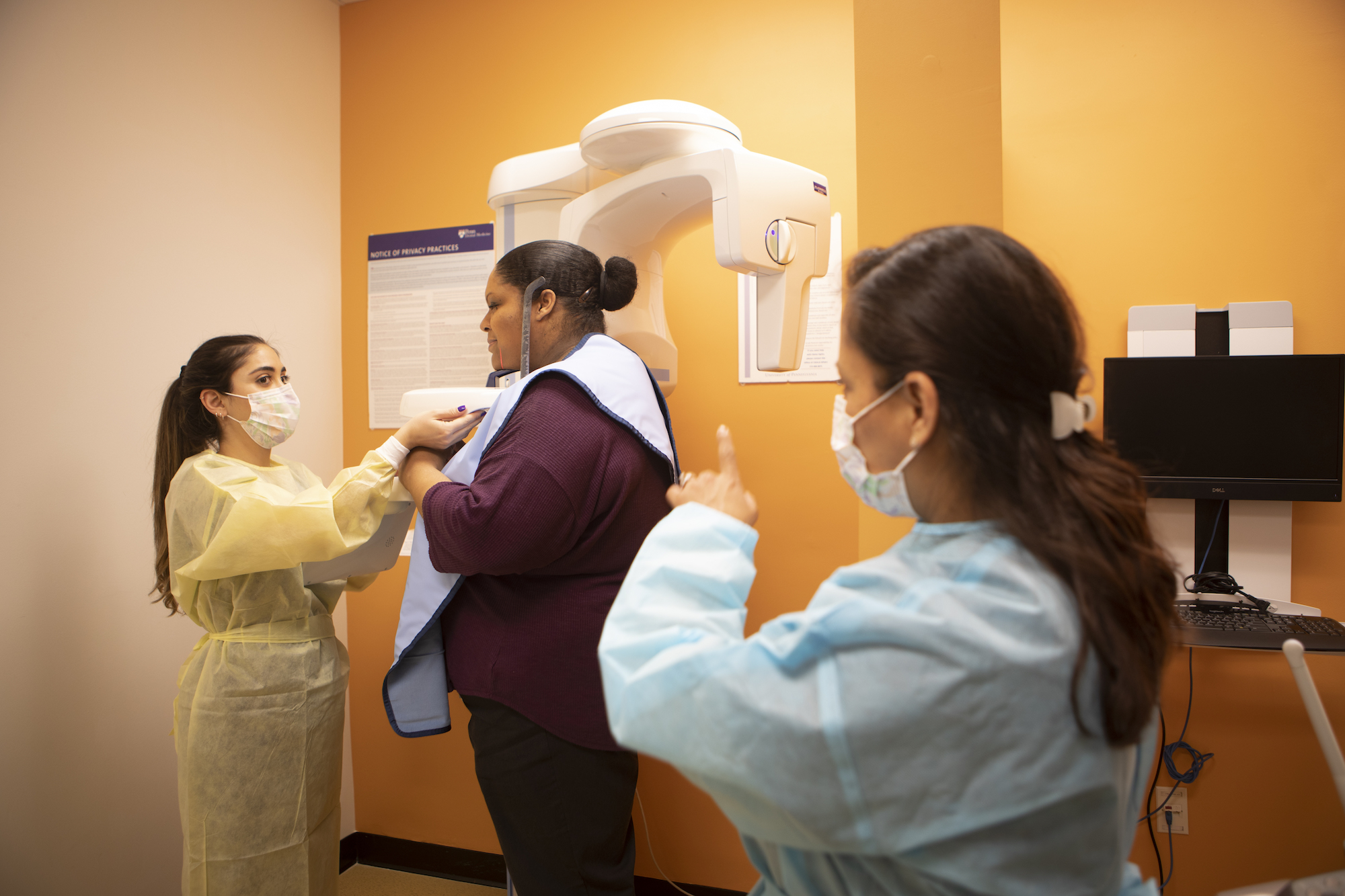 The School of Dental Medicine has dedicated the last few years to expanding its presence in community sites, and it couldn't have come at a better time.
"Our community members have asked for increased access to dental care," says Joan Gluch, division chief of community oral health at Penn Dental Medicine. "The pandemic has multiplied disparities in health. It's really shone a light on those gaps in dental care. Under-resourced communities and marginalized communities often lack access to dental care. It's something that Penn Dental Medicine takes very seriously in looking at health equity and increasing access."
Since 2018, the school has multiplied its footprint in the community, now offering care in four care centers, plus the PennSmiles Mobile Dental Care Center, to serve communities members closer to where they live and work.
Paired with that physical expansion of community outreach has come a growth in the time dental students spend in those sites. Working under the supervision of faculty members, third- and fourth-year DMD students spend about a day each week at community sites, amounting to 350 hours a year of experience.
"A dental education is a very structured and tiered approach to introduce experiences and complexity as the students become comfortable," says Todd Singer, assistant dean of intramural and extramural affairs. "By the time students reach their third year, they've reached an increased level of autonomy. At these community sites they get to take their training a little bit on the road, gaining a little more freedom, while also meeting with different patient populations."
Penn Dental Medicine has long maintained a strong presence in the community. In addition to the comprehensive care at the main dental care center at 40th Street, the school has served patients at other sites, such as Sayre Health Center. But Mark Wolff, the Morton Amsterdam Dean, made expanding community involvement a priority, and an increased presence soon followed.
"These were thoughts and plans and, dare I even say, dreams and desires of Dr. Gluch for a very long period of time," says Singer, who joined Penn Dental Medicine in 2019 and is a longstanding colleague of Wolff. "The dean and I were fortunate to be able to come in and add some gasoline to make those dreams a reality."
To oversee these efforts, Leonard Jensen moved to a new position at the helm of the community sites, as dental director of community dental centers.
"He came to us as a strong, credible leader with 40 years of experience in clinical practice, and he has brought that credibility to the community sites," says Gluch.
Jensen has devoted significant time in particular to getting the dental program up and running at the new dental care center at Spectrum Health Services.
"The clinic is run in a private practice format, with 10 students each day seeing a full schedule of patients," Jensen says. "Community residents are deeply appreciative of our presence here."
Penn Dental Medicine provides dental care in seven dental chairs at Spectrum, a federally qualified health center at 5201 Haverford Ave., providing affordable care for patients from infants to adults.
William Manolarakis, a fourth-year dental student, spent the majority of his community rotation at Spectrum starting last summer, once dental services resumed following pandemic closures.
"At the community sites we can often deliver more comprehensive care, which has been rewarding for me not only as a dental provider but also on a personal level," he says. "Now, not only can we conduct basic checkups and cleanings, but we can also provide further treatment for our patients through procedures such as fillings, extractions, and dentures."
Manolarakis says the impact on the community has been apparent to him, and he feels he is making a meaningful difference in the health of his patients.
"I've had cases where patients have come into the clinic in pain, having a cracked tooth or feeling like there's an infection," he says. "And right there, that day, we've been able to clinically assess their case to address the issue and relieve their symptoms."
Besides Spectrum, other health care facilities where Penn Dental Medicine had been delivering care for years have grown in their offerings, now amounting to a total of 21 dental chairs in community sites:
• Mercy LIFE, where the dental school has contributed to the all-inclusive health care for seniors since 2010, expanded from one to four chairs.
• At the Bernett L. Johnson Sayre Health Center, serving un-and underinsured West Philadelphians, Penn Dental Medicine added three chairs for a total of four in the clinic, which is attached to Sayre High School. Students there have the opportunity to work closely with an interdisciplinary team of health care providers, including physicians and social workers.
• Three chairs were also added to the care center at Puentes de Salud in 2020, a nonprofit serving the Latinx immigrant community that has also partnered with Penn Medicine since 2007.
• And the PennSmiles Mobile Dental Care Center provides a roving space that cares for children at two dozen schools, recreation centers, and camps throughout West and Southwest Philadelphia.
Emily Huang, a fourth-year dental student began caring for patients at Sayre Health Center in her third year as part of her community health honors rotation. She says she appreciated the integration of medical and dental health services in one site.
"I think it's really great in helping patients realize that dental care is part of your general health, these are not separate issues," says Huang, who will be implementing what she has learned at Sayre in her upcoming general practice residency in Los Angeles followed by a three-year commitment to practice in underserved communities. "In that sense Sayre gave me a look at what I may be doing on a daily basis, helping to treat these unique populations."
Such experiences exemplify the value of working together with the communities that are Penn's neighbors.
"We love our dental school at 40th Street, the clinics are beautiful, and we've worked hard to ensure it serves our patients well," Gluch says. "But it is critically important to provide our patients with the opportunity to get dental care in their own neighborhoods and give dental students clinical experiences in interdisciplinary, patient-centered environments that promote diversity and inclusion. Dean Wolff has expanded the vision and leveraged the resources to ensure that Penn Dental Medicine provides dental students and patients with the opportunity for community-based care, a goal we have been working towards at Penn Dental for a long time."