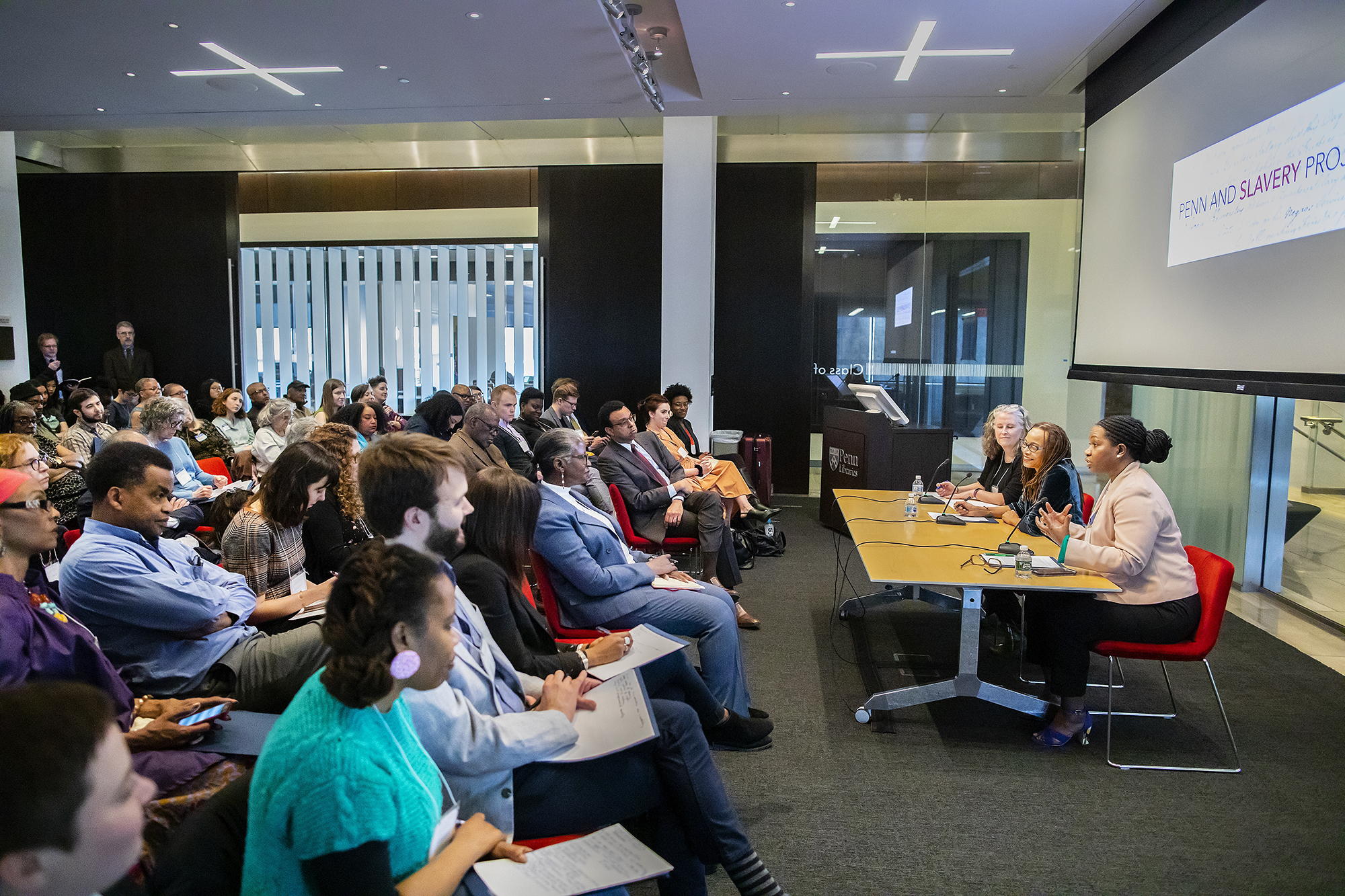 In the fall of 2017, a small group of undergraduates in an independent study supervised by Kathleen Brown, the David Boies Professor of History, conducted archival research to look for links between the origins of Penn and slavery. 
The independent study known as the Penn Slavery Project has continued with new students joining over time to build upon the work of the inaugural group of students which was first reported in December 2017. The Penn Slavery Project, in partnership with the Program on Race, Science, and Society, held the April 3-4 Penn and Slavery Symposium with support from the offices of the President and Provost and the History Department. 
Provost Wendell Pritchett, who chairs the University's Working Group on Slavery, opened the meeting and acknowledged Penn's complicated history and the impact of slavery on all large institutions that, like Penn, were founded in the 18th century. A university is dedicated to the pursuit of knowledge and the truth, he said, and understanding Penn's own complexities is "crucial" to living up to that mission. 
As a nation, he said, the United States has never full come to terms with the implications of slavery. 
"I am confident we are going to take a different path at Penn," he said.
The symposium addressed a variety of topics head-on. 
This year's Penn Slavery Project students and Brown presented some of their findings, both from last fall and the current semester. Students addressed economic ties to the slave trade and early fundraising efforts as well as connections between early medical research and the topic of biological racism. The Project will increase access to its research through a new website featuring all of the students' work.
An augmented-reality project in development was unveiled. The project is being supported by the offices of the President and Provost, Penn Libraries, and the Monument Lab. When completed, the project will allow a window into the back stories of people and sites on campus that were connected to slavery or advanced pseudoscience regarding race and/or racial hierarchies. The project will help viewers consider other perspectives on history. 
Laurie Allen, director of digital scholarship at the Libraries, and Paul Farber, artistic director of Monument Lab who also teaches urban studies and fine arts at Penn, discussed the partnership involved in the project. Allen said the effort began in January and that six students will be hired to build an app over the summer.   
The Symposium was open to the public and attracted a number of community members whose perspectives added to the discussion.