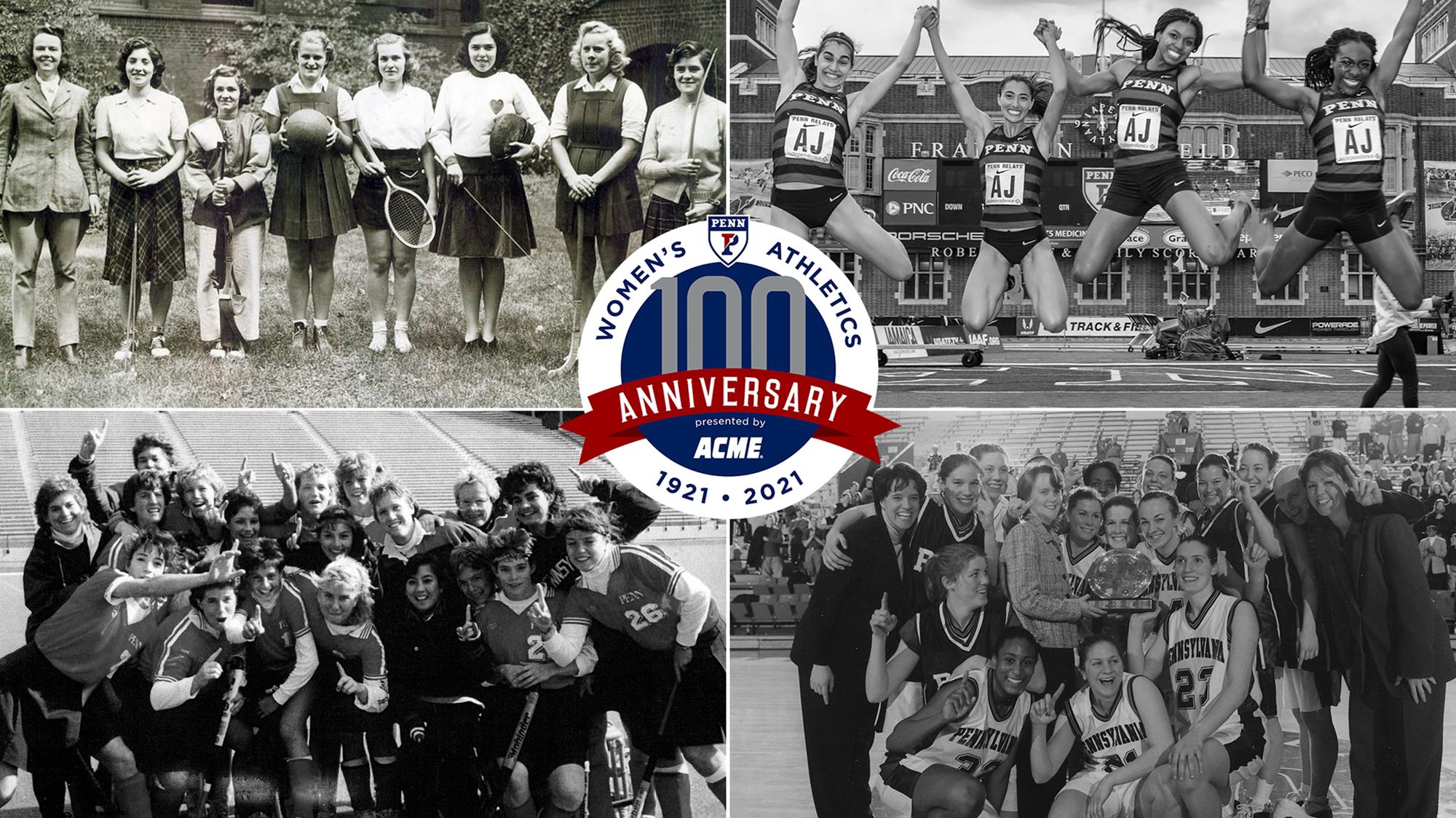 "Athletics for women have come to Penn to stay." So say the words on page 60 of the 1921 edition of the "Women's Undergraduate Record," Penn's yearbook for women from 1915-1946.

A century later, that statement remains as true as ever.

Starting this month and continuing through the next year, Penn Athletics will celebrate the 100th anniversary of the 1921 formation of the Women's Athletic Association (WAA) and the official start of women's athletics at the University. This will include content on PennAthletics.com and Penn Athletics social media accounts, and the University's 16 varsity women's teams will wear specially made patches on their uniforms to commemorate the anniversary. Additional plans are being developed and will be announced throughout the year.

"We are so proud to be celebrating 100 years of women's athletics at Penn this year," said M. Grace Calhoun, the T. Gibbs Kane, Jr. W'69 Director of Athletics and Recreation. "Penn has one of the longest traditions of women's college athletics in the nation, and can boast of Olympians, national champions, Hall of Famers, and Ivy League team and individual champions. After graduating, our women's athletes have positively impacted their workplaces and communities, and for that we are equally proud. We see this as a galvanizing moment to bring together our women's athletes, both past and present, to commemorate a century of excellence."

As the 1921 edition of "The Record" continued, "no provision had been made for athletics, but a group of determined young women arranged for a Penn class at the West Branch YMCA. In spite of the distance and inconvenience, the girls turned out nobly and practiced basket-ball assiduously.

"Perhaps this interest woke up the authorities at Penn, for in February we were offered Gym classes two hours every day at Kingsessing Playground and given an instructor, Miss Majer. The work was given only elective credit but over fifty girls came out. Thanks to Miss Majer, we had splendid basket-ball teams and now are developing baseball and tennis teams. Our girls played about eight games with outsiders…the list of teams included Bryn Mawr College, Philadelphia Hockey Team, Temple, Drexel, and Sherwood.

"Our biggest basket-ball game, however, was the Sophomore-Freshman game. The best material from each team was picked and the class numerals offered for the winners. The game was a scrappy one and well-fought. In the end, the Sophomores won by a very few points."

There is also this passage from the University Archives page: "With this new commitment to women's athletics, the Undergraduate Association supported the 1921 establishment of a Women's Athletics Association, with a constitution and four officers."

The year-long celebration of women's athletics at Penn is being sponsored by ACME Markets. ACME's sponsorship was procured through a collaboration between ACME's agency (TKE, LLC) and JMI Sports, the exclusive multimedia rights partner of Penn Athletics.
"As ACME celebrates 130 years of serving Philadelphia and the Delaware Valley, we couldn't be prouder to recognize the 100th anniversary of women's athletics at Penn," said Dana Ward, ACME's communications and public affairs manager. "We are honored to be a part of the Penn community and thrilled to take part in such a significant milestone."