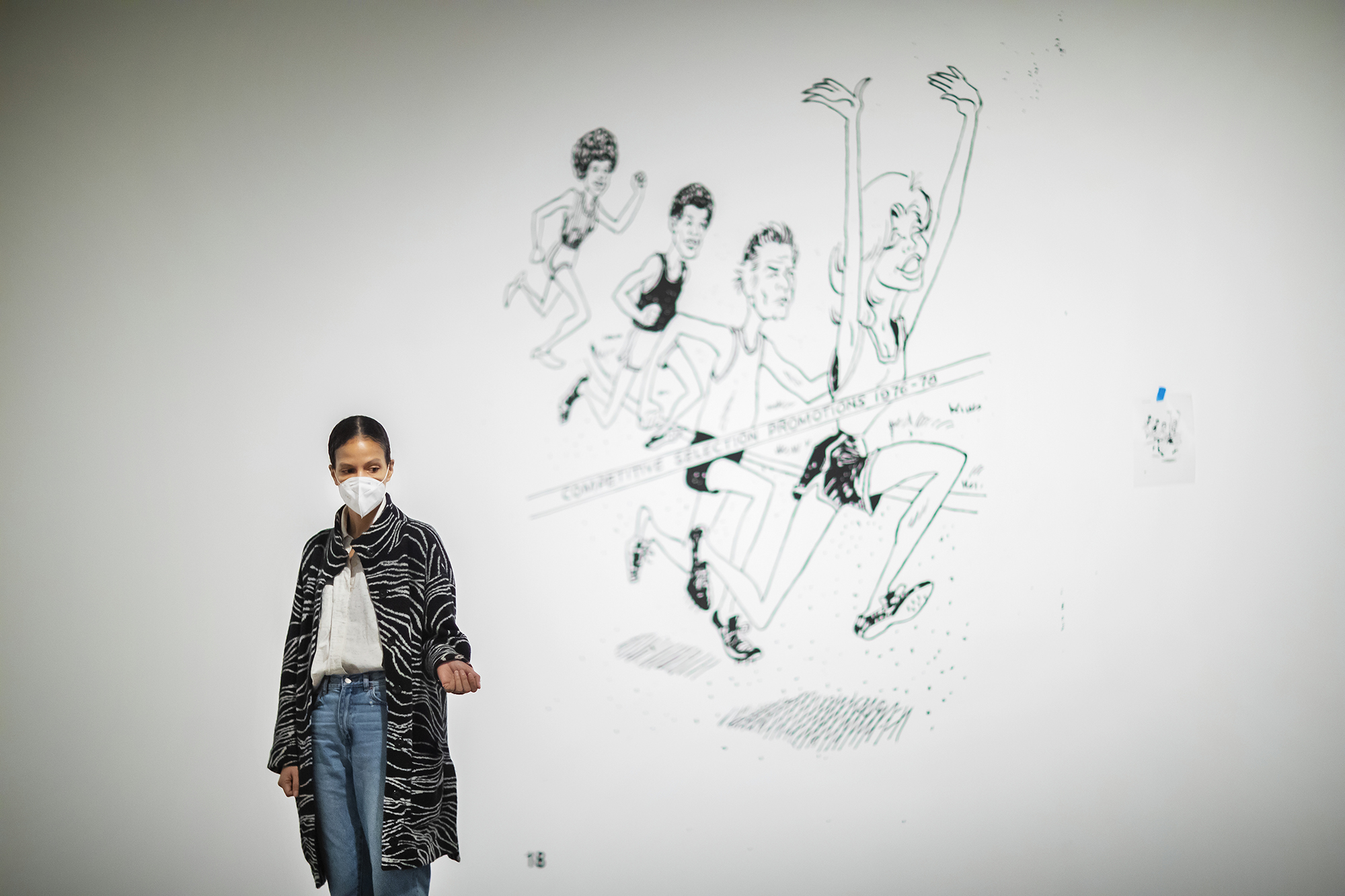 Artist Jessica Vaughn examines the spaces, architecture, and cultures of the American workplace in her first major solo exhibition, now at Penn's Institute of Contemporary Art.
The installation, "Jessica Vaughn: Our Primary Focus Is To Be Successful," is on view through May 9. "I wanted to explore not only my own personal experiences within these spaces, but also the structures that make this culture exist or gives it life," she says. 
Vaughn received a Master of Fine Arts (MFA) degree from the Stuart Weitzman School of Design in 2011, studying with the late artist, Professor Terry Adkins. Born in Chicago and now living in New York City, she teaches at The New School while pursuing her own artistic practice. 
The photographs, sculptures, paintings, and video in the ICA exhibition consider the systems that have shaped the places and cultures of work, labor, and affirmative action policies used to integrate the workforce, as well as modular designs and building systems that revolutionized the American office. 
"Jessica's practice is centered around an interrogation of materials that make up our world, but often go unnoticed: the fabric scraps from public transit, empty postal bins, and office lighting fixtures, and how these objects are inscribed with the history of American labor practices," says Meg Onli, the ICA's Andrea B. Laporte Associate Curator. 
"We are on the precipice of new ways of working if/when we return to the spaces where we work. This survey will be an opportunity to reflect not only on the shift that we are about to take, but the many changes that have occurred throughout American's labor history."
A video installation, "Our Primary Focus Is To Be Successful," repurposes and transforms employee training films with overlays of text taken from management manuals. Ten-foot-high paintings, "Problem Sets," black on white walls, recreate illustrations Vaughn found buried in government reports. Other artworks are inspired by modular architecture, including her largest work to date, the light installation "Irrational Rest." Neat stacks of fabric, discarded after production of upholstery for bus or train transportation seats, create geometric patterns in displays on the floor. Photographs of empty containers, "Empties," line the walls around them.
Penn Today spoke with Vaughn about the works in the new ICA exhibition and the influence of her experience at Penn.