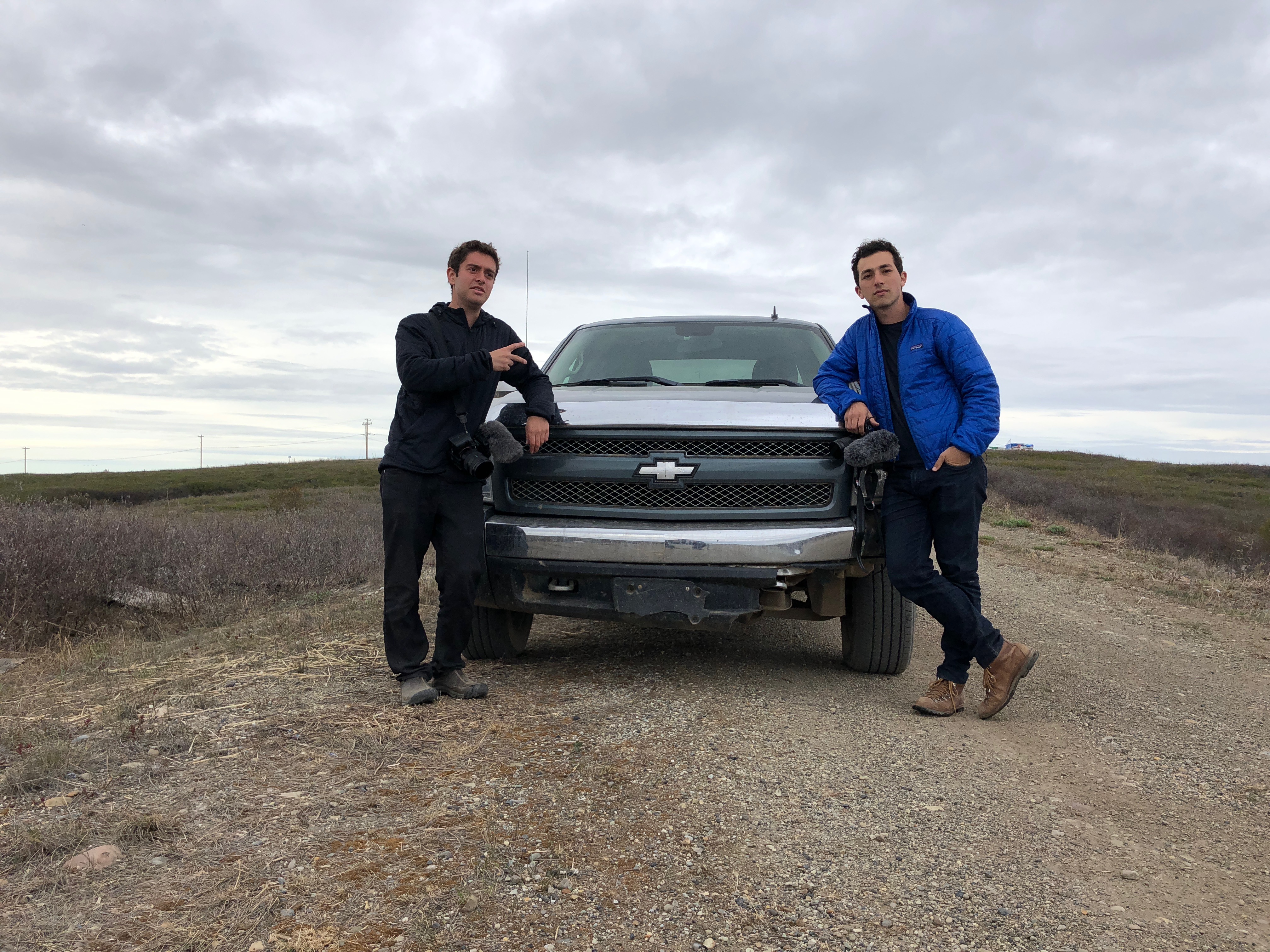 It was nearing the end of their trip, and Penn students Kyle Rosenbluth and Daniel Fradin were running out of money. 
"We were trying to use our budget from Penn as well as we could, and we were telling people about it and one person we encountered said, 'Well, I don't need my car—just use mine, don't rent one,'" Rosenbluth says. "That generosity would have felt unprecedented in a big city." 
So, onward they went, filming their interviews—lugging camera equipment around on their borrowed pickup truck, trudging through the snow-encrusted terrain of the Arctic.
This kind of selfless spirit is part of what they hope to capture in a new documentary film partly funded by the Center for Undergraduate Research and Fellowships' (CURF) Undergraduate Climate Action Grant, awarded annually to an undergrad interested in independent sustainability research. This year, the grant was awarded to Rosenbluth, a rising senior majoring in computer and information studies with a minor in cinema studies. Meanwhile, Fradin, a double-major in English and cinema studies, was presented the Pincus-Magaziner Family Undergraduate Research Fund award, also part of CURF. They also received the Seltzer Family Digital Media Award.
The duo spent three weeks in June in Tuktoyaktuk, shortened to "Tuk," a Canadian town with a population of 950 located along the Arctic Ocean. Most of the town's inhabitants are Inuvialuit people who, once nomadic, settled in the area about a century ago.
Rosenbluth and Fradin first summoned inspiration for their film from an Arctic Politics course Fradin took at the University of Copenhagen while studying abroad during the Fall 2017 semester. Armed with knowledge of developing political entanglements between countries laying claim to land in the northwest Arctic Circle, they initially thought they'd take a political bent to the project, dealing with the geo-politics spun from exposed resources in the region as ice melts. 
Then they learned of the Inuit community, and warmed to the idea of a simpler approach. 
"We wanted to make a story about climate change, but instead of taking a political or scientific approach, as many documentaries have in the past, we wanted to take a more humanistic one," Fradin says. "To really understand how climate change is impacting these indigenous people."
During their time there, they estimate they interviewed 20 people in the community, while exploring the environment and the town—a stretch they said could be walked from end to end in about 10 minutes. They immersed themselves in the Tuk lifestyle of hunting and fishing, happily accepted meals of freshly caught fish from the locals, and heard stories that were both inspiring and, on occasion, heartbreaking.
"We spoke to a woman whose coastal house is going to be relocated; it is her mother's house, and her mother lived there for 40 years and it's where she grew up," Fradin says. "Now, because of climate change, the erosion, they need to relocate the home. And she was obviously pretty upset about that."
Many elders in the community, he adds, explained how surprised they were when they left for a period of years and came back to see how eroded a narrow peninsula called "The Point" had become. 
"They're losing land rapidly," Fradin says, adding that the community is losing about 10 feet of shore land per year. "And they're right on sea level. So, as the ocean levels continue to rise, it's only a matter of time before they're really underwater."
And it's not just housing that climate change is encroaching upon. Unpredictable weather has changed migration patterns of geese and caribou in the past 20 years, making hunting—which the community relies on for food—more challenging than it was previously. There are also ice patches that were solid that are now shaky ground to walk over. 
And despite all of this, Rosenbluth notes, there's no consensus among Tuk community members about how to approach the cause of these changes.
"It's more of a mixed bag than we thought," Rosenbluth says. "Because a lot of people primarily want a job."
Many people lost jobs when offshore drilling stopped, for example. And though there's currently a moratorium on that drilling, resuming drilling would offer many of them stable income and make them less reliant on hunting, fishing, and gathering.  
Others are just fine with retaining their hunting-and-gathering lifestyle, or finding other jobs to sustain themselves—namely in connection to a highway recently completed that connects the community with a city nearly 100 miles away. 
In truth, the team isn't quite sure where the narrative of their film will land—or even how long it will be. They hope to spend the rest of their summer figuring it out, and will submit the documentary to film festivals in the fall, as well as seek additional funding. 
But they do know they couldn't have made the film without help from CURF.
"This is an experience that I think we'll both never forget, and I think it's changed our lives in a big way," says Rosenbluth. 
"I think more Penn students should take advantage of these grants," Fradin adds. "I didn't know about these CURF grants, and finding out about them allowed me to film my first documentary, and it will hopefully be the first of many."
Moving forward, they plan to establish a production company, Frank and Beans Productions. They hope to write, direct, and produce their own films following graduation.