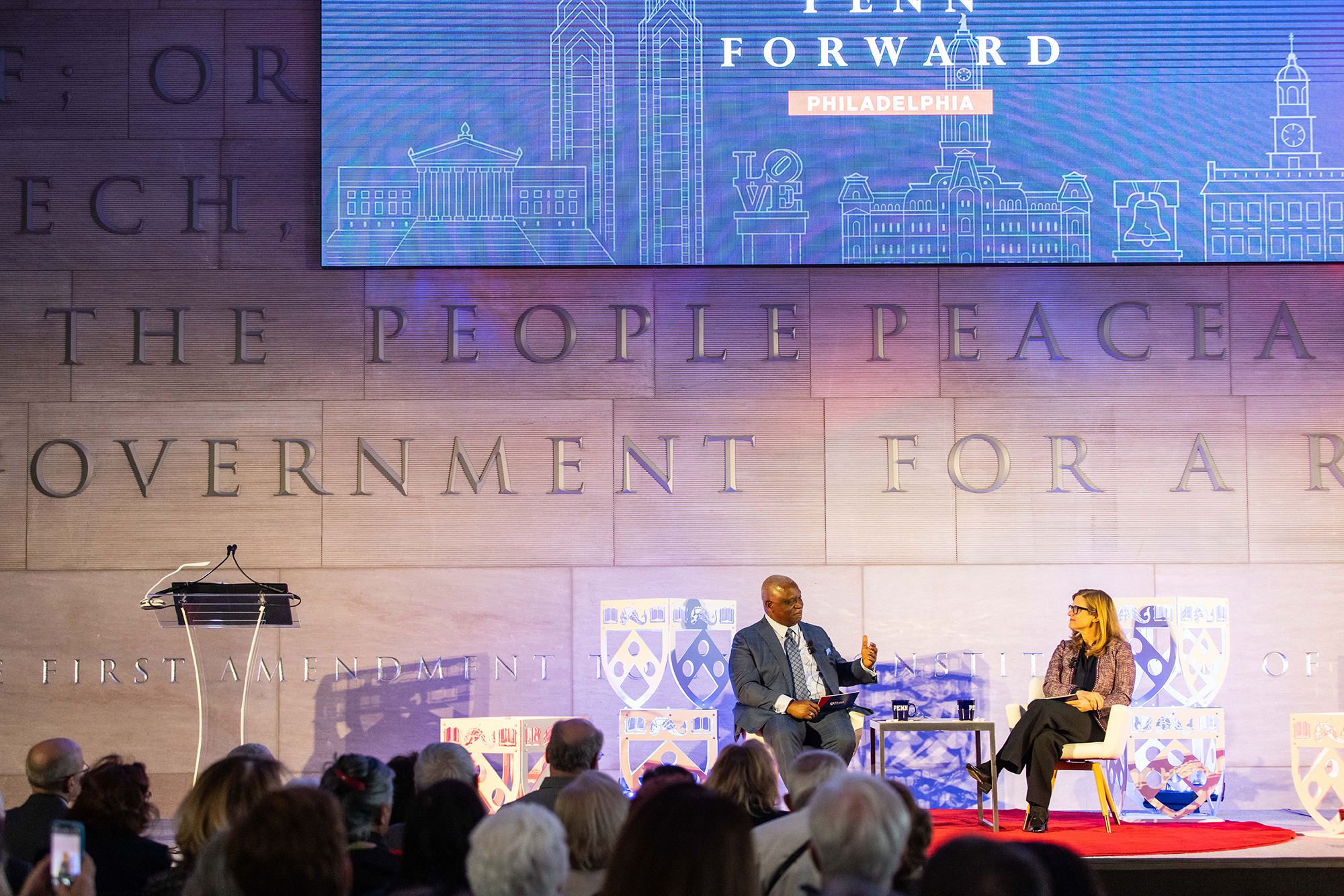 Red and blue décor donned the National Constitution Center in Old City on Tuesday evening, serving as a grand location for the final stop of the global Penn Forward Tour. Having already visited New York City, Los Angeles, San Francisco, Washington, D.C., and London since January, President Liz Magill brought the alumni event to the University's home city, with hundreds showing up for the fun.
Chutima Barrios, who graduated with her MBA in 2015 from Wharton, said she was thrilled to attend, and especially appreciated the opportunity to hear directly from Magill and network with fellow Quakers.
"It's great to learn about the president's vision," Barrios said, adding, "and it's great to see how many alumni in the area are invested in the evolution of Penn."
On stage and in conversation with Osagie O. Imasogie, a trustee and chair of the Penn Carey Law School Board of Advisors, Magill discussed a variety of topics, from her biggest role models and best (and worst) career advice, to the growth of the University's worldwide impact and what she admires most about Penn's faculty, staff, and students, and much more. The event provided an opportunity for Penn's substantial alumni community to better get to know the personality and aspirations of Magill, who became the University's ninth president in July, and for her to get to know them and their priorities, too. The Penn Forward Tour, which brought together more than 3,100 alumni, aligns with Magill's campus exploration, as she's already visited with the heads of Penn's 12 schools, nearly all the 97 department chairs, and numerous faculty members and undergraduate and graduate student leaders.
"It's been a fabulous, energizing experience for me," Magill said, when asked by Imasogie about all the ground she's covered in just 10 months on campus. "I don't know if I will keep up exactly the same pace, but I know I will not lock myself in my office, that's just not the way I want to lead."
Magill talked about her first trip to Philadelphia as a kid with her parents and five siblings, packed in a station wagon and driving from their home in North Dakota as part of the Bicentennial of the Declaration of Independence in 1976. Always a history lover (she studied history at Yale for undergrad before pursuing law at the University of Virginia), she said she appreciated then, as she does now, being in the "cradle of American democracy." Magill tied this nostalgia to what she's learned about Penn and its role in the city—one that is "from Philadelphia," "of Philadelphia," and "for Philadelphia."
Magill's learning journey at Penn is part of her process of thinking deeply about the institution's future. Prompted by Imasogie, she shared a glimpse into her current strategic planning effort, "Tomorrow, Together," in which stakeholders across the University and the city, under the umbrella of the Red and Blue Advisory Committee, are working together to determine the path ahead. Some topics that have surfaced, so far, Magill said, have been to amplify Penn's research and teaching around major societal issues (think: climate change, health care); strengthen the University's commitment to service; and to deepen the institution's global focus and reach.
"I've also learned we should 'extend fall break' and 'teach common sense,'" Magill quipped, garnering laughter from the crowd.
Connecting the conversation to what she said during her inaugural address in October, Magill noted that one of her ambitions is to allow for the people of Penn to "draw down the lightning," referring to the University's founder Benjamin Franklin. What that means, she said, is to "empower" the Penn community to "make their best contributions," and to "unleash as much as possible."
"We want to be enabling that talent to draw down the lightning," Magill said.
Talking after the program, David France, a 1989 College of Arts and Sciences graduate, said although he's heard Magill speak before (he's involved with The Penn Fund), he was happy to be in Philadelphia for the event. Living in Switzerland for work, he was in town for a conference nearby.
"It's important that people see the new president and for her to be able to share with us who she is," France said. "That's the most important thing right now."
France was chatting with Lionel Anderson—who happened to be involved in the same fraternity at Penn—enjoying a bite to eat at the reception. Anderson, a 2004 graduate of the College, as well as a 2007 alumnus of the Penn Graduate School of Education, said he was eager to hear from Magill—the third consecutive woman president at Penn.
"I've seen the last two women presidents as a student at Penn; Judith Rodin was president when I was an undergrad and Amy Gutmann was president when I was in graduate school," he said, noting it's only natural to stay in-the-know as a Penn alumnus. "Penn alum, in my experience, take their affiliation with the University rather seriously. It's pretty intimate, cutting across age, cutting across racial groups."
All the stops on the Penn Forward Tour opened with a Penn Spectrum mixer, which featured remarks from Chaz Howard, Penn's chaplain and inaugural vice president for social equity and community, and Penn Alumni President Michael Barrett, a Penn trustee and co-chair of the James Brister Society.
In Philadelphia, Howard, a proud alumnus and newly minted Penn parent, spoke of "loving Penn in a new way, in all its seasons"—that is, with Penn's new leader, new provost, and new deans taking office.
"It's in moments of transition at a University where, more than any other time, we need our alumni to take a step closer," Howard said.
That's precisely what Vanyah Harrigan is doing. The 2016 Fels Institute of Government graduate described the connections she made during her time studying for her Master of Public Administration as "precious." "I met such a unique group of people who meshed so well, and we've been so supportive of each other as we've grown in our careers," said Harrigan.
Attending events like Penn Forward, she said, helps her be a good steward of the institution.
"We are understanding better the University's new priorities with a new leader," she said. "It's a privilege to go to a school like Penn, it helps us stand out in the world, and everyone is so brilliant. You really are paying it forward when you are staying connected."