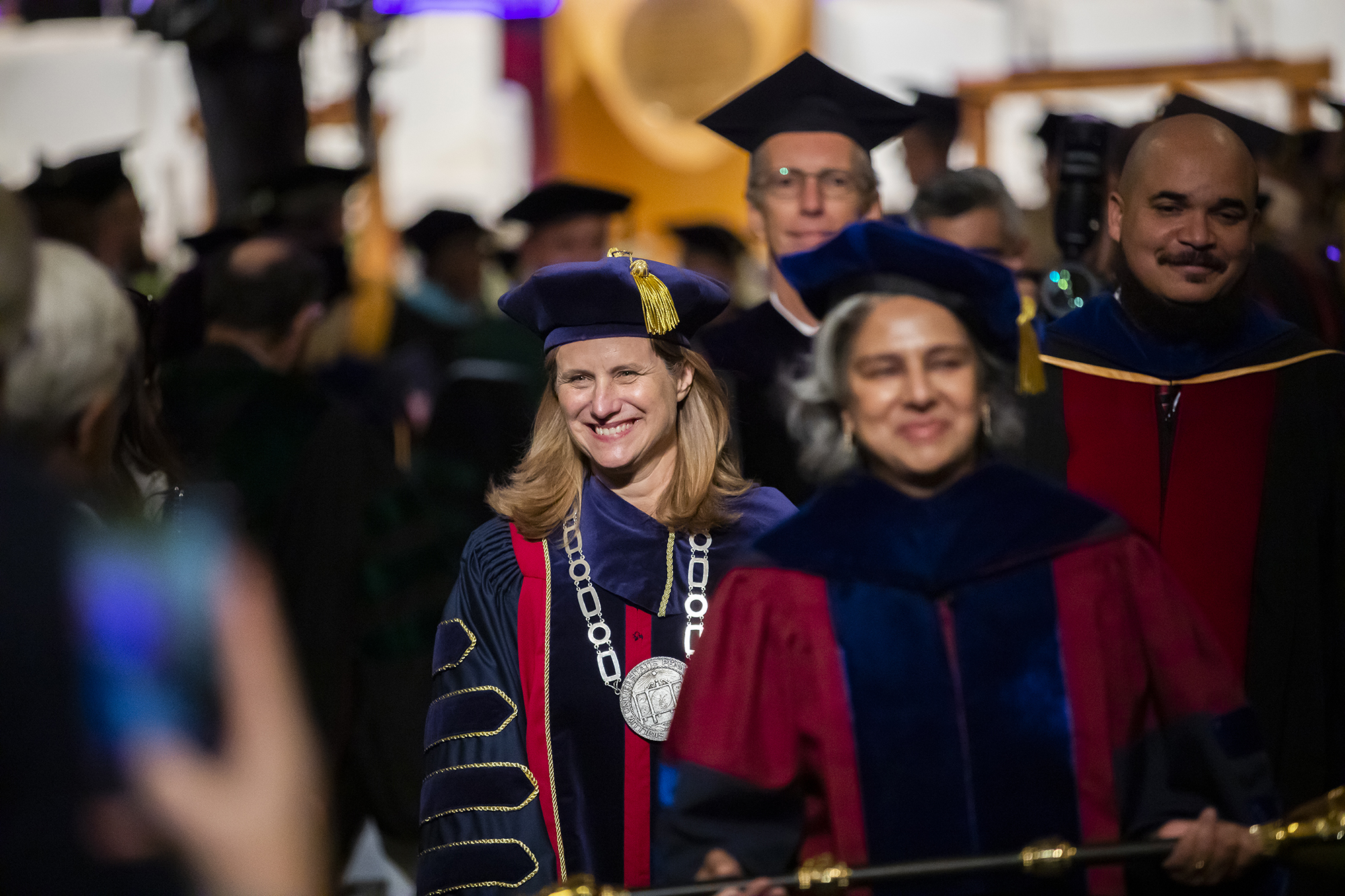 In welcoming attendees to Liz Magill's inauguration on a sunny Friday, Oct. 21, Trustees Chair Scott L. Bok said the celebration "marks a renewal of our aspiration for Penn and all that it can be." 
"Like any new beginning, we face it with excitement and joy, and with seriousness of purpose," Bok added, gazing at the crowd in Irvine Auditorium, and speaking to all who tuned in via livestream. "We live in complicated times and we cannot know what challenges are ahead. What I do know is that we are ready, with a University resolved to academic excellence and service to others, a red and blue spirit that is strong and tenacious, and, beginning today, a president who is hand-picked for this moment at Penn."
Magill, formerly provost and executive vice president at the University of Virginia, officially assumed the role as Penn's president in July. Ever since, she has worked diligently to get to know the University, as well as the city she now calls home, and recently launched "Tomorrow, Together," intended to set a strategic framework for Penn's future. Magill learned early on of what she calls the "virtuous impatience" of Penn people—their sense of urgency in putting their knowledge to work, and their drive to do good with it. Thus, in her inaugural address, she urged the University community to not only meet the moment, but to make it. 
"We can be confident enough in our strengths to be bold, to take risks, to play offense," she said. "We can stand tall on our distinctive values and the creativity and tenacity of Penn people."
"Making the moment," Magill described, is like "drawing down the lightning"—a nod to Penn founder Benjamin Franklin, who, using a kite and key in the mid-1700s, worked to better understand electricity. 
Trustees Chair Scott L. Bok proudly invests Magill, and passes on to her the president's badge and three brass keys, following tradition.
"We welcome a challenge here and we thrive on it," Magill said. "To answer the great challenges of our time, opportunity and truth will be our conductors, our kite and key, our means to draw down the lightning … Today, the very nature of truth is contested and the means to opportunity are fragile. The University of Pennsylvania is called upon to redouble our historic and our forward-looking commitment to these twin principles."
Following tradition during the inauguration ceremony, Bok gave Magill the president's badge, created in 1981, which signifies the authority of the chief executive, as well as three symbolic brass keys to the University, which were first used at the 1895 inauguration of Charles C. Harrison, who was a Penn provost. 
Also at the ceremony, the Rev. Charles Howard gave an invocation and a benediction; Faculty Senate Chair Vivian Gadsden and Penn Alumni President Ann Reese provided greetings on behalf of the faculty and alumni, respectively; Erica Hunt recited a poetry reading of her work "Dear Neighbor;" and various student performers were showcased. 
Prior to the inauguration ceremony, an academic procession from College Hall to Irvine took place, including the 12 Penn school's deans, senior administrators, trustees, and presidents and delegates from universities across the United States. Former Penn Presidents Amy Gutmann and Judith Rodin processed, and were present on Irvine's stage, which featured a sprawling backdrop inspired by the ornamental patterns in Penn's Fisher Fine Arts Library—the site of the first welcome event for Magill.
A close colleague and friend of Magill's since their early days as professors, James Ryan, now president at UVA, spoke admirably of her qualities during the event. She is a "fiercely loyal friend," she is "both empathetic and tough," and she has "exquisite judgment," he said. 
"Liz has been called to lead all her life," Ryan added. "In every community she has been in, or in those she's been invited to join, people have looked to her to lead, and for good reason."
Musicians Jeff Tweedy and Sheryl Crow perform an afternoon concert at Shoemaker Green, open to the whole Penn community.
Ryan noted how Magill is, in a sense, a "natural leader as her track record attests," but he was quick to explain that such a description is "incomplete and in some ways diminishing." "It misses the fact that few people, if any, work harder than Liz Magill. She's an effective leader because she works hard at it."
Though admittedly sad to see her leave UVA, Ryan said he couldn't think of anyone better to serve Penn as its ninth president. "Liz is where she is supposed to be, of that I am sure," he said. "And those of you at Penn in turn can be sure that Liz will work night and day to promote and protect your interests and aspirations with a determination, selflessness, and wisdom that few can match."
Red and blue blankets and tumblers were handed out at the picnic, and more than 5,000 attendees enjoyed local treats, including a Penn-augural Berry Chocolate Chunk flavor from Bassetts Ice Cream.
After the ceremony, Magill joined her family and friends, as well as thousands of Penn students, faculty, and staff, at a lunchtime picnic and concert at Shoemaker Green, which featured Philadelphia food and performances from two of Magill's favorite musical artists—Sheryl Crow and Jeff Tweedy. The day's events continued to bustle late into the afternoon, with an academic symposium at Irvine featuring U.S. Supreme Court Justice Elena Kagan in conversation with Magill, which was also livestreamed. 
It was an engaging conversation apt for Magill, a longtime legal scholar and professor who, before becoming provost at UVA, served as dean at Stanford Law School and vice dean at UVA's School of Law. Prior to her career in higher education, Magill acquired experience working in politics and at the U.S. Supreme Court, including clerking for Judge J. Harvie Wilkinson III of the U.S. Court of Appeals for the Fourth Circuit and for U.S. Supreme Court Justice Ruth Bader Ginsburg.
In his remarks at the ceremony, Bok referenced a popular quote from the late justice: "Fight for the things that you care about, but do it in a way that will lead others to join you." In doing so, he noted how much Magill has clearly "taken this advice to heart."
"[Magill] has a great talent for people and for building relationships to reach a common goal," Bok said. "She understands, like every successful leader, including our own Benjamin Franklin, that we will achieve so much more collectively than we ever could separately." 
She said as much when closing out her address.
"As Penn's ninth president, I pledge to do everything in my power to support this University, this city, and our people in making the moment," Magill said. "The future awaits. But we're ready. Let us draw down the lightning—together."
To see more photos from inauguration day, visit Penn's Flickr.