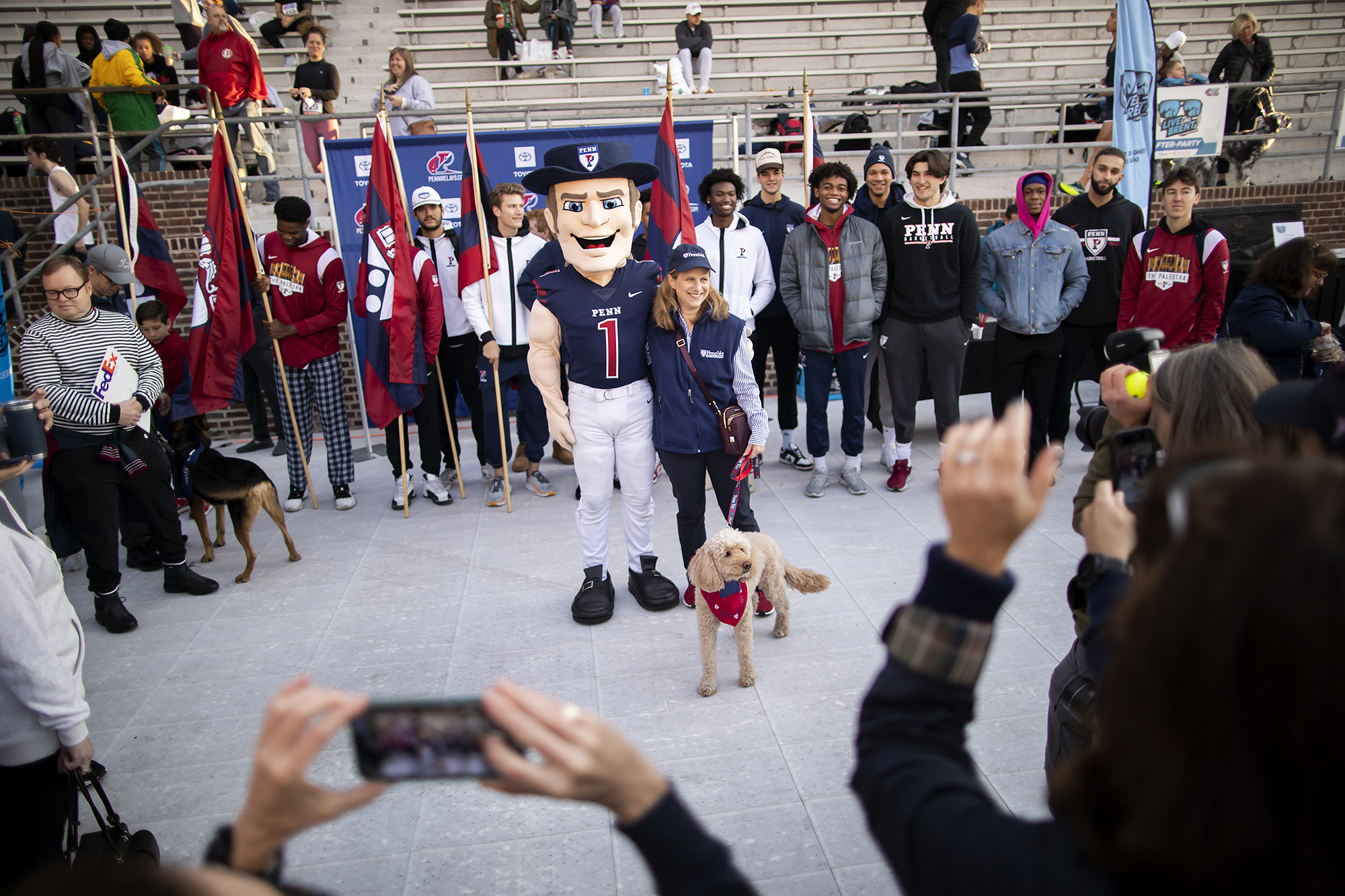 Penn's fall campus beauty was in all its glory this past weekend as the tree leaves changed colors and the sun shone warm and bright just in time for President Liz Magill's inauguration and a slew of in-person Homecoming activities. 
Alumni donned their red and blue, reminiscing near the Split Button on some of the "best days of our lives," as Eddie Matz, who graduated from Wharton in 1993, put it. And current students at QuakerFest expressed their joy too: "I think everyone just has a lot of Penn pride right now and it's great," said Alex Eapen, a third-year student in the College of Arts & Sciences, and also the Undergraduate Assembly vice president. 
Along with his student government classmates, Eapen attended Magill's inauguration and the academic symposium at Irvine Auditorium, as well as the concert and picnic on Friday afternoon. Drawing more than 5,000 students, faculty, staff, administrators, trustees, alumni, and friends of Penn, the celebration at Shoemaker Green showcased musical artists Sheryl Crow and Jeff Tweedy—two of Magill's favorites—as well as signature bites from CookNSolo restaurants such as Zahav, Federal Donuts, Goldie, K'Far, and more. There was even a specially made ice cream flavor—Penn-augural Berry Chocolate Chunk—created by Bassetts. Keeping up with the energy of the day, on Friday evening, various alumni-centered meetups and events took place, including the 87th annual Alumni Award of Merit Gala, which honored eight individuals. 
Saturday's festivities kicked off early with a morning dog walk through campus. All in the Penn community were invited to attend with their pups. Magill, her husband Leon Szeptycki, and their beloved Goldendoodle Olive led the way to Franklin Field with the Penn Band, members of the men's basketball team, and many from Penn's School of Veterinary Medicine and the Penn Vet Working Dog Center. Magill then served as the ceremonial starter of the Penn Relays 5K, an annual, competitive run through Penn Park.
The day continued with QuakerFest and the Homecoming football game against Yale; talks, tours, lectures, film screenings, and displays on a variety of topics; the Blutt Band Slam and Penn Spectrum Mixer; a gallery hop to arts venues across campus; an Alumni Arts Fair on Locust Walk; and much more.
The Quakers scored a touchdown with 20 seconds left in the Homecoming game, which clinched a 20-13 win over Yale.
Jewelry designer Erika Cohn, a 1999 graduate of the College, has displayed items she makes such as necklaces, earrings, and bracelets at the Alumni Arts Fair for many years. "Two women today have already stopped back at my table, wearing their red and blue bracelets I made years ago," Cohn said, chatting cheerfully Saturday afternoon. 
Cohn reflected on her time as an undergraduate studying art history, when she started to become "more visually aware." "It's neat to come back to where it started," she said. "To where I learned to look, develop my eye, and gain a sense of design." 
The ninth annual Blutt Band Slam took place at Shoemaker Green on Saturday, featuring performances by alumni and students.
Cohn noted her particular joy this year being back on campus after many in-person Homecoming events took a hiatus due to the COVID-19 pandemic. 
Toyosi Abu, of the Jerome Fisher M&T Program, and Class Board 2024 president, provided a similar sentiment. 
"As someone who represents a class that has missed so much of their Penn experience due to COVID-19, it's just great to have a fully normal Homecoming weekend, and to connect in a meaningful way with alumni," Abu said. "So many human connections have been lost over the past few years, so that's the best part of Homecoming for me."