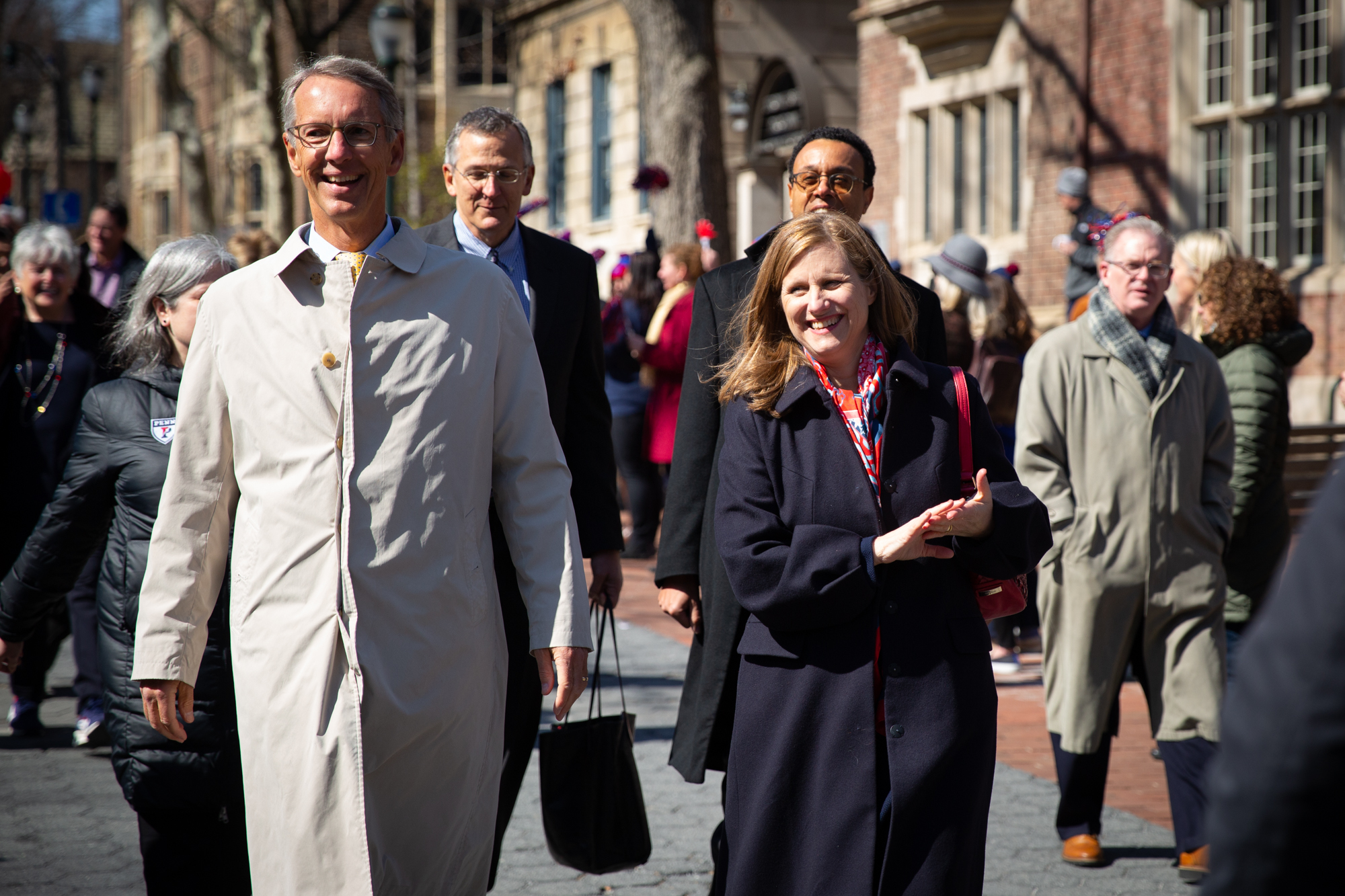 On Friday morning, during their Stated Meeting at the Inn at Penn, Penn's Board of Trustees unanimously confirmed M. Elizabeth "Liz" Magill as the University's ninth president. Immediately following, Magill, joined by trustees, deans, faculty, staff, students, and alumni joyfully processed down Locust Walk—starting near the iconic "Ben on the Bench" and ending at the Benjamin Franklin statue in front of College Hall.
In her remarks to the Trustees, Magill described the moment as "extraordinary." "I couldn't be more honored and privileged," she said.
Magill, a distinguished scholar and teacher of administrative and constitutional law, has served as a professor, dean, and provost at various prestigious institutions, including most recently at the University of Virginia and Stanford. She currently is executive vice president and provost at the University of Virginia, roles she has assumed since 2019.
Lee Spelman Doty, vice chair of the Trustees, said aside from Magill's "superior intellect," the incoming president is known for her "relentless curiosity, her warmth, and her compassion." Doty recalled a colleague of Magill's stating her "unusual humility" and "genuine care." "Combined with her impressive resume," said Doty, "I believe that these human qualities are indicative of why we have found the absolute right person in Liz Magill to lead Penn into its very bright future."
"As someone who knows her well said to us, 'Liz was born to lead a great university,'" added Trustee Alan Schnitzer, who served on the presidential search committee. "I could not be more pleased that it's going to be this great University."
Magill will begin her tenure at Penn on July 1. Wendell Pritchett, Penn's former provost and senior adviser to Amy Gutmann, has been named the University's interim president. Gutmann, who served as Penn's president for nearly 18 years, left her post mid-February to assume her duties as U.S. ambassador to Germany.
Eagerly looking ahead, Magill told her new colleagues, "The incomparable faculty, students, staff, leadership, alumni, and friends make this University's momentum unstoppable. Together we are going to launch Penn to even greater heights."