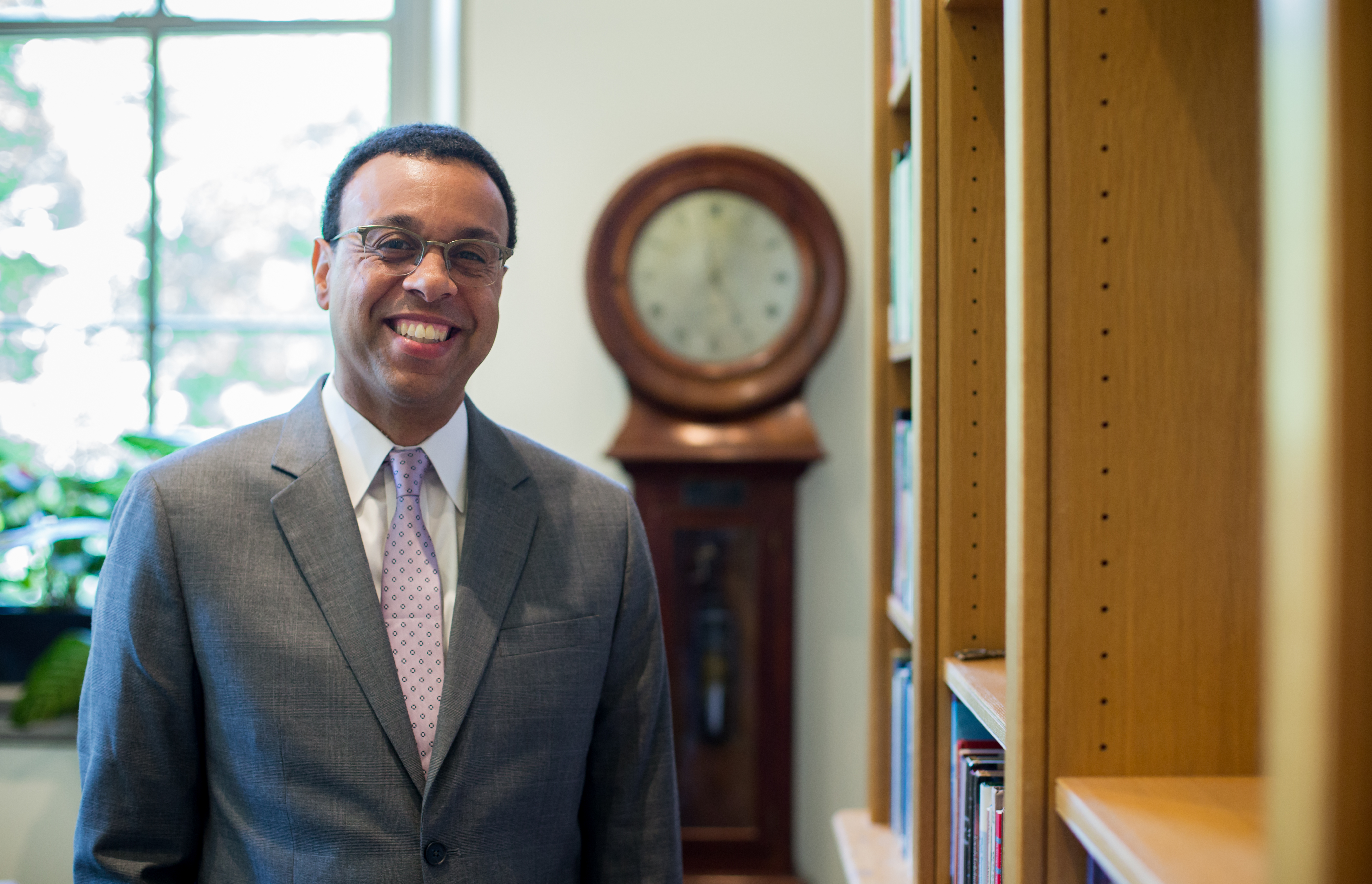 For Wendell Pritchett, Penn is close to synonymous with home. He not only has served admirably as a professor, dean, and provost on campus, he is also a proud Penn alumnus and grew up nearby.
"I've been connected to Penn my whole life," Pritchett says. "I learned how to ice skate at the Penn Ice Rink, I learned how to play tennis at the Levy tennis courts, I learned how to play basketball at Gimbel gym—that's what it used to be called. I took my SATs and GREs at David Rittenhouse Labs. The list goes on."
Now, Pritchett has been named the University's interim president, a job he assumed after Amy Gutmann departed for her new responsibility as U.S. ambassador to Germany. He will serve in Penn's top position until Liz Magill takes the helm July 1.
"All of us who care about Penn are pleased and grateful that Wendell Pritchett has agreed to fill this important role for our University," says Trustees Chair Scott Bok. "He knows the issues, he knows the people, and he has a deep understanding of Penn's values and priorities."
Pritchett, always open and willing to connect, carved out time recently to chat with Penn Today. We discussed a bit about his background, his goals as interim president, what he is looking forward to most this spring semester, and more.
Tell me a bit about your background, and specifically about your journey into higher education—as a law professor and as an administrator. What has the experience been like?
Both my parents were teachers, so I think education is probably the family business. I also grew up around a lot of lawyers and they stimulated my interest in law, and I went to law school. While I enjoyed practicing law, I thought I would enjoy being an academic even more, which has been true. So I came back to Penn and got a Ph.D. in history. I expected to be a history professor and practice law on the side. I hadn't really thought much about being a law professor, but colleagues in the law school here came to me and I visited for a year and really enjoyed it. In terms of being an administrator, that's another thing I never really envisioned for myself. I first got involved in university administration here at Penn. I was on a bunch of planning committees, and I just found it interesting. Penn is an amazing, complex, and impactful place, and I think if you want to make an even bigger difference then you got to get pulled as a faculty member into administration.
In 2009, I left Penn for a wonderful experience as chancellor at Rutgers-Camden. At that point, I was interested in being an administrator, I had already been the associate dean at Penn's law school. I just saw working at Rutgers-Camden as a great opportunity. It's a wonderful institution. After five years there, I came back to Penn just expecting to be a professor because it's the job I love. When our law school dean left us, President Gutmann asked me to serve as interim dean. The same kind of thing happened with becoming provost. I had a lot of experience to bring to the job and President Gutmann and I had gotten to know each other very well. That's how that evolved. Now this current role is probably the last phase for me as an administrator. This was also something I didn't expect. This is all fate, I guess. I am really looking forward to this semester at Penn, getting to know even more members of the Penn family. It's just such a good place with great people and that's what makes coming to work fun.
You spoke of teaching as the family business. Your wife is a teacher, too, right?
Yes, her name is Anne Kringel, and she was senior lecturer and director of the Legal Writing Program at Penn Law for many years. Since 2014 she has been a high school teacher in the Philadelphia public schools.
You're now serving as Penn's interim president. What does the role mean for you, and what do you hope to accomplish before Liz Magill comes on board?
I will only be in the position for about four and a half months, and there are three things that come to mind. One, to keep the trains running. This is an amazing place and I want to keep it running as smoothly as possible. Two, make as few mistakes as possible. Everybody makes mistakes, but let's make as few of them as possible. And three, pave the road for the transition to our wonderful new president Liz Magill. I actually just talked with her this morning. I expect we will be talking a lot. I think a lot of my job will be helping her get ready for the great task she's about to take on. 
You served as provost at Penn from 2017-2021, working very closely with Dr. Gutmann, and more recently you've served as her senior adviser. What did you learn most through those experiences, and how has it prepared you for this position?
When we were saying goodbye over the last couple of weeks, I said to Amy more than once that I have learned more from her in the last five years than I've learned from anybody else in any professional role by far. She is just an amazing leader. She works so hard, she listens, she asks a lot of questions, she treats people with respect. It's all really important. When we think about our agendas, and we spend a lot of time working on our strategic priorities, all of those plans come from listening, learning, thinking, and reflecting. And, as important as the priorities and agendas are, what matters is the implementation, and to do that well it's crucial to be respectful and understanding of other people and what they are trying to achieve and how to match what you are trying to achieve with what their hopes and goals are. That's really the job, in my opinion, of any administrator. The decisions just get more complex as you move up into higher roles. She is really by far the most spectacular leader I have ever worked with, I haven't seen anybody do those things better than she has.
You mentioned already how much you love teaching. Are you teaching this semester, or do you have plans to teach again soon?
No, and I am sad about that. I did expect there was going to be a fair amount of business in College Hall this semester so I said no, regretfully. I did teach last year, and throughout my term as provost. I always enjoy it. I expect I will be on sabbatical next year but I am very excited to get back into the classroom after that, at the Law School and at the Graduate School of Education. Teaching class is important, but really a lot of the job of a professor is working individually with students either short term or long term, and I'm always doing that. In fact just this morning I got an email from a student asking if I could help them with their research.
You have such a strong legal and policy background, and your scholarly work focuses on urban history, especially housing, race relations, and economic development. This work obviously can be very closely tied to universities and colleges. How do you think this background has influenced your university leadership roles and the decision-making you so often need to do?
They are deeply connected. One of the core reasons why I got interested in university administration is my realization of the impact colleges and universities can have on communities. I grew up in Philadelphia and I've seen how much positive impact that the University of Pennsylvania has had on the city and region. At Rutgers-Camden, I saw the very positive role that institution has had in the Camden community. Of course, Penn, like all old universities, has a complex history of community interaction. For example, my mother grew up in West Philadelphia and the house she lived in as a child was acquired by the city through eminent domain for an urban renewal project. Now that property is part of the Penn campus. So, I understand also from my personal life the complicated role of universities and why civic engagement is so important today. 
Do you live in West Philadelphia now, too?
I grew up in Center City, and then my family lived in West Philadelphia for 24 years. When my daughters left the house for college, and we became empty nesters, we moved back downtown to an apartment.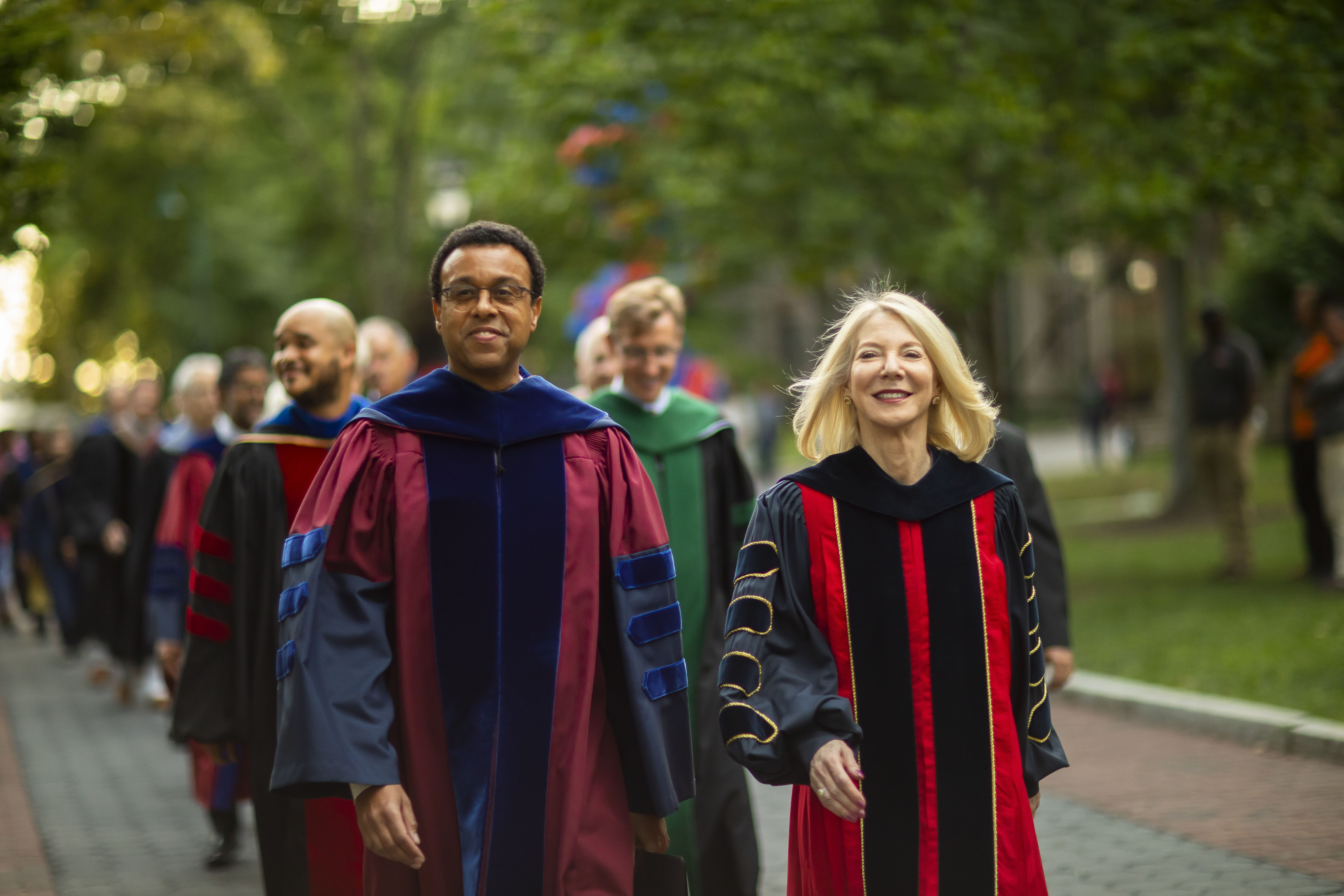 Tell me about your daughters.
I have two daughters. They are both amazing and both adults now. One works in New York City in the publishing business, and the other is a senior at Brown, where I went for my undergraduate degree.
I know my colleague wrote about your "Perspectives on Fair Housing" that came out in 2020. Any new research in the works that you'd like to talk about? 
The short answer is no. The slightly longer answer is that I have a lot of collaborators. Even if I'm not the one to do the writing, I help them think through their ideas. I try to stay engaged in research even though I am not writing a lot currently. 
Spring semester is always a really exciting time at Penn. What are you looking forward to most in the coming months?
I am really excited. I expect it will be very busy for all of us. I am cautiously optimistic in our ability to manage COVID-19 and so I do hope very much that we will do lots of things together. It's still evolving, but I expect there will be lots of events. We have two commencements this year because we are bringing back the class of 2020. Two back-to-back weekends of commencements, that's never happened before. I expect, hope, and look forward to being a very much active presence on campus. It's time for us to see each other and get to spend some time together. 
Penn is obviously an institution near and dear to your heart. As we think about this significant transition to a new president, what do you hope for the future of Penn?
Penn is still Penn. Penn was Penn before President Gutmann got here. And Penn will be Penn for the next president, and beyond that. I think the core values are deeply embedded. What Amy did that was transformative was take so many of our strengths and accelerate them. She's helped make us the eminent university we are today. I am very excited about Liz's term as president because I know she's going to accelerate our eminence, too. She will recruit wonderful faculty and students, she will support the wonderful team and people that run this place. We do research, we teach students, we make impact in the city and the world, but the question isn't what we do, it's really how we do it, and how well we do it, in a meaningful way. I am certain that Liz is going to be a wonderful leader. She's going to bring her own flavor and new ideas, and of course among the many new opportunities Liz has is the ability to think about Penn in a post-COVID world. What does that mean? I look forward to helping with that.
To wrap things up, for fun, if you had to describe Penn in three words, how would you do it?
Caring, creative, and hardworking.
How about Philadelphia?
One of a kind. I guess that's four words, but it works.