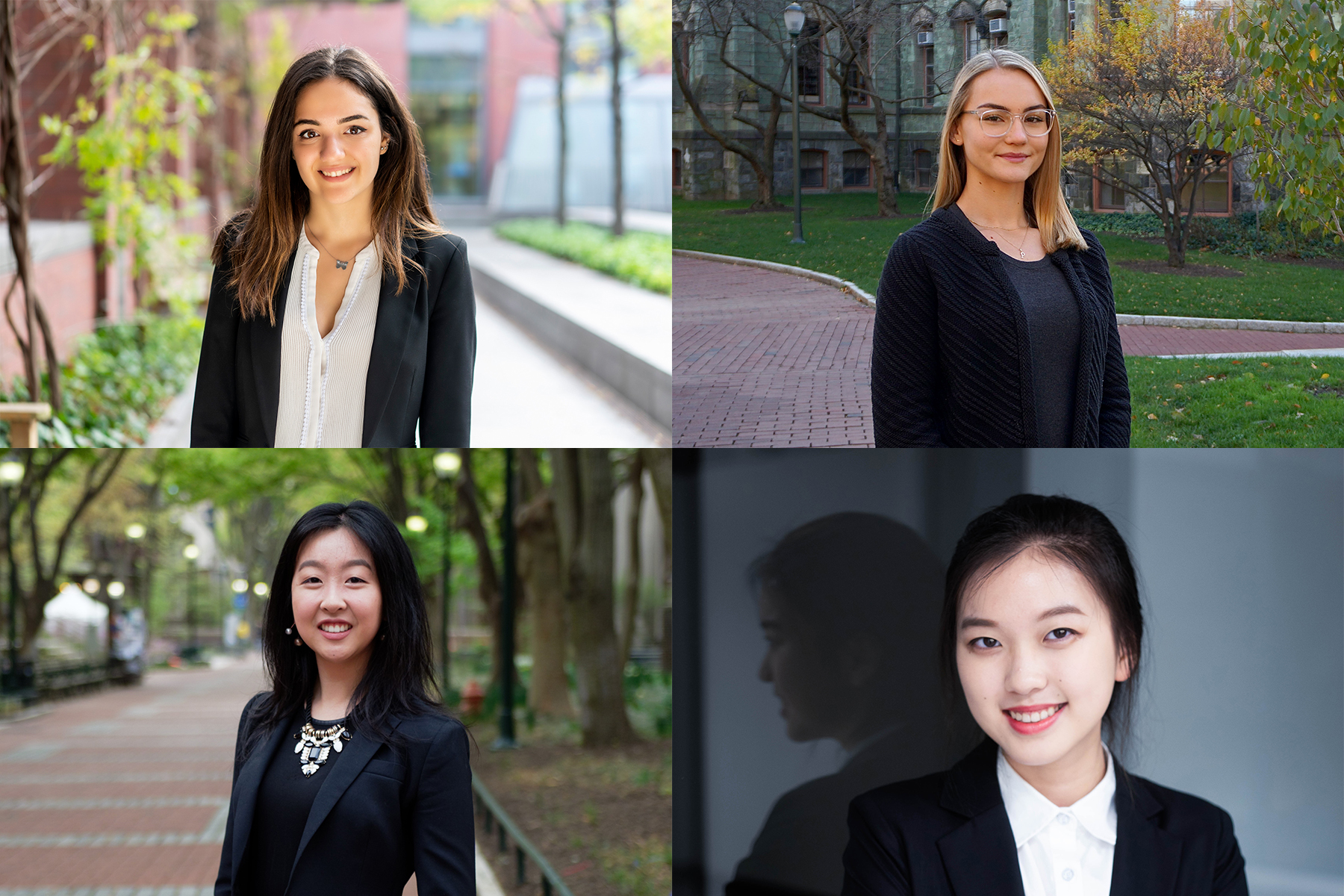 University of Pennsylvania seniors Cristina Pogorevici, Paulina Ruta, and Yixi (Cecilia) Wang and 2019 graduate Annie Sun have received the Schwarzman Scholarship, which funds a one-year master's degree in global affairs at Tsinghua University in Beijing.
They are part of the sixth class of Schwarzman Scholars and will enroll at Tsinghua in August 2021. This year, 154 Schwarzman Scholars were selected from more than 3,600 applicants and include students from 39 countries and 99 universities. More than 400 candidates were invited to interview, this year virtually, before panels based in Beijing, London, New York, or Singapore.
The core curriculum focuses on leadership, China, and global affairs, according to the Schwarzman program. The academics are refined each year to align with current and future geopolitical priorities.
Pogorevici, from Bucharest, Romania, is concentrating in business analytics and management, in the entrepreneurship and innovation track in the Wharton School. She is president of the Wharton Council, a member of the Wharton Junior-Senior Advisory Board, and a Penn World Scholar. Her interests in entrepreneurship and development have taken her to Hong Kong, Uganda, Moldova, and Ukraine during her time at Penn. As a Schwarzman Scholar, she says she hopes to learn to drive socioeconomic development by leveling global access to entrepreneurship.
Ruta, from Arverne, New York, is concentrating in finance and behavioral economics at Wharton with a minor in Spanish. She is CEO of Global Platinum Securities, an international, intercollegiate student-run hedge fund, and is currently working for Asia Pacific Land focused on infrastructure investing. Last summer she worked for PJT Partners in its restructuring division. She says she is passionate about increasing collaboration between U.S. and Chinese business leaders, as she hopes this will transcend financial transactions and help shape foreign policy.
Wang, from Chengdu, Sichuan, China, is in the Roy and Diana Vagelos Program in Life Sciences & Management program, administered through Wharton and the School of Arts & Sciences, and is majoring in computational biology, health care management, and statistics, with a minor in computer science. She is simultaneously pursuing a master's degree in data science through the School of Engineering and Applied Science. She is completing her honors thesis comparing COVID-19 policy responses in different provinces in mainland China, Hong Kong, Taiwan, Singapore, and South Korea. She also currently leads a research and outreach effort coordinating an international team translating articles from the Chinese Medical Journal Network for global dissemination. Wang has interned in the Office of Disease Prevention at the U.S. National Institutes of Health. She has worked on global initiatives, including a hospital management project in Kenya, a social entrepreneurship program in Ghana, and an NGO in China to help promote awareness of preventable genetic diseases. At Penn, she is the president of the Wharton China Association, a member of the Penn Equestrian Team, and has been a teaching assistant for the Mathematical Foundations of Computer Science course. After completion of the Schwarzman Scholarship, she plans to pursue a master's in public health and work with an international organization to improve global health.
Sun, from Rochester, Minnesota, received her bachelor's degree in psychology from the College of Arts & Sciences in 2019 and wrote her honors thesis on nation branding. Sun currently is an associate at L.E.K. Consulting in Boston and is active in pro-bono consulting, leading two project teams in her first year. She recently founded Oraculi, a non-profit mentorship organization that connects young STEM professionals with middle school students. At Penn, Sun was involved in mental wellness reform as chair of the Penn Undergraduate Health Council. She also was captain of Penn Latin and Ballroom Dance and continues to compete in ballroom dancing.
Pogorevici, Ruta, Wang, and Sun applied for the Schwarzman Scholarship with assistance from Penn's Center for Undergraduate Research and Fellowships. Penn has had 15 Schwarzman Scholars since the scholarship's inception in 2016.