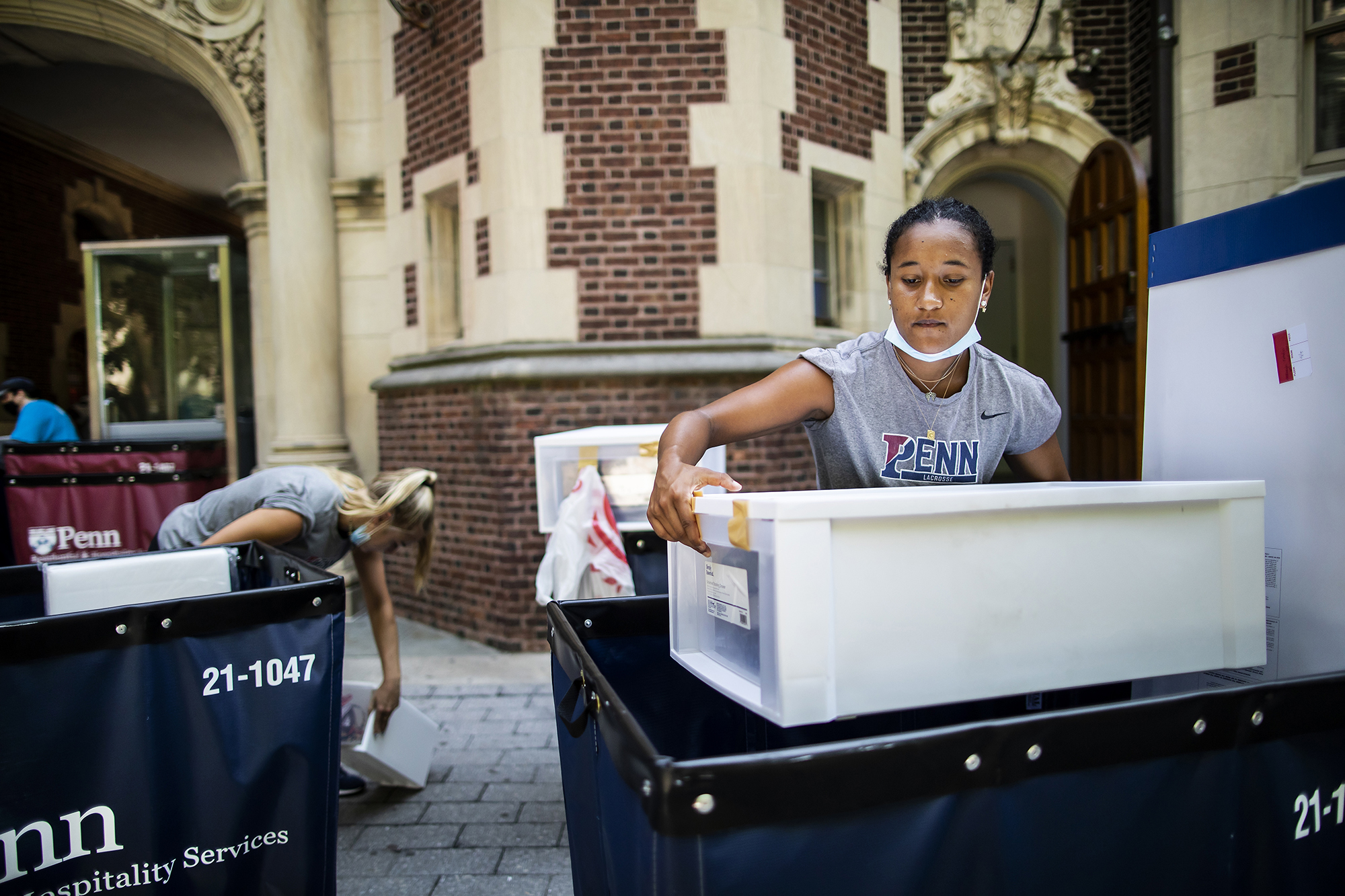 The University of Pennsylvania is making final preparations for Fall 2022 undergraduate Move-In between Aug. 22 and 28, when nearly 6,000 undergraduates, including 2,417 members of the Class of 2026 and 3,469 returning students will be moving into Campus Housing.
Move-In logistics include pre-arrival testing and other health and safety protocols, including providing proof of vaccination. More than 225 volunteers and staff working with New Student Orientation, College Houses, and Residential Services will be on hand to assist and there are a variety of activities to welcome students and guests. In addition to those on hand to help with logistics, families and students can enjoy live music and samples of Philly favorites such as Tastykakes, pretzels, and water ice. Other activities include walking tours, College House meetings and activities, and a President and Provost Family Welcome.
For all, Move-In is a busy exciting time. Penn Today has gathered a few tips to help guide students and guests through the process:
Before arriving on campus, students are encouraged to complete pre-arrival testing at home. If a student tests positive, they should complete their five days of isolation at home before arriving to campus, followed by strict masking for an additional five days. Students must also upload proof of vaccination to their Wellness Portal (instructions for existing students; instructions for new students.) If you have questions about the University's vaccination requirements, please contact the Immunization and Insurance Compliance team at 215-746-4200.
Review the University's Public Health Guidance requirements and the College Houses & Academic Services policies.
Students may have guests to assist them during Move-In. Guests must have a photo ID and mobile guest pass in order to enter the College House with the student.
10 minutes before arriving on campus, students should use Mobile check in to begin the Move-in process. Step one takes five minutes to complete. Mobile check-in will occur on the RHS Portal. The mobile check-in tool will ask students to login using their PennKey and Password and answer simple verification questions. As soon as you check in via the mobile process, you will have officially taken residency of your room assignment and our standard Terms & Conditions apply.
Plan ahead and be on time. If you need to change your time, you may do so via MyHomeAtPenn.
For those coming by car free street parking at the allocated Move-In time and location will offered for up to one hour—time to unload. After that hour, you can take your car to one of the designated parking garages on campus for complimentary lot parking for the remainder of the day.
Move-In drop off locations will have staff available to assist and answer questions. Additional staff will be available at information stations inside the College Houses. Students may also email living@upenn.edu with questions.
Masks are optional (but encouraged) while on campus. Students and guests should familiarize themselves with COVID-19 public safety guidelines. Some of these guidelines include taking personal precautions, like washing hands, to keep the campus community safe.
The day of Move-In, first-year students must check in and pick up their PennCards upon arrival at their College House.