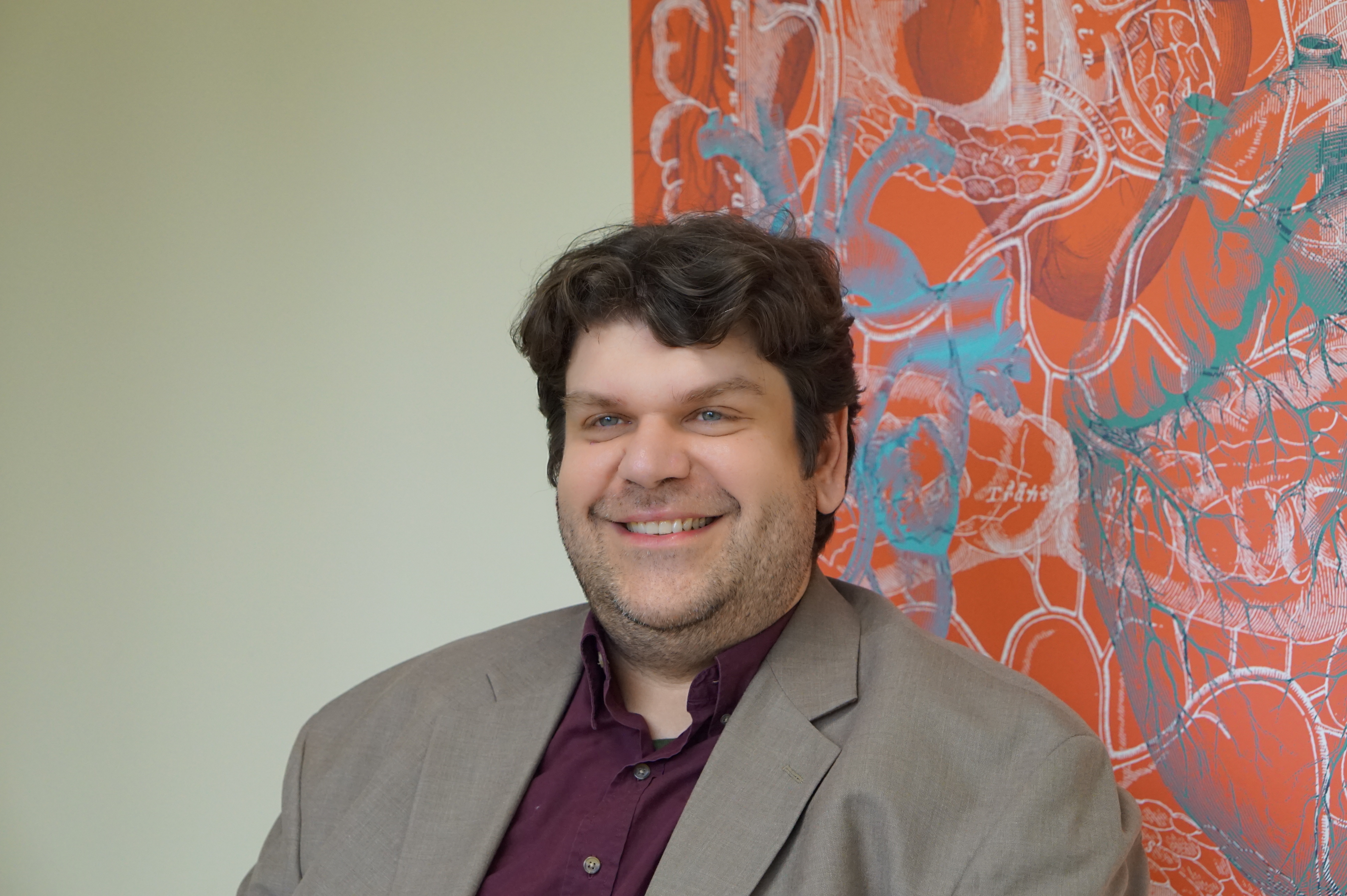 Gerontologist and researcher George Demiris fell into the field of home care. As a doctoral student 20-plus years ago studying health informatics, one of the first projects he ever worked on focused on home-based technologies.
"We were giving people peripheral devices to capture vital signs, and then we used something that's extremely outdated—maybe you can find it in a museum today—called Web TV," says Demiris, who joined Penn's faculty this past January. "It was a black box that you put on your TV and plugged into your phone line. It had a modem and a little camera, and you could do extremely horrible-quality video calls. At the time, this was 1996, we thought it was the best thing ever."
Fast forward to today, through faculty positions at the University of Missouri and University of Washington, and Demiris still finds it fascinating to think about what it means to use such tools in the delivery of care in the home. "I don't think of technology as the solution," he says, "but there is great potential there as an effective tool." And the Penn Integrates Knowledge professor, who has joint appointments in the School of Nursing and at the Perelman School of Medicine, has big ideas for how to tap into that potential.
As Demiris explains it, his research focuses on two separate but related areas: One examines the family caregivers of hospice patients, their stress and anxiety levels, and their input into the decision-making process surrounding their loved one's care. The second relates to technology and aging, specifically smart homes and how passive-monitoring systems—sensors that track motion, for instance—can figure into someone's life.
"I have been focusing on older adults and their families, and the field of home care and hospice, for most of my research," he says. "I'm looking at ways to use technology to improve quality of life for people who want to stay independent in their own homes."    
On the family caregiver side of his work, Demiris is currently recruiting participants for a five-year clinical trial funded by the National Institute for Nursing Research, an arm of the National Institutes of Health. The work looks at an intervention he and colleagues named the "Problem-solving Intervention to Support Caregivers in End-of-Life Care Settings" or PISCES.
"PISCES is supposed to allow caregivers to express some of the challenges they experience, but through a structured curriculum. We're not giving them the solutions. It's more of a cognitive process for people to feel empowered to problem solve more effectively," Demiris explains. "Then we're comparing face-to-face delivery of the intervention to technology-mediated interventions. What I mean by that is nothing fancy, but rather video conferencing and web-based modules."  
To create the intervention, Demiris and colleagues Debra Parker Oliver and Karla Washington, both from the University of Missouri, tweaked a well-known treatment called problem-solving therapy, which is typically given during seven sessions over six months and includes a good deal of homework. For the hospice caregiver population, the researchers dropped the session count to three, shortened the overall treatment window, and excluded most of the requirements beyond the sessions alone. The idea was that given the situations of their intended trial participants, the work should hone a beacon solely on end-of-life concerns through a process that's as undisruptive as possible.
Demiris, partnering with clinicians from Penn Home Care and Hospice Services, is aiming to recruit at least 300 people for this trial, which is his second on a similar topic.
"The first five years had a different design, where we compared the intervention to standard care, which doesn't have anything targeted specifically at the family," he says. "We found that the intervention, when delivered in person, decreased anxiety and improved overall quality of life for the caregivers. That's why we went back for what's called a competing renewal grant. We said, 'This is great, but now we want to do it in a way that would be more cost-effective.'"
Recruitment for the new PISCES clinical trial will begin in mid-June. Meanwhile, on the smart home side, Demiris, along with Nursing's Therese Richmond and Insup Lee, Oleg Sokolsky, Zachary Ives, Ani Nenkova, and James Weimer, all from the School of Engineering and Applied Science, has submitted a proposal for the next phase of work he's been doing for the past dozen years, funded by a pair of grants from the National Science Foundation that wrapped up in February 2018.
His most recent study collected information about 50 older adults who lived independently—either in their own homes or retirement communities—as well as their family members and their health care team. The hope was to gain a clear picture of participants' concerns, preferences, and privacy perceptions about in-home technologies, and to understand how to best use and visualize what these tools collect.
"Just because you have the data doesn't mean that people necessarily can make sense of it," Demiris says. Or want it, he adds.
Though the researchers are still analyzing their results, they have some preliminary findings. Clinicians, for example, expressed hesitation about getting detailed accounts on a day-to-day basis. Rather, they prefer high-level aggregated data less frequently. The participants, however, felt the opposite, appreciating what Demiris describes as the "diary-type of work" that covers the "details of daily living."
"People don't define their life just in terms of their current health condition," he says, "so a lot of times, a clinician would say, 'Who cares what the humidity in the room is?' whereas our older adult study participants might say, 'Oh look, the humidity changed, and my sleep quality changed,' and then make their own assumptions or adaptations about what was going on that day."
Eventually, these results will help fine-tune an algorithm that can detect patterns in the smart home data points and potentially identify or even predict adverse events. For example, motion at night in the bathroom and bedroom, at correlating times, could indicate a person getting up to use the toilet. Motion in the kitchen, with a refrigerator door and drawers opening and closing, could mean the start of meal preparation. Demiris' algorithm, in theory, will confirm such events with certainty and could help detect or even prevent negative incidents.
"I always try to see if the systems would work and be of use to patients and families," Demiris says. "I'm really open to trying things."
To that end, backed by support from the Nursing School, the PIK professor is starting to revamp the Home Care Suite, a home care simulation lab that is part of the Helene Fuld Pavilion for Innovative Learning and Simulation. The lab is a room akin to a one-bedroom apartment, replete with a working kitchen and usable washer and dryer. Demiris plans to wire it with new technologies, then workshop the space with undergraduates from Nursing, Engineering, and other units across campus. "Brainstorming new solutions is more effective when it's done in an environment that looks more like the real environment than just a conference room," he says. "Here we want to be as creative as we can, and use that space as an incubator for innovation in the home, for researchers and educators on campus."
The University, Demiris adds, offers a great space for just such out-of-the-box thinking. "Penn has embraced innovation in a way that makes it exciting for this type of collaboration and this type of work," he says. "It's much more part of the culture."
This coming academic year, he'll teach his first course here, about informatics and geared toward graduate students in Medicine and Nursing. But for now, during his first two semesters on campus, the Greek-born Demiris has focused on getting to know West Philadelphia and putting the research wheels in motion. The work is decades in the making, advanced by the most modern of technologies in an often-overlooked health care field that affects millions of people.
George Demiris is a Penn Integrates Knowledge professor who holds joint faculty appointments in the department of Biobehavioral Health Sciences in the School of Nursing and the department of Biostatistics, Epidemiology, and Informatics in the Perelman School of Medicine.