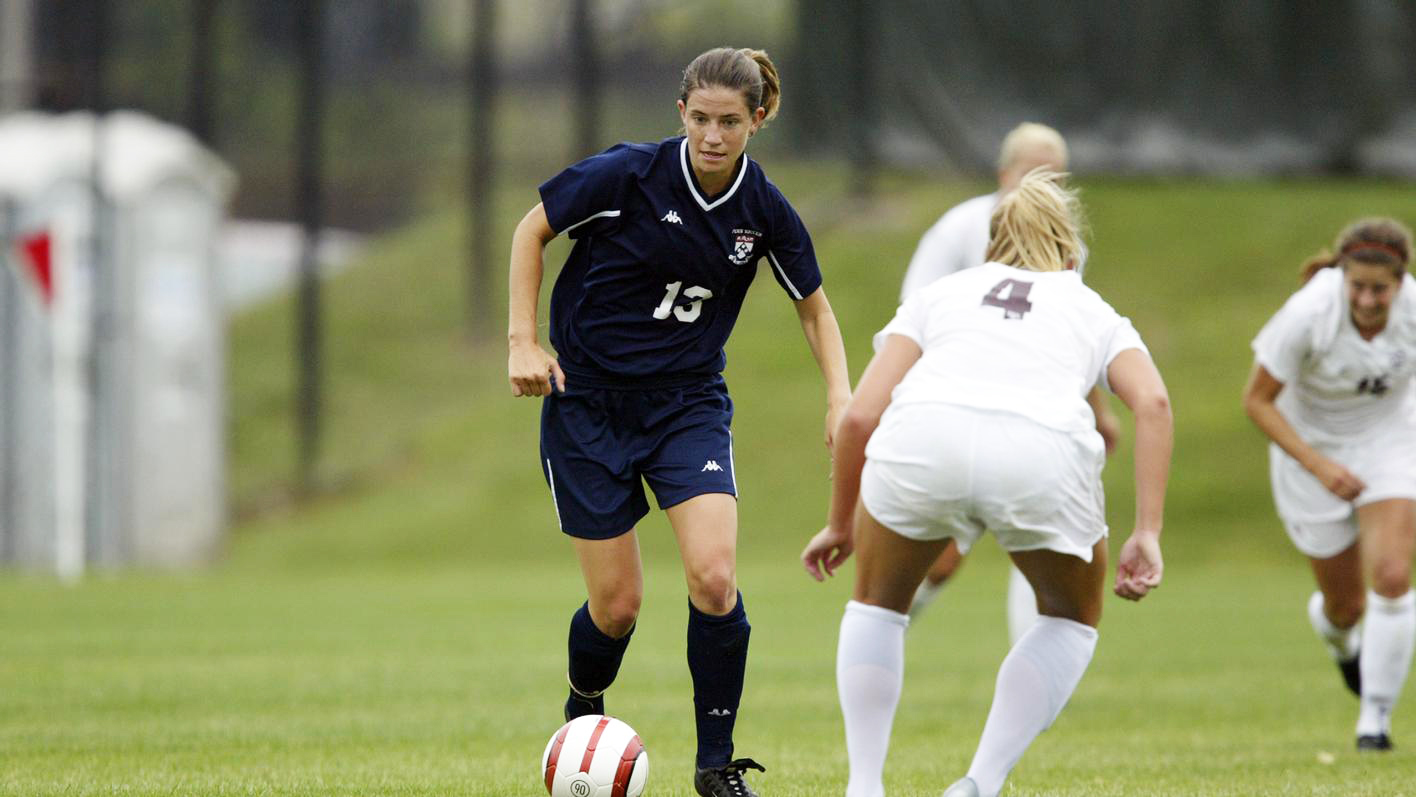 Katy Cross "looked like Pele on Ohiri Field, as she befuddled Crimson defenders all day en route to recording a hat trick" said the Daily Pennsylvanian about her play in a decisive November 2001 matchup against Harvard in Massachusetts. The Quakers won the game 3-1 to pick up their first-ever win over Harvard and capture their first Ivy League championship. Although only a first-year, Cross had already established herself as the best player on the team and perhaps the league.
"Katy Cross is my hero," senior tri-captain Sabrina Fenton told the DP after the game. "I was like, 'Katy, can I marry you?'"
Cross graduated in 2005 as the leading scorer in the history of the women's soccer team—by a mile. She scored 54 goals across her four-year career, assisted on 25 goals, and accumulated 133 points.
At the time of her graduation, Cross was 26 goals ahead of Penn's second-leading all-time goal scorer, 1999 alumna Andrea Callaghan, who concluded her career with 28. (2009 alumna Jessica Fuccello is currently second with 36).
Almost two decades after she graduated, Cross's 133 points are still tops in school history, 49 more than Fuccello's 84. Cross's 25 assists rank second behind 2010 alumna Sarah Friedman's 30.
After amassing 12 goals and 10 assists as a first-year in 2001—both team highs and school records—Cross was named Ivy League Rookie of the Year. The Quakers finished the season 13-2-3 overall and 5-1-1 in the conference. They shared the league title with Princeton and Dartmouth, and advanced to the NCAA Tournament, where they fell to Villanova in the first round.
Cross followed up in 2002 with 14 goals, four assists, and 32 points for the 8-6-3 Quakers. The Red & Blue finished third in the Ivy League with a 3-1-3 record. Cross led the conference in scoring for the second straight year and became the first Quaker to be named Ivy League Player of the Year. She scored 16 goals in 2003, a school record at the time since matched by Fuccello, and she scored 12 goals in her fourth and final season.
"Her ability to beat people on the dribble was arguably the best in the Ivy League; there was nobody close to her," said her former coach, Darren Ambrose, in 2019. "It looked like she was going at full speed. She'd let the defender come in at an angle, and just as the kid got close, Katy would cruise by and hit another gear. She did that regularly."
In all four of her years at Penn, Cross was selected First-Team All-Ivy. She is the only four time First-Team All-Ivy honoree in school history. She was also the first National Soccer Coaches Association of America All-American in school history.
In 2019, Cross was inducted into the Penn Athletics Hall of Fame. Her 54 career goals are currently fourth-most in Ivy League history and her 133 points are third-most in conference history.