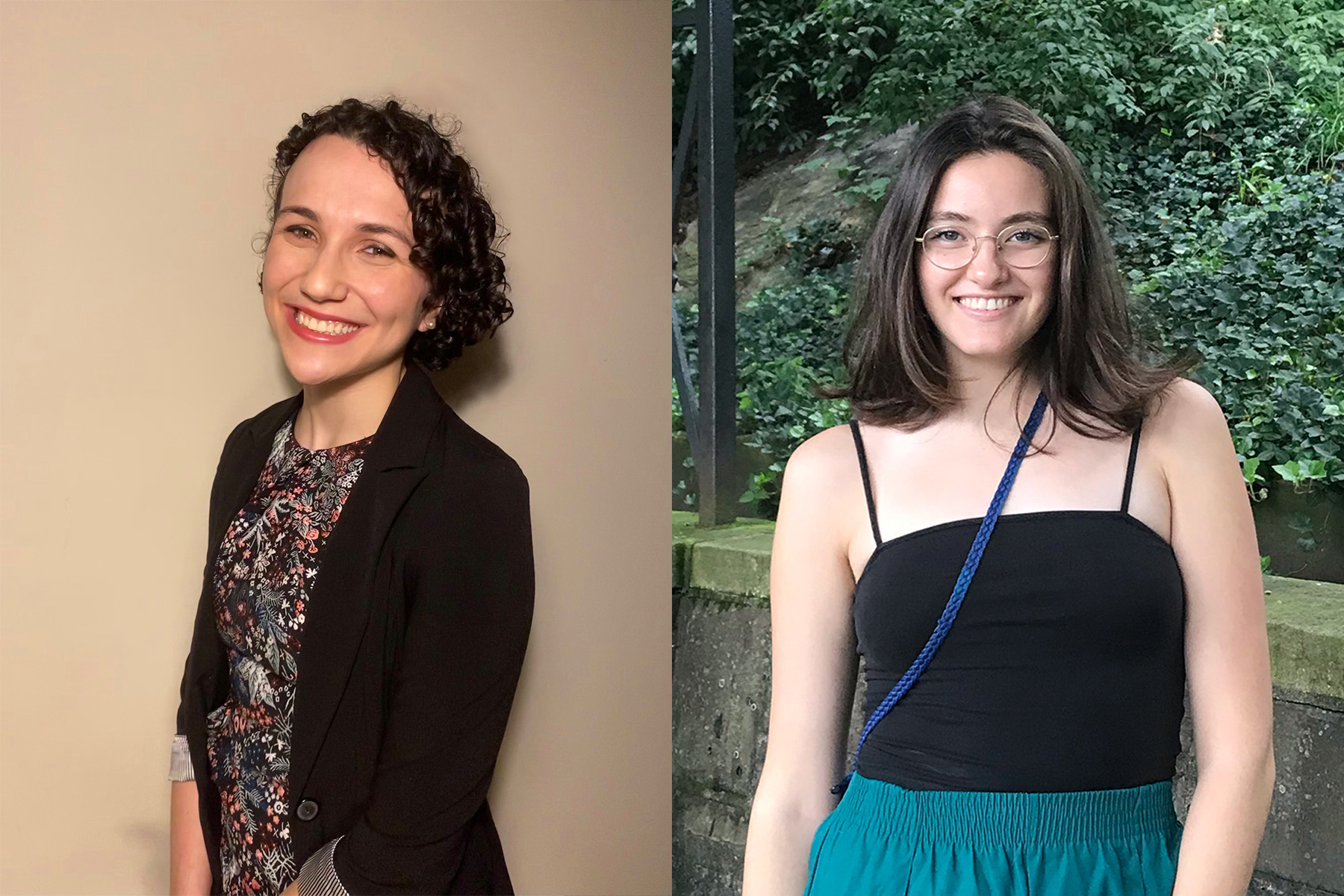 University of Pennsylvania senior Annah Chollet and May graduate Yareqzy (Yary) Munoz have been named Marshall Scholars. Established by the British government, the Marshall Scholarship funds up to three years of study for a graduate degree in any field at an institution in the United Kingdom.
Chollet and Munoz are among the 46 Marshall Scholars for 2021 representing 35 institutions in the United States, chosen from a record 1,180 applicants. The prestigious scholarship, meant to strengthen U.S.-U.K. relations, is offered to as many as 50 Americans each year.
Chollet, who is from Boston, is pursuing a double major in gender, sexuality, and women's studies, and biological basis of behavior with a concentration in health and disability, as well as a minor in chemistry in the College of Arts & Sciences. She is a 2020 Truman Scholar.
With a dual passion for health care and criminal justice reform, Chollet has completed laboratory internships at the Dana Farber Cancer Institute, Harvard University, and the Wistar Institute. She has served as a lab assistant in organic chemistry at Penn and is currently a teaching assistant for the Women and Incarceration course in the School of Nursing.
Her volunteerism includes advocacy for women at the Riverside Correctional Facility, service as student coordinator for the From Cell to Home project at Penn's Ortner Center on Violence & Abuse, and the campus volunteer coordinator for Families Against Mandatory Minimums.
A student wellness advocate, Chollet is president of Project LETS (Let's Erase the Stigma), an advocacy group at Penn dedicated to reducing stigma around mental illness. She serves on the Student Advisory Board at the Netter Center for Community Partnerships. Chollet also plays electric guitar and sings as part of the Bloomers Band in the all-female student comedy troupe.
Chollet plans to pursue a doctoral degree in evidence-based social intervention and policy evaluation at the University of Oxford in England. A certified doula, she intends to attend medical school in the U.S. and devote her career to improving incarcerated women's health.
Munoz, who is from Chicago, earned her bachelor's degree in urban studies and minors in Latin American and Latinx studies and Hispanic studies from the College. She currently works for Legal Aid Chicago as a litigation paralegal with the Fair Housing Investigation and Enforcement Initiative.
At Penn, Munoz was a Questbridge Scholar and a Civic Scholar. She earned the inaugural Joseph "Beau" Biden Scholarship for public service, the Hassenfeld Grant for Undergraduate Research in Urban Studies, and the Urban Studies Award for Commitment to Social Justice in the City.
Munoz volunteered with Moder Patshala, a Bangladeshi-American education center in West Philadelphia, and developed the Penn Civic House's Community Engagement Program.
As a research assistant for Domenic Vitiello, associate professor in the Stuart Weitzman School of Design, she conducted interviews with leaders of community organizations serving immigrants. She also was an intern for U.S. Senator Tammy Duckworth and an intern in the Philadelphia district attorney's Major Trials Unit.
Munoz plans to attend the University of Manchester in England, where she will pursue a master's degree in international development with a focus on poverty, inequality, and development, followed by a master's degree in global urban development and planning. After completion, she intends to conduct research in Latin America on the role of community organizations serving immigrant communities.
Chollet and Munoz applied for the Marshall Scholarship with assistance from the Center for Undergraduate Research and Fellowships. Penn has had 19 Marshall Scholars since the scholarship's inception in 1953.