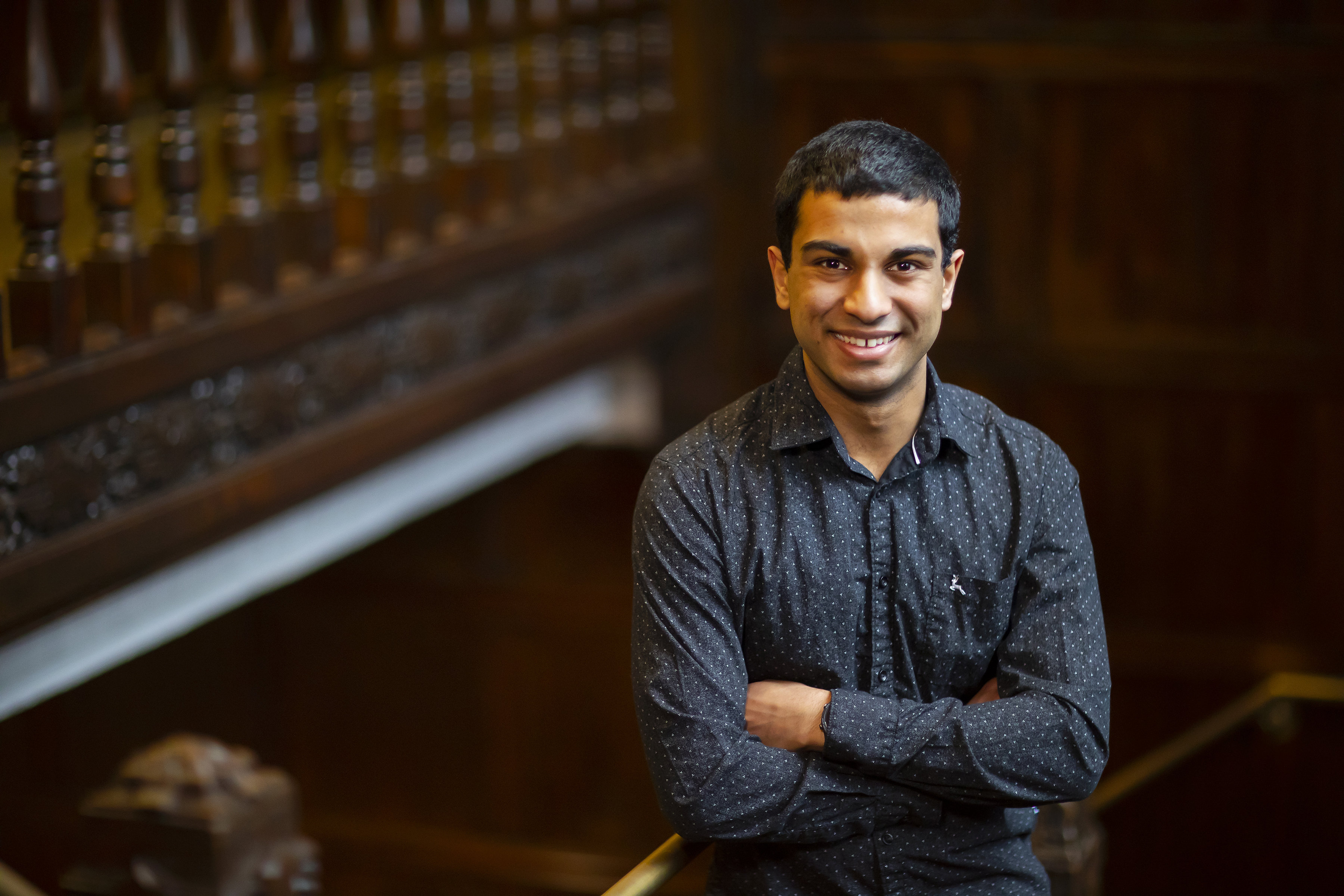 University of Pennsylvania senior Srinivas Mandyam of Basking Ridge, New Jersey, has been awarded a Churchill Scholarship for one year of graduate research study at the University of Cambridge in England.  
The scholarship, which is offered annually to only 15 people, is considered one of the most prestigious and competitive international fellowships available to American students planning graduate study in the United Kingdom. Churchill Scholars are chosen from select universities nationwide in the disciplines of science, mathematics, and engineering. 
Mandyam will graduate from Penn in May with a bachelor's degree in physics, mathematics, and biophysics, along with a master's in physics from the School of Arts and Sciences. At Cambridge, he plans to pursue an MPhil in Physics degree. Upon returning to the U.S., he says he hopes to pursue a Ph.D. in physics with the goal of becoming a professor of physics at a research university. 
The Churchill Scholars program was established in 1963 at the request of Winston Churchill to fulfill his vision of a scientific exchange between the United States and the United Kingdom with the goal of advancing science and technology. The scholarship covers tuition and travel expenses, provides a stipend, and offers a chance at a research grant. 
A Penn Vagelos Molecular Life Sciences (MLS) Scholar, Mandyam's current research is supported by the Vagelos Challenge Award. He has been working in A.T. Charlie Johnson's experimental physics lab since 2017, synthesizing and studying two-dimensional materials (which are only a few atoms in thickness.) As a junior, Mandyam was named a Goldwater Scholar and elected to Phi Beta Kappa. 
Mandyam volunteered teaching a weekly science class at the Science Leadership Academy, a Philadelphia public high school. He also created a weekly rhetoric elective class, The Art of Public Speaking, for the school that is part of a Penn community service course. In addition, he created and taught a weekly elective class at a Philadelphia public middle school on effective public speaking and persuasion skills. He is supported by a College Alumni Society research grant to study public speaking anxiety remediation in young students and has received NASA's Pennsylvania Space Grant Consortium scholarship in recognition of his outreach.
At Penn, he is a peer advisor in the Vagelos MLS program, a math and physics tutor, and a public speaking coach for the biochemistry senior thesis class. He has been a teaching assistant for five courses, including a Ph.D.-level biophysics class. He also is an editor and staff writer for Under the Button, the satire division of The Daily Pennsylvanian student newspaper.  
Mandyam applied for the Churchill Scholarship with assistance from Penn's Center for Undergraduate Research and Fellowships. He is Penn's 10th Churchill Scholar and third in the past four years.