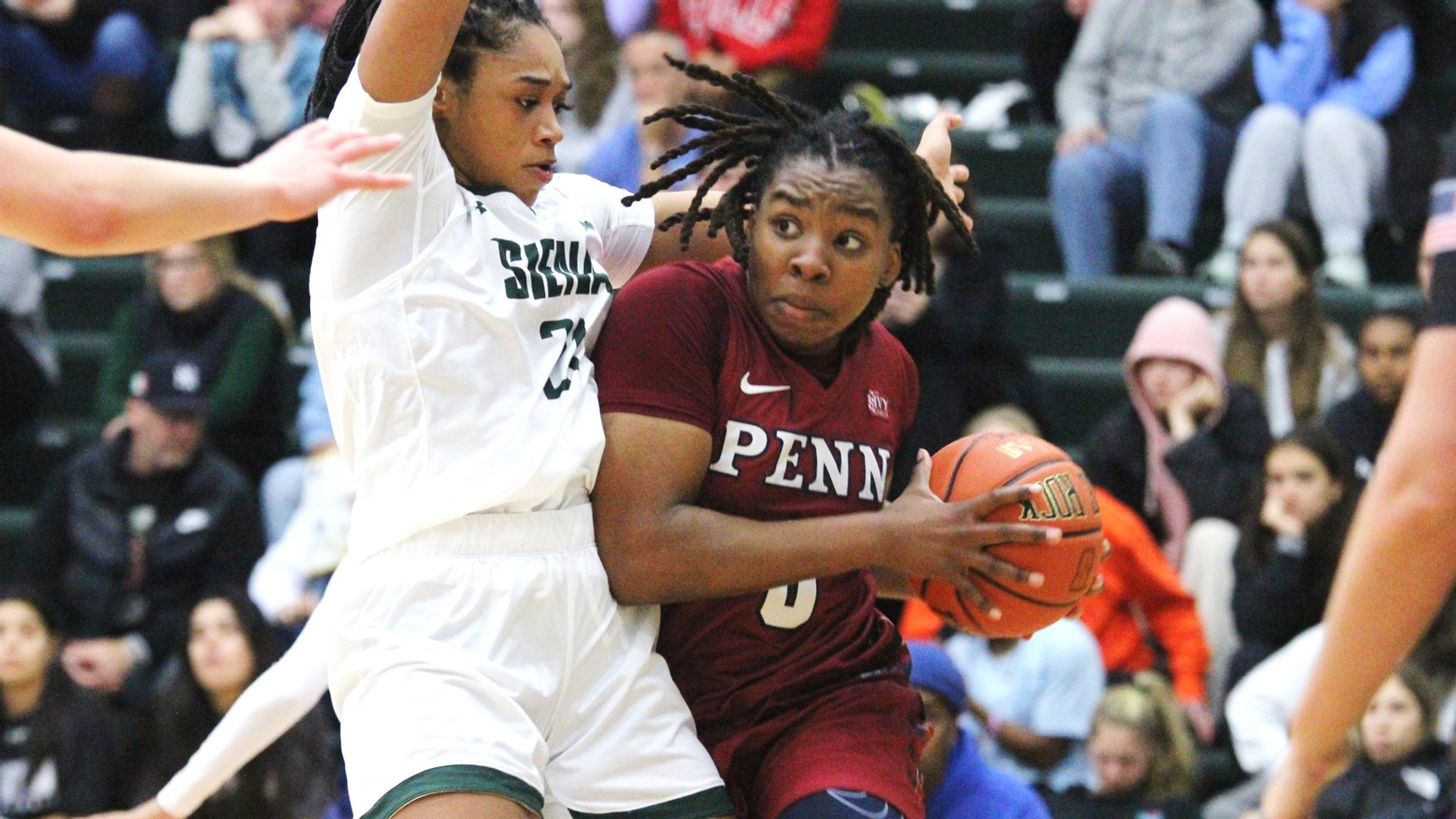 First-year guard Mataya Gayle and third-year guard Stina Almqvist each scored 25 points in the women's basketball team's 85-79 win over Siena on Sunday in Loudonville, New York.
The game was somewhat of a tale of three acts.
Act I featured Gayle scoring 20 points in the first half. Siena started the game on a 7-0 run before Gayle and Almqvist scored 16 of Penn's first 17 points to help the Quakers take a 17-15 lead after the first period. Gayle scored 8 straight points early in the second quarter—two 3s and a jumper—which gave the Red & Blue a 25-17 advantage. Penn led 39-30 at intermission.
Fourth-year forward Jordan Obi was the star of Act II; she scored 10 points in the third quarter and kept the Quakers in the game. Siena went on a 16-2 run to start the second half, transforming a 39-30 Penn lead into a 46-41 Siena advantage. The Red & Blue trailed 59-56 headed into the final period.
Headlining Act III were Almqvist and first-year guard Abby Sharpe. Sharpe nailed back-to-back threes to open the fourth quarter, which put the Quakers ahead 62-59 lead. Another three by third-year guard Lizzy Groetsch gave Penn a 66-61 advantage. Sharpe's three with 4:52 left in the game put the Red & Blue up 73-65. Almqvist put a bow on the win with 8 points in the final two minutes.
Gayle shot 5-for-8 from the behind the arc, one trey shy of tying Kayla Padilla's first-year school record. Almqvist played 39 of 40 minutes and grabbed 10 rebounds. All 12 of Obi's points came in the second half. She also had 4 rebounds, 4 assists, 3 blocks, and 2 steals. Sharpe finished with 11 points in 14 minutes. She shot 3-3 from three-point range.
 Penn is 2-1 headed into Wednesday's game against Chapman in Orange, California.