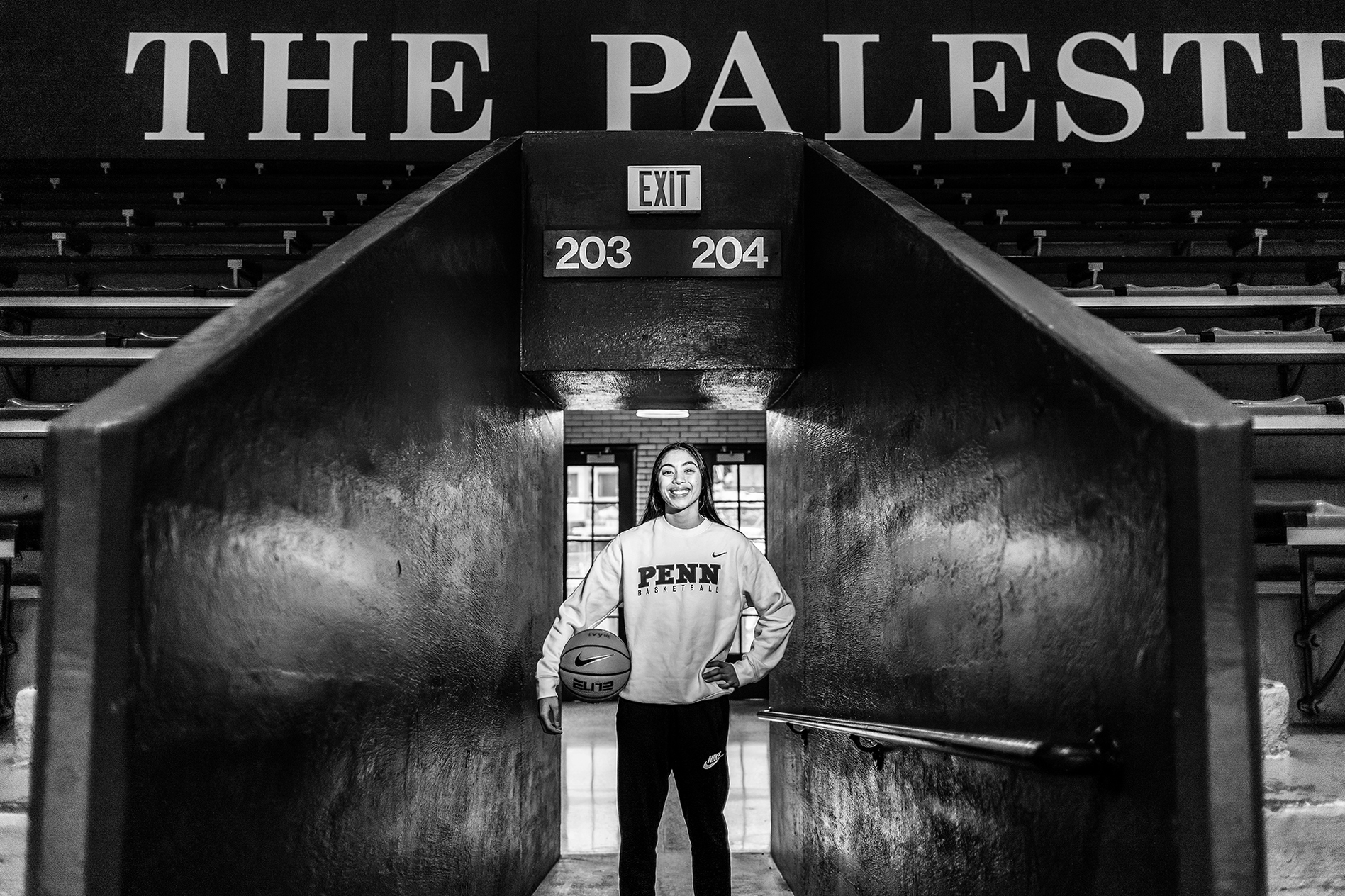 The youth have a saying these days, a slang phrase, common among athletes, that is a declaratory boast of self-confidence in the vein of Muhammad Ali's "I'm a bad man!" Terrell Owens' "Get your popcorn ready!" and John Cena's "You can't see me!"
Five letters, two words (or two-and-a-half), two syllables: "I'm HIM," for those who identify as men, or "I'm HER," for those who identify as women.
Kayla Padilla is HER.
Much too humble to proclaim so herself, her play does all the talking for her.
In only three seasons (the 2020-21 season was cancelled by the coronavirus), the fourth-year captain on the women's basketball team has so far amassed 1,274 points, eighth-most in school history, and she recently set a new program record in three-point field goals with 200 (and counting).
Twice in two seasons she has been named First-Team All-Ivy, with a third selection certainly on the horizon, and she was the 2020 Ivy League Rookie of the Year. In each of her three seasons, she has led the Quakers in scoring, including 17.4 points per game in her rookie campaign, second-best in the conference, and a league-leading 18.5 points per game last season. Were she not such as an unselfish player, surely she could have averaged more.
Opponents reviewing their scouting reports and installing their game plans over the past three seasons have all contemplated the same confounding question: "How do we stop Kayla Padilla?" Seldom have they found an answer.
"She plays hard, she competes, she leads by example," says Mike McLaughlin, head coach of the women's basketball team. "She practices hard. She's probably one of the most well-liked players we have in the program. She's looked upon as a leader. Sometimes her teammates are amazed at her accomplishments and how humble she is. I think she's the full package."
California dreamin'
Padilla's path to Penn began in the City of Torrance, California, a coastal community in the Los Angeles metropolitan area. A proud Filipino American, she grew up among Torrance's prominent and basketball-obsessed Filipino community, which adored the hometown Lakers and favorite son Kobe Bryant. Nurtured in this environment, Padilla developed a love for the game of basketball. She started playing the sport at age 4.
By third grade, Padilla says she knew she had a flair for the game. She and her parents, Joy and Ian, traveled across the country for the first time so she could play in a basketball tournament. Even at her young age, she recognized it was a big deal.
"I think from that point on, I not only realized how serious playing basketball was, but the opportunities that can come from it," Padilla says.
At Torrance's Bishop Montgomery High School, Padilla was a four-year starter. Her coach was Bishop alumna Noelle Quinn, a basketball phenom who starred at UCLA and played in the WNBA for 12 seasons. Padilla says Quinn, who currently coaches the WNBA's Seattle Storm, was someone she looked up to and helped her believe in herself and reach her potential.
To this day, they stay in contact. Padilla wears No. 45, Quinn's college and WNBA number, in her honor.
"Our relationship is just as much about basketball as it is about life," Padilla says. "She's was a great mentor to me in high school, helping me throughout the recruiting process, but also now helping me navigate life as someone who's a competitive basketball player looking to be the best person possible."
'The perfect fit at the right time'
Padilla caught the attention of McLaughlin and the women's basketball staff when she was in ninth grade, via an assist from 2015 alumnus Camryn Crocker, a former guard on the men's basketball team. Padilla and Crocker's younger sister Cailyn played on the same traveling club basketball team in high school, and while the Quaker coaches were in the process of recruiting Cailyn, he recommended that they take a look at Padilla as well.
Crocker, now an assistant coach with the Colgate men's basketball team, says he could tell "pretty much right away" that Padilla was a special player.
"She constantly would make winning plays or things that may go unnoticed by others," he says. "You could tell that she had a really good skill set. She could pass, she could dribble, she could shoot, she could defend. She played hard all the time. When you mix all those components together, you have yourself a really solid player."
Kelly Killion, the John Di Paolo, C'92, G'92, W'92 Associate Head Coach and recruiting coordinator for the women's basketball team, says she first saw Padilla play in person in January of her junior year. Like Crocker, she says she immediately knew Padilla she was an extraordinary talent.
"I knew she was a no-brainer for us," Killion says. "I called [McLaughlin]; I texted him during the game and then after the game. I told him we would be foolish not to ask Kayla to be a part of this program."
Killion says Padilla's "tenacity at both ends of the floor" stood out, along with her ability to make her teammates and herself better, and the way she took instruction from and interacted with her coaches.
"She just played the game so hard from start to finish," Killion says. "It was a tough atmosphere I watched her in, a really competitive game, and she just put her team on her back and was really good offensively, defensively, and just made her teammates better."
McLaughlin says Padilla was the women's basketball team's most highly sought-after recruit in the Class of 2023. The Quakers were coming off a 24-7 record and appearances in the Ivy League Championship Game and the WNIT. A wealth of experienced players were returning, and McLaughlin says he thought Padilla would have an instant impact. When he found out she was enrolling at Penn, he says he was "ecstatic."
"She was the perfect fit at the right time for us," he says.
'A winning instinct'
Alongside Penn, Padilla says she was considering colleges closer to home, such as schools in the West Coast Conference, and other Ivies.
"It was either being 20 minutes away from home or 2,000 miles away," she says.
Penn won out in the end, she says, because of "the unapparelled experience" the University could offer, in addition to her desire to challenge herself.
A challenge, indeed, it was, in a new city—literally across the country—with new people, a new climate (with seasons), new expectations and commitments, and bigger, stronger, and faster players, all while studying at the Wharton School, one of the most demanding business schools in the world.
On and off the court, it can be a difficult world for first-year students to navigate, but Padilla jumped right in ten toes down.
In her first game, a 92-44 win over Siena on Nov. 9, 2019, at the Palestra, Padilla played 20 minutes and scored 14 points. In the Quakers' 85-51 win over NJIT four days later, she dropped 25. Her 39 total points were the most scored by a first-year Quaker in her opening two games in 32 years.
The Red & Blue started off blazing hot in 2019-20 with a 10-1 record, the best start in program history.
Padilla says "the trust of the coaches" was integral to her early success and helped her build her confidence. She also had a supportive group of third- and fourth-year players who she could lean on, such as third-year guard Michae Jones, fourth-year guard Phoebe Sterba, and fourth-year guard Kendall Grasela.
Grasela, a 2020 alumna, says she could tell Padilla was a baller from the very beginning.
"As a captain, I saw that she really had a winning instinct in her," she says. "She was an everyday person that would always be in the gym, she was always giving 100 percent, and I knew that she was going to make an immediate impact."
Very quickly, Grasela says Padilla became the team's go-to scorer, especially in close games.
"As a freshman, that's very impressive," she says.
Padilla's coming-out party came on Jan. 11, 2020, in her first Ivy League game. The 10-1 Quakers battled 12-1 Princeton, the No. 25-ranked team in the country, at the Palestra. Although the Red & Blue lost 75-55, Padilla scored a game-high 27 points.
"[Padilla] is super in all ways, [especially] her approach to the game," McLaughlin told The Daily Pennsylvanian after the game. "10-for-14 [shooting] against that level of competition, and they are keying on her, trying to take the ball out of her hands. To be that efficient at that age, she was fatigued at the end. We played her a lot, maybe too much, but she is really, really special."
The Quakers finished the 2019-20 regular season with a 20-7 record and a 10-4 mark in the Ivy League, second-best in the conference. They were set to take on Yale in the first round of the Ivy League Tournament before the rest of season was cancelled by the coronavirus pandemic.
Padilla finished the year with 23 double-digit scoring games, include 12 20-point games, and made 73 three-pointers, the fourth-highest single-season total in school history.
Aptly, she was named Ivy League Rookie of the Year and First-Team All-Ivy.
Leading by example
Coming out of COVID, the 2021-22 season was an atypical down year for the women's basketball team. The Quakers got off to an unconventional start, and finished 12-14 overall and 7-7 in the Ivy League.
Padilla, though, was her usual fantastic self, leading the team in points per game (18.5), assists (84), minutes per game (37.6), three-point field goals (56), and three-point percentage (.368). She earned her second consecutive First-Team All-Ivy honor and was also named First-Team All-Big 5.
This season, the Red & Blue are back to their usual winning ways. They are currently 16-9 overall and 8-4 in the Ivy League, and have secured a spot in the conference tournament. Padilla leads the team in points per game (17.3), minutes per game (35.3), assists (90), three-point field goals (71), three-point percentage (.390), and free throw percentage (.875).
Versus Temple on Dec. 11 at the Palestra, Padilla scored her 1,000th career point in Penn's 62-61 victory. She reached the milestone in only 58 games, third-fastest in school history.
Fourth-year guard Mandy McGurk entered Penn in the same class as Padilla and has been her backcourt mate the past two seasons.
She says Padilla's serene personality, unselfish play, and steely resolve instills a sense of confidence in her teammates; they know she will do everything in her power to put her team in the best position to succeed.
"I think playing with her has been extremely easy just because she's so calm but dynamic at the same time," McGurk says. "She really just leads by example, and she's been great to play with."
A case in point, McGurk says, was the Temple game. After Padilla scored her 1,000th point, everybody was celebrating and filled with glee, but all Padilla said was, "Let's win the game." She then went out and scored the game-winning bucket with six seconds on the clock.
"I think that was a perfect example to sum up her career here," McGurk says. "It's never been about her individual accolades or how good of a game she's having. It's always been that team-first mindset."
Fare thee well
Padilla has one more year of eligibility remaining, but due to antiquated Ivy League rules, she cannot play at Penn.
Although she will always ponder the accomplishments she could have reached with one more season donning the Red & Blue, she says she's proud of her achievements as a Quaker.
Before arriving in West Philadelphia, she had a set of goals. COVID swayed them a bit, and she still has a few things to check off, such as an Ivy League championship, but she says everything she came here to do has come to fruition, and Penn has met and exceeded all of her expectations.
She takes great pride in her impact on the basketball court, being the face of the team, and how she has represented for the Filipino and Asian American community at a major Division I basketball program.
"I don't think I truly understood how much it means to have someone like me representing a group of people at the highest level of college basketball," she says. "To see little girls in the crowd and know that they can have someone that looks like them on the floor makes me extremely grateful."
Moving forward, Padilla says she is interested in going back to the West Coast, but she is keeping all her options open.
"I think I'm approaching it sort of in the same way as I did coming here to Penn," she says. "Academics are still at the forefront, so going to a great business school is a priority, and I also want to enter into a place that has a basketball program where I can fit in. I think the success I've had here is opening up a lot of doors."