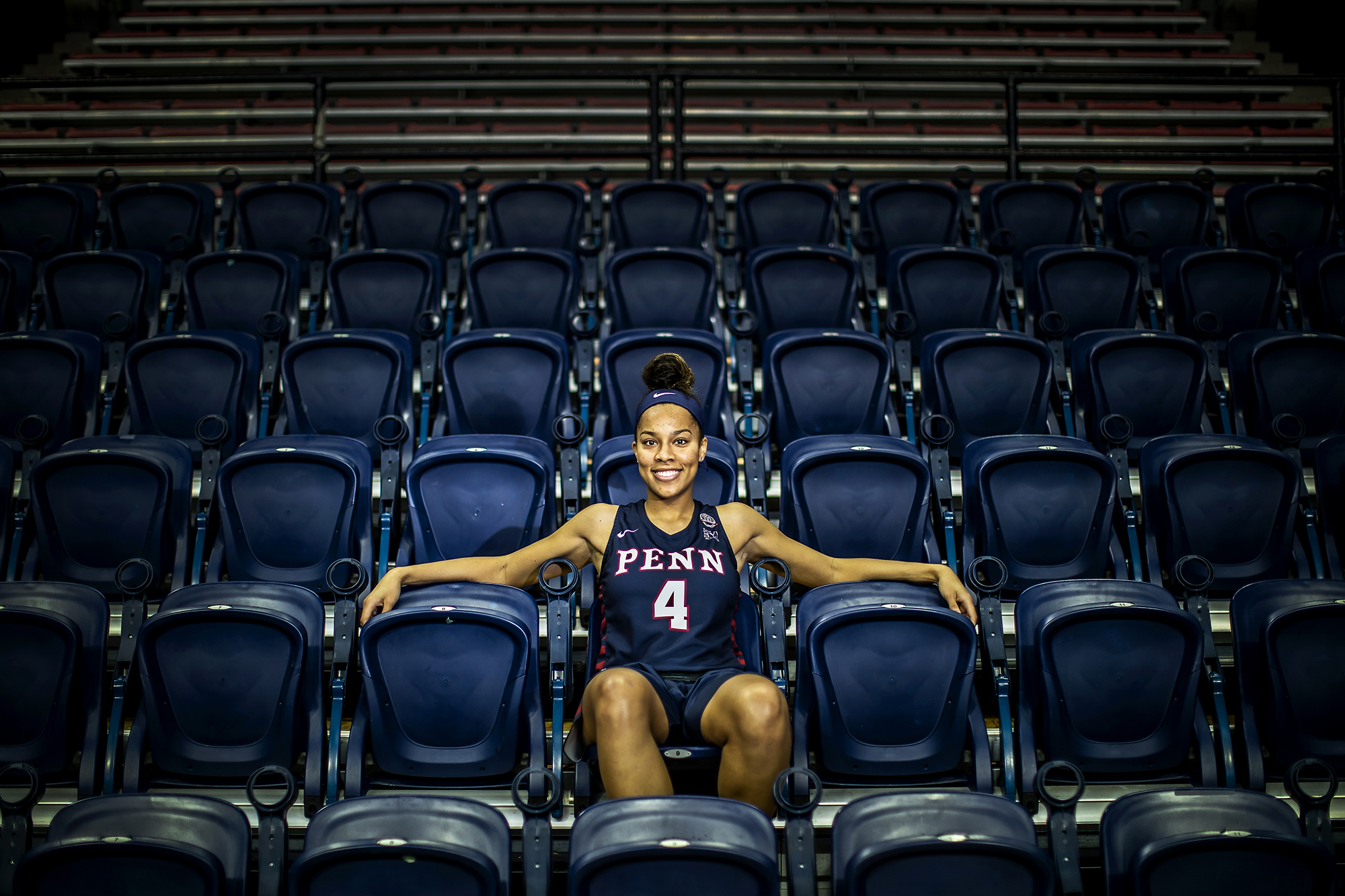 Senior forward Kennedy Suttle of Penn women's basketball does all the little things necessary to help her team have success on the court.
Head Coach Mike McLaughlin says she is strong on the boards, plays tough defense, makes the extra pass, and takes advantage of scoring opportunities. A team player through and through, she also is well liked among her teammates, gives 110 percent, and never complains.
"[Playing for Penn] means a lot to her, and she invested a lot into Penn basketball over her tenure," he says. "We're forever grateful for Kennedy. She set the tone on how you practice, how you compete, and how you prepare."
À la NBA great Dennis Rodman, McLaughlin says Suttle has a "knack for the basketball" and a distinctive ability to track the ball while it is in the air and go grab the rebound.
Although undersized (she's listed at a generous 6 feet), Suttle led the Quakers in rebounds per game, averaging 8.3 per contest, which ranked fourth in the Ivy League. Her 3.8 offensive rebounds per game were second-best in the conference. She also led the Red & Blue in steals, averaging 2.1 per game.     
Suttle's sound rebounding was on display in Penn's 63-46 win over St. Francis Brooklyn on Nov. 18 and 70-57 defeat of Cornell on Feb. 23. She grabbed 17 rebounds in both games, a career high.
At the Palestra, Penn Today lined up on the block with Suttle, a Philosophy, Politics, and Economics major and consumer psychology minor in the School of Arts & Sciences, to discuss playing basketball at age 3, working out with the NBA's Dwight Howard, why she likes playing defense, her favorite memory from her Penn career, and her plans for the future.
You are from Atlanta and have been playing basketball since age 3. That is probably the youngest age I have come across that a Penn student-athlete has started playing sports. What does basketball look like when it's played by 3-year-olds? It was for the YMCA. You have wristbands on, and you follow around the opponent with your wristband. You might not dribble, but you're throwing up shots.
Not on a 10-foot rim… No. A very small, lowered rim.
What do you enjoy about the sport? I enjoy the culture aspect of it, the people and competitiveness and the close environment. On a relationship standpoint, I enjoy just being with my teammates and dancing with them in the locker room before games, or on bus rides. On the court, I like defense the most because it's all about grit and heart and flying around, getting rebounds and diving on floors. That's the controllable so it's something I thrive off of. I love playing hard and being that gritty, tough player.
Am I correct that you are the oldest of six, and come from an athletic family? Yes, my sister plays soccer at Georgia. My other sister has an offer from Penn and Alabama for basketball, and has some interest for soccer. We push each other a lot to be the best.
When you were a freshman in 2018-19, you played in nine games for the eventual Ivy League regular season champions before you went out with a foot injury. How was the rehab process? I have two screws in there right now. I was on a scooter all spring my freshman year. That summer, I was rehabbing with a doctor in Atlanta and got a chance to work out with Dwight Howard. The doctor was a family friend who works with NFL players and NBA players, and he was able to squeeze me in. That was a really cool experience. Then the following season, I was able to play and start, so it obviously paid off.
How was it working out with Dwight Howard? Did he teach you anything? It was fun. He was really nice. He would correct some positions I was doing. But really, we would talk about Christianity. He really thought deeply about that, so I took that away from it more, his perception on Christianity and how thoughtful he was about it. It challenged me to think about it a little bit more deeply.
Can you talk a little bit about the season? It was a rare down year for the women's basketball team, but you were still a game away from the Ivy League Tournament. We had an unconventional start, but our coaches really emphasized pushing through all adversity, and doing it together, and really emphasizing who we do it for, which is our teammates. To me, that's God as well. It was important to make the most of this season, with the COVID stops and all. Regardless of how our season went, what I really took away from it was the approach to the game. No matter where you stand, just give it your all each game and focus on the now. I think that's why we had a little bit more success near the end of the season.
Do you have a favorite memory from your time at Penn? This year, it would be the Harvard win [Suttle had 19 points and 16 rebounds]. The crowd was packed to celebrate the other coach's upcoming retirement, and our alumni came and showed out. Those are the people that I was playing with as a freshman, and to see them while I'm playing with this team now, everything just came full circle. Celebrating that win was just a really exciting environment.
Also, my freshman year, when I had the surgery, the team went away to Brown and won the Ivy League Championship, and I missed that. But when I came back, they had a gift basket ready and they sent me videos of them on the bus passing the phone around saying, 'We wish you were here.' It made me feel like I was still valued and a part of the team, which I really appreciated. I'll never forget that.
What is something you learned from Coach McLaughlin? He really challenges me on the court to get a certain amount of rebounds, or certain things like that, just goal-setting going into a game. I found that goal-setting has been a really efficient and effective tactic for me. But I also watched how he approaches the team with passion and the love he has for the game. I want to do that with my job. Seeing his love for his job makes me want to do something that I love in the future.
Speaking of the future, am I correct that you will work as a commercial bank analyst at Citibank in Manhattan after you graduate? Yes. I had a great experience last summer with Citibank in the commercial banking sector. I really like the people there. It didn't feel very competitive; it felt just like a team. That kind of drew me in, but also the ability to help companies that may not have a lot of money get started. I am looking forward to creating some positive change in the world and supporting other businesses.