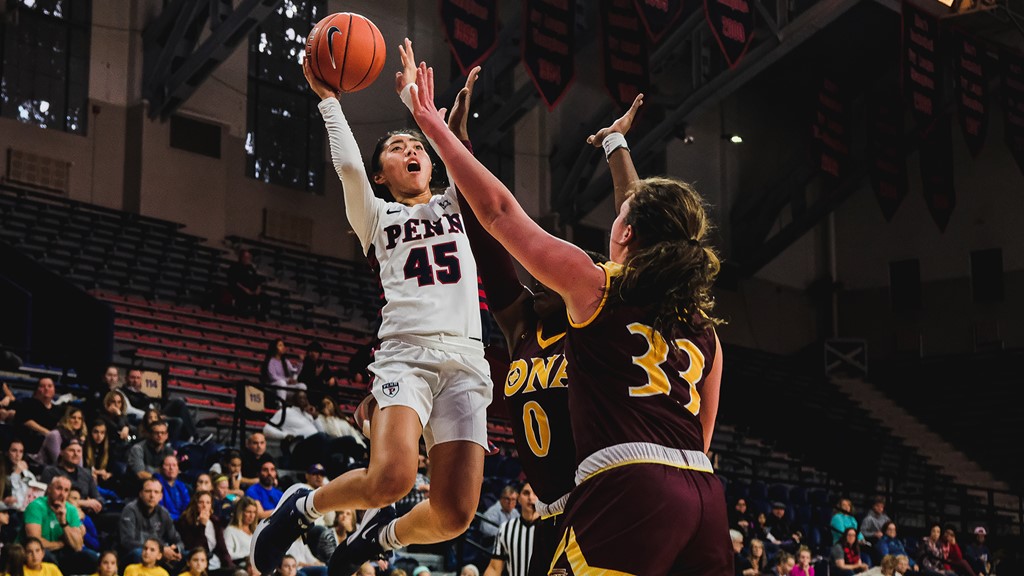 Kayla Padilla, a first-year guard on the 20-7 (10-4) women's basketball team, started off her freshman season hotter than July.
The Quakers began the season with a 10-1 record—their best start in school history. In her first 13 games, Padilla scored 20 or more points eight times, including 25 in her second game against NJIT, 22 at Saint Joseph's, 24 at La Salle, 23 on New Year's Eve at Hawaii, 27 versus No. 25 Princeton, and 23 against Villanova. 
At season's end, she was the second-leading scorer in the conference, averaging 17.4 points per game, a six-time Ivy League Rookie of the Week, and a two-time Ivy League Player of the Week. Rightly so, she has been named Ivy League Rookie of the Year and a First-Team All-Ivy selection.
A native of Torrance, California, Padilla ranked second in the conference in three-point field goal percentage (.399), second in three-point field goals per game (2.7), sixth in minutes per game (32.4), and eighth in field goal percentage (.416). 
For the Quakers, Padilla started all 27 games and led the Red & Blue in points per game, minutes per game, three-point field goal percentage, three-point field goals attempted and made, and free throws attempted and made. In four instances, she drained at least five three pointers in a game.
  
Padilla is the fifth Quaker since 2010-11 to be named conference Rookie of the Year, and sixth overall.