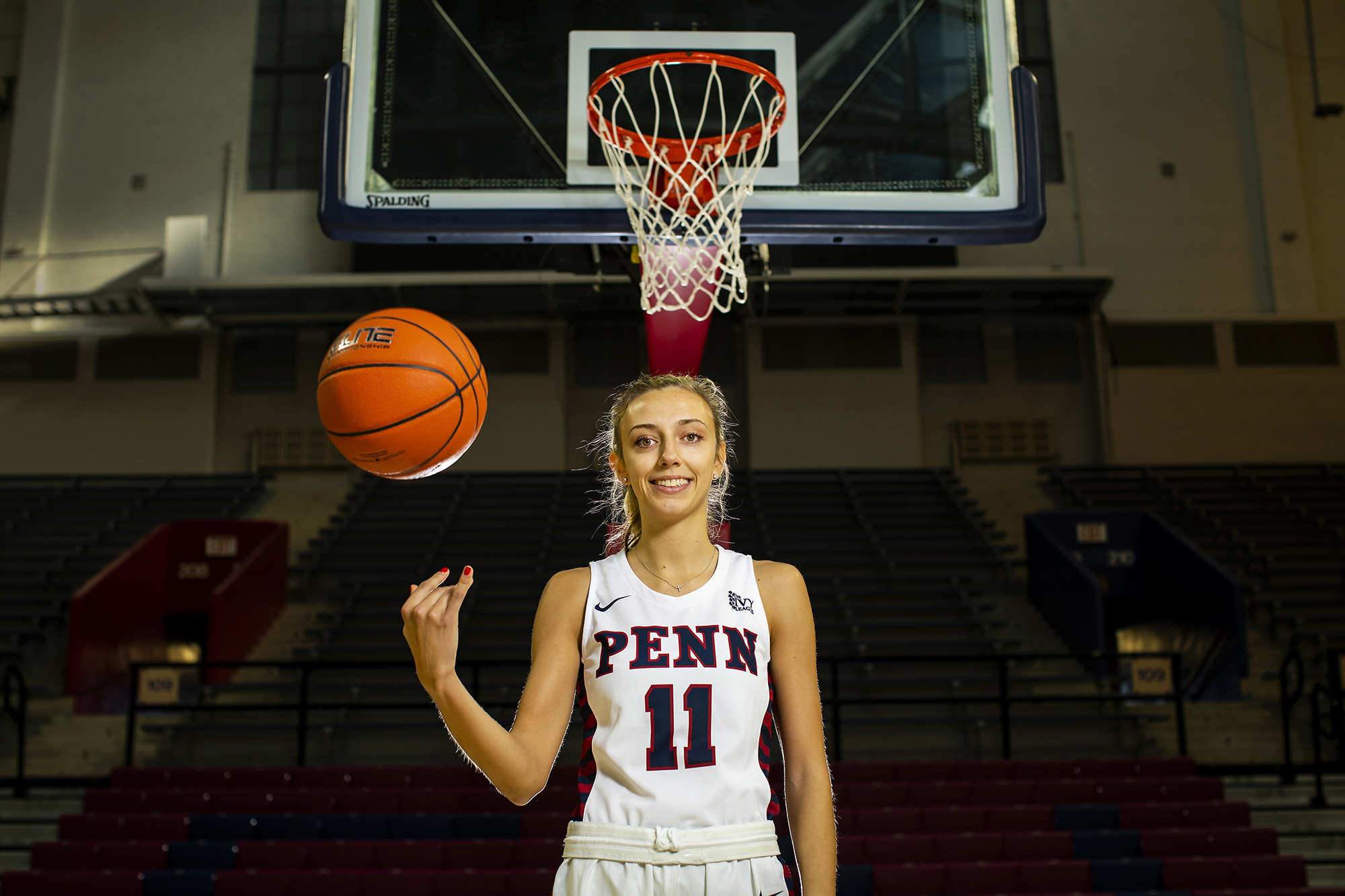 For the past two seasons, senior and co-captain Kendall Grasela has been the floor general for the women's basketball team, starting every game at point guard, except for Senior Night during her junior year.
She does not always light up the box score, but her play has been integral to the continued success of the women's squad. The 10-4 Quakers are the defending regular season conference champions. With 13 games left on their schedule—all Ivy League matchups—they are pushing hard to surpass last year's achievements, win the Ivy League Tournament, and advance to the Big Dance.
Grasela currently leads the Ivy League in assists (4.9 per game) and assist-to-turnover ratio (3.0), and is fifth in steals (2.1 per game). Oftentimes, Head Coach Mike McLaughlin has her guard the opposing team's best player, a challenge she says she relishes.
"I love playing defense because it fuels your offense when you get a steal, when you get a stop, when you get a block, when you make someone turn the ball over," she says. "It fuels down the other end."
At the historic Palestra, Penn Today talked with Grasela about playing the point guard position, her close-knit family, matriculating in the School of Nursing, and controlling the controllables.
You are from Huntingdon Valley, Pennsylvania, in Montgomery County, right outside of Philadelphia. Why were you interested in coming to Penn? I'm kind of a homebody. I have a lot of siblings and I'm really, really close to them, so I wanted to find a place that I could be close enough to home but feel like I'm far away. I'm like a 30- to 35-minute drive away from home, which helps. I chose to come to Penn because there's just a feeling you feel—it's so hard to describe—you just have this feeling that you belong somewhere. I got that immediately when I came to campus. 
Why do you wear No. 11? I have 10 siblings. Five adopted siblings and then six of us are from my mom and my dad. I'm the youngest birth child. We always say, '11 straight to heaven.'
You have a whole basketball team right at home. Yeah, a five-on-five game, a Christmas five-on-five game.
Do you ever play against each other? We do play a lot. We have a basketball hoop in the driveway so we'll play a lot in the summer. Especially when I was younger, my siblings would always try to beat me one-on-one. They can't beat me now, but when I was little, they would just pick me up and I didn't have much of an advantage. But now I do.
Where did you get your point-guard style from? Or do you have your own style? I would probably say I have my own style. I love when people make really, really cool passes. I love getting others involved and trying to create a sense that everyone's important. I feel like the best way I can do that is by sharing the ball and passing, and making sure everyone gets involved in the offense and just communicating. I'm a perfectionist so I like having the ball in my hand. I like being in control of the situation.
Your assist-to-turnover ratio is currently seventh in the country. What do you think is the key to not turning the ball over? Just confidence and believing in my teammates. I have great teammates. And kind of like experimenting in practice. You won't know until you try, and I think practice is the best way to figure out what you can do, what you can't do. And I think just believing in yourself that you can make a good pass and your teammate is going to catch that. Having confidence in both yourself and your teammate is really key. And just being tight with the ball. I don't let people pickpocket me. I'm very tight with the ball. 
Your minutes have steadily increased over the years, from 4.3 minutes your freshman year, to 6.9 minutes your sophomore year; 26.0 minutes last year, and 30.5 minutes this season. How did you go about preparing yourself to play more minutes? I'd say the best way to prepare yourself is control the controllables, so become good at what you're good at. You can't control if you're going to make a shot in a game, but you can control your defense and your effort, and just being in shape. I will run every single day because I know that that will translate directly on the court. I will lift and do a bunch of agility workouts just to maintain a 40-minute shape. Coach would always say you never know when your name is going to be called so you have to be in 40-minute basketball shape. We have fitness tests when we come back [from the offseason] and I made sure I was first in all of them because I could control that, I could be the fastest one on the team. That was my mindset throughout my career.
Am I correct that you and some of your teammates live together? Yes, we all live together. A good amount of us. There's a house of seven and six of us live in there. And then three others live together.
Do you think that adds to team chemistry? Yes. When you have a mutual meeting space that's not related to basketball, I think it just builds our on-court and off-court chemistry. We have movie nights and my mom came down and brought a bunch of Thanksgiving food because we were away for Thanksgiving, so we had a big Friendsgiving. It's really fun. I like living with everybody.
You are the first women's basketball player to be enrolled in the School of Nursing. How is that going? I imagine it's very demanding. It is a very demanding school. It's pretty tough. It's hard because people haven't been in a similar situation and they can't really relate to waking up at 6 o'clock in the morning and walking to the hospital while it's pitch dark. I'm in clinicals for six hours and then I have to go to a two-hour lab, and then I have to play basketball. It's a lot different and it's very demanding mentally and physically. But the teachers and the faculty in the Nursing School are just incredible. They're so flexible. [Recently], the dean came to the game and a bunch of students and faculty came to support me. They're very flexible and very supportive. 
What do you plan on doing after you graduate? I think I'm going to sub-matriculate into one of the master's programs here. I love kids so I was thinking of sub-matriculating into the pediatric nurse practitioner program, which is probably what I'm headed to do. I apply next semester. I transferred in kind of late so I have one more semester. I'm thinking about doing that and either specializing in orthopedics or doing critical care.