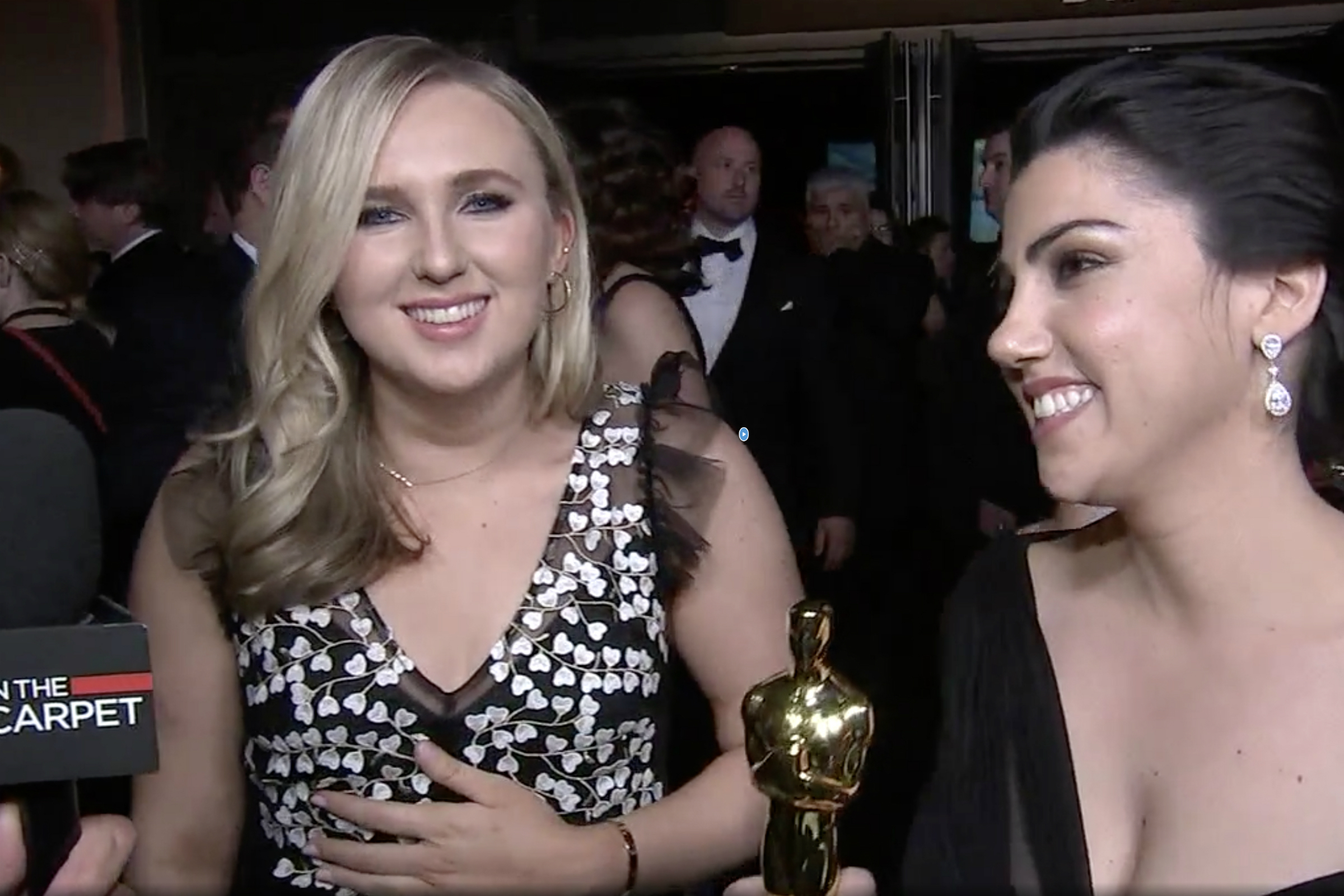 Up on the Academy Awards stage on Sunday night to receive an Oscar was University of Pennsylvania sophomore Claire Sliney, an executive producer of the winning documentary short, "Period. End of Sentence." 
Now on Netflix, the film is about the stigma of menstruation for girls in rural India and the efforts of a nonprofit Sliney co-founded in high school to address the issue, The Pad Project.
"It has been completely surreal," Sliney said in a phone interview from the Los Angeles airport just before boarding a plane back to Philadelphia Monday afternoon. "I didn't expect to hear our name and sprint up on that stage. We were so overcome with excitement and emotion."
Wearing a black-and-white patterned gown, Sliney stood beside her fellow executive producers and the film's lead producer, Melissa Berton, and director, Rayka Zehtabchi, as they gave their acceptance speeches after being handed the golden Oscar statues. 
"Being on stage and having the best of the best in Hollywood looking at you, and you being the one on stage, that is such a crazy, an almost out-of-body experience," Sliney said during the phone interview. "Like, I looked at Jennifer Lopez and she was beaming and clapping and staring at me. The actual experience of it was magical, and so surreal."
Sliney was hugging her best friends from high school, also executive producers on the film, during the acceptance speeches. "All these super strong, powerful women I'm so close to were up there with me," she said.  
In her speech, Berton, who was Sliney's high school English teacher and club advisor at The Oakwood School in Los Angeles, acknowledged Claire and her friends. 
"This film began because high school students here … wanted to make a difference, a human rights difference," Berton said. "I share this with teachers and students around the world. A period should end a sentence, not a girl's education." 
Sliney was interviewed live on the red carpet after the awards, along with Zehtabchi, who was still holding the Oscar.
"This world stage is the most perfect platform for us to be able to spread the word about the stigma surrounding periods and to ultimately dispel that stigma," Sliney said in the interview on ABC. "What better place to do that than at the Oscars where we can start conversations."
When asked on camera if she had another big project in the works, Sliney said, "I think that right now all of our focus is advancing The Pad Project, our nonprofit that really spurred 'Period. End of Sentence.'"
Sliney then went back into the auditorium to retrieve her sweater. "I literally ran into Lady Gaga right after she won her Oscar, and she was sobbing with tears streaming down her face. I was like 'Congratulations,' and she said 'Thank you so much.' I was a foot away from her," Sliney said in the telephone interview. 
"Before the show, Emma Stone personally wished me good luck and said she loved the film," she said. "Right after we won, I saw Awkwafina from 'Crazy Rich Asians' who presented the Oscar in our category, and she said 'Your film is amazing,' and we took a picture together." 
She went to the Governor's Ball, and then to the Netflix after-party where the entire crew was gathered to celebrate, including her mother, Lisa Taback, another one of the documentary's producers, who in August joined Netflix as vice president of talent relations and awards. 
"I got to share the moment with my mom and my best friends and several teachers from Oakwood," she said. 
Sliney joins the many Penn alumni who have been nominated for, and won, Academy Awards, but she is the first student currently enrolled to achieve an award or nomination, according to Penn's Cinema & Media Studies Program. 
She was heading back to Philadelphia Monday because she has a midterm in French on Tuesday. She is a philosophy, politics, and economics major, with a minor in gender and women's studies, although she is also interested in health and societies, all in the School of Arts and Sciences. She has another midterm, in PPE, on Wednesday.
"I have to figure out how not to fall asleep on the plane because I have to study," she said. "Fingers are crossed for those midterms."
The film grew out of a project Sliney and her friends started through a high school club after learning that the stigma of menstrual periods in some cultures stops girls from attending school. 
Sliney and her friends founded The Pad Project to raise money to purchase a machine that makes sanitary pads and supplies to install in a rural Indian village outside New Delhi, partnering with Action India, a women's-rights nonprofit. Their efforts also funded the production of the documentary.
"I never expected us to make it this far," she said. 
"And now that we are back down to Earth, our Instagram, our Facebook, our Twitter, our website and our emails are blowing up with people reaching out following us, and sending us messages, and posting," she said. "Reese Witherspoon wrote about us. It is crazy, the magnitude, how far we've reached people, with the Oscars as the platform."
Sliney continues to help manage The Pad Project while pursuing her studies at Penn. "I have dedicated so much of my life to this for so many years," she said before the awards ceremony. "It is my heart and soul."