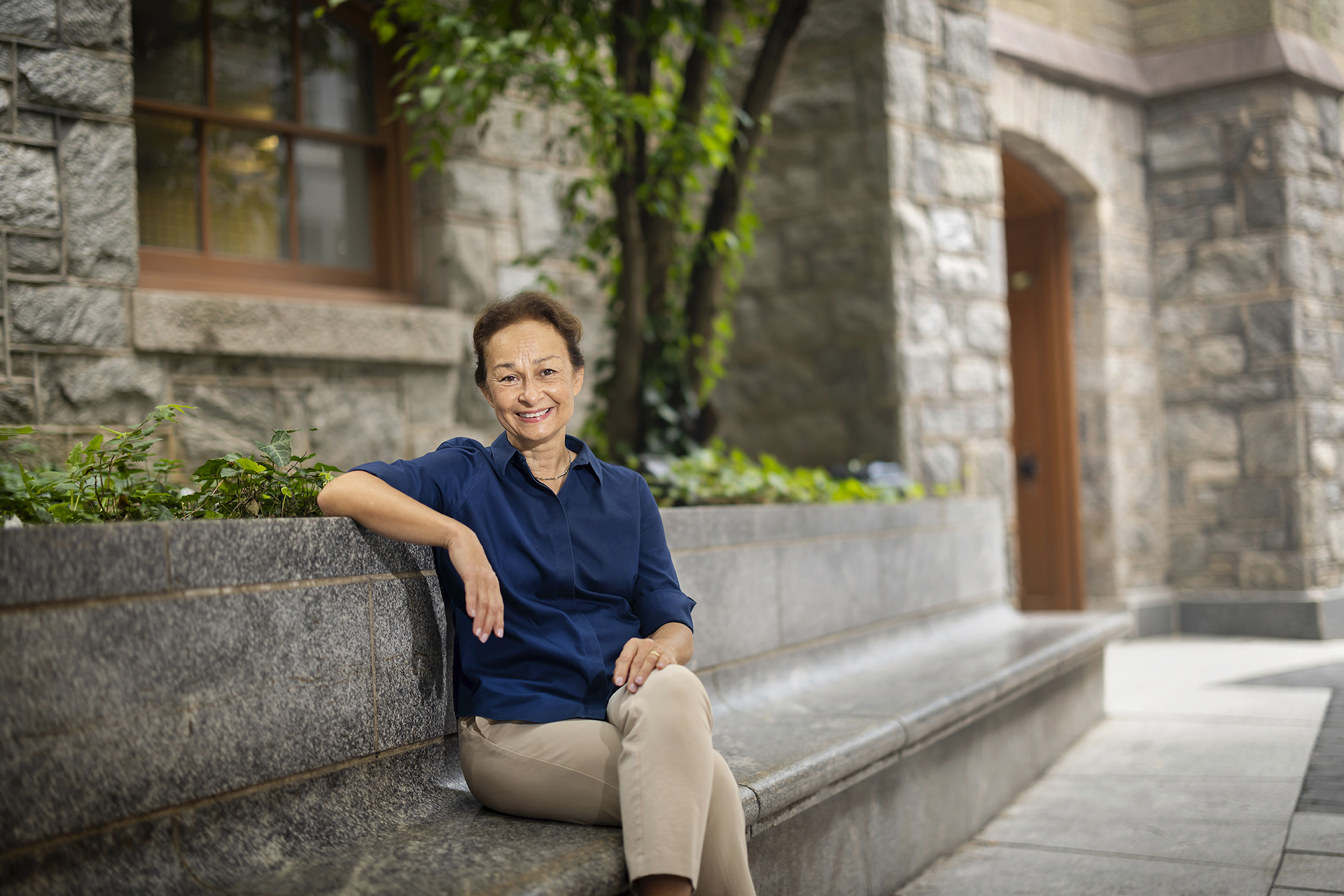 The phrase "less commonly taught languages" may evoke thoughts of niche or archaic vernacular, but the reality is that in the American context it includes the second-most spoken language in the world: Mandarin Chinese.
Half as many people globally speak Spanish as Chinese, while neither Italian nor German cracks the top 10, CIA data shows. And yet 91% of Americans who study foreign languages in schools and universities choose Spanish, French, Italian, or German, according to the National Council of Less Commonly Taught Languages (NCOLCTL). 
Feride Hatiboglu, a lecturer in foreign languages and coordinator of the Turkish Language Program in Penn's School of Arts & Sciences, got involved with the council and recently became president-elect, with her term as president beginning next year.
NCOLCTL promotes less commonly taught languages and gives voice to their instructors. Hatiboglu says that, if less commonly taught languages are not supported and offered, the information and culture they represent are at risk of disappearing. And she says language is important for peace and bringing people together.
Language programs like Turkish, Hebrew, Arabic, and Persian at Penn are strong, says Hatiboglu, and always have interest from students.
But less-commonly taught languages should be introduced, promoted, and protected to students not only in universities but also elsewhere, Hatiboglu says. Colleges and universities may play a role in this, inviting students to language classes and sending their language instructors to middle and high schools.
Born in Ankara, Turkey, Hatiboglu received a law degree from Istanbul University and worked in the country's finance industry before starting to teach Turkish at Penn in 2005. She served for many years as treasurer of the American Association of Teachers of Turkic Languages and then as president. She said she was chosen president-elect of NCOLCTL not only because of her dedication and support of the field but also due to Penn's leadership in the field.
"Penn always supported less commonly taught languages with the Penn Language Center and our departments, so that's why I am grateful," Hatiboglu says. "I am proud to be part of this organization, this University."
One of the first things Hatiboglu did as president-elect was to make the Penn Language Center a member organization of NCOLCTL. Other members include the Less-Commonly-Taught Languages Center at the University of Pittsburgh, the University of Chicago, and associations representing teachers of Portuguese, Japanese, African languages, and more.
In the fall, she is teaching three levels of Turkish, while Ottoman Turkish will be offered in the spring.
Kazakh is also being offered starting this fall, under the Turkish Language Program, and Hatiboglu plans to bring more Turkic languages. Penn has previously offered Uzbek and Azeri, the second- and third-most common of the Turkic languages after Turkish.
Hatiboglu notes that if people know Turkish—the native language of close to 100 million people worldwide—they can understand some Azerbaijani and Turkman. The German government lists Turkey as its most common foreign nationality, with close to 4 million Turks and Turkish descendants living there.
Different ways in
Hatiboglu says some of her students take Turkish because they want to connect with their heritage, perhaps if they have a Turkish parent. One former student took Turkish because of her love of Turkish TV series, and the student ended up having a Turkish boss working at J.P. Morgan.
"Another thing about these less commonly taught languages—Turkish and others as well—is it's like a club," Hatiboglu says. "You become close and form lifelong friendships, which is important. They don't compete with each other; they help each other while they are learning the language together."
Hatiboglu wants to do more to expose youth to less commonly taught languages before college, and she recalled visiting a Philadelphia high school for a cultural day to teach students some Turkish. 
"When I taught a crash course in learning Turkish, they showed a keen interest because language is a fun thing to learn," Hatiboglu says. She describes teaching a language as show business, that it should be fun for everyone, including the instructor, and she scoffs at the idea of "just memorizing."
Hatiboglu says that, with wars and shifting politics, less commonly taught languages become more important, which she saw happen with Arabic and Chinese.
She now sees Turkic languages getting more important in the countries around Russia, and she hopes the U.S. Department of Education will provide more grants and opportunities to promote these languages.
Hatiboglu had one former student who was volunteering in a Syrian refugee camp and was struck by how many people spoke Turkish; the student said her language education helped a lot. 
Another former Penn student who studied Turkish got a Fulbright scholarship to teach English in Muğla, a seaside province south of the city of İzmir. Another started a market analysis business, advising investors in Turkish markets.
"If you want to become really good in an area which is not commonly studied, the opportunities are endless," Hatiboglu says. "This can be Turkish, Hebrew, Persian, Arabic, or any other less commonly taught language."