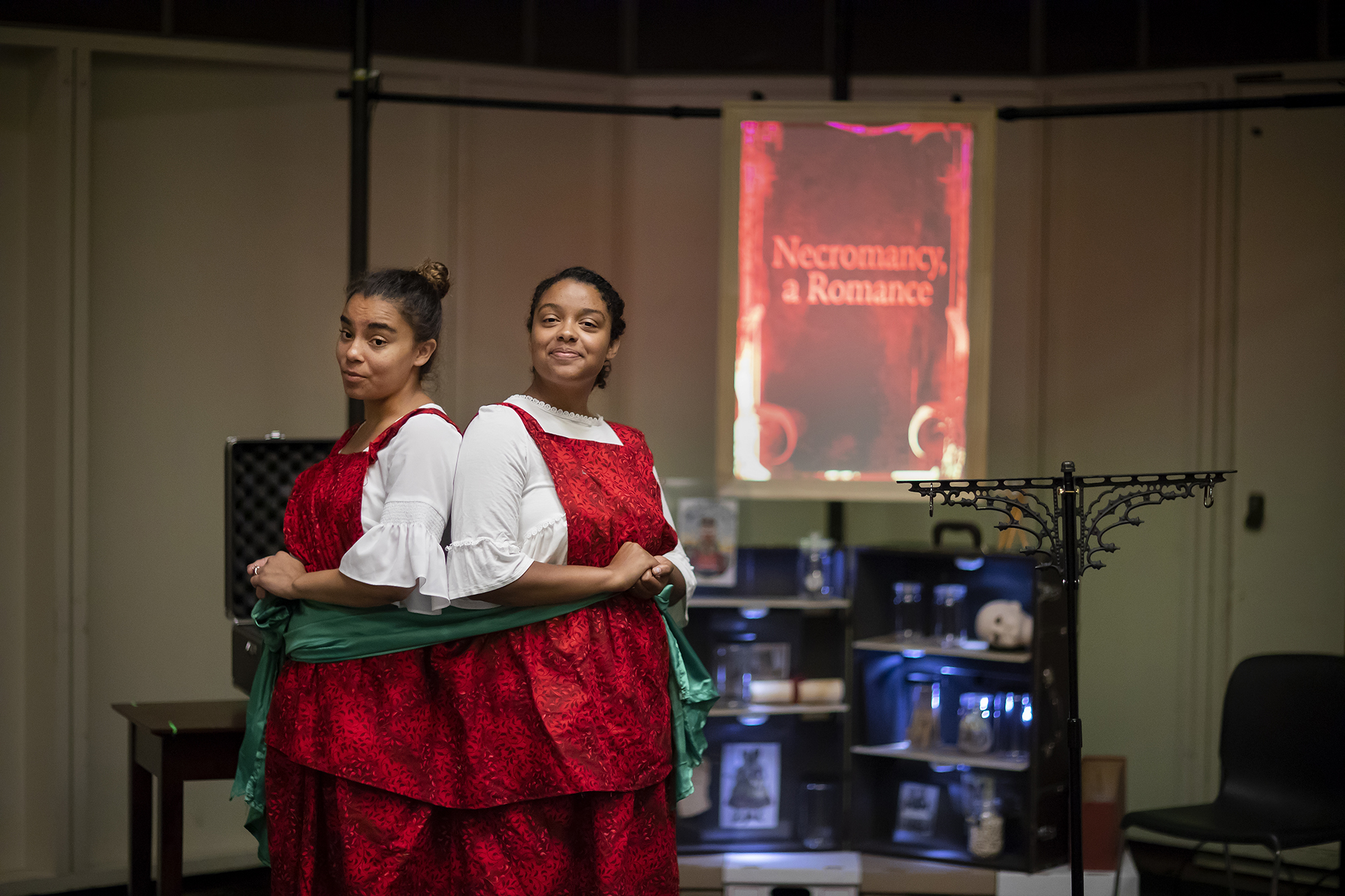 Portraying the dual roles of conjoined twins from the 19th century and a pair of modern-day researchers, two Penn students took the stage at the Edinburgh Fringe Festival in Scotland to perform a play developed during their spring theatre course. 
The international debut of the one-act play, "Curio (a cabinet of curiosities)," is an adaptation of a longer work written by Penn alumna Danielle Bainbridge, from her doctoral research on enslaved people who were displayed as freak show performers. 
Combining history and modern interpretation, "Curio" describes Millie and Christine McKoy, black sisters conjoined at the spine, born into slavery in 1851, and sold to perform as sideshow entertainers, making them internationally famous. 
"This was such a unique and invaluable experience, to have an alumna return as an artist-in-residence, to have students collaborate with her on a new play," says Rosemary Malague, director of Penn's Theatre Arts Program and director of the play. 
Bainbridge, who graduated from Penn in 2012, received her doctorate from Yale University in the spring, and is a new postdoctoral researcher and faculty member at Northwestern University. She attended the performances in Edinburgh on five consecutive mornings during the mid-August festival, as well as two performances in April at Penn.
"The production by the students was surprising and wonderful," Bainbridge says. "Going to see it so many times gave me a sense for what was working and what could be reworked. The only odd thing about being in the audience of a show you've written is being surprised by what gets laughs, what makes people gasp, and how that changes every day."
Portraying the sisters/researchers were junior Duval Courteau, a linguistics major and theatre arts minor from Los Angeles, and senior Aria Proctor, a theatre arts major and fine arts minor from Norco, Calif. 
"I was just thinking today," says Courteau, "about a feeling I got—in the middle of our last show, no less—that, once this incredibly unique and intentional project was finished, I would be, in some sense, stepping away from the sisters McKoy, and from that time period in history.
"It felt as though I was lucky enough to go back in time and explore what their lives may, or may not, have been like, and in a way, while exploring them as an actor, I got to build in my head some representation of them," she says. "I almost got to know them but at the same time not at all, as the piece explores what is true and not true about the sisters."
Proctor says she reveled in being around so many people who are so passionate about theater while in Edinburgh. "Being a part of the festival is much more than simply taking a show there and performing," she says. "It is about sharing the experience you had in creating this work, and having conversations that influence far past the moment we were in."
The production was the focus of the spring semester's Theatre 250 course, taught by Malague. Known as the "Edinburgh Project" course, it is offered every other year, with the goal of performing at the Fringe Festival. Students are invited to enroll based on their previous work with the program, in classes and productions. 
"We always describe it as a privilege and responsibility," Malague says, noting that the University covers the expenses of the trip to Scotland. 
"Being able to give feedback and help shape parts of the work in its early stages was an invaluable privilege, and, once we arrived in Edinburgh, seeing us all come together as a team was really special," says senior Hannah Spear, a theatre arts major and cinema studies minor from Philadelphia, who was the stage manager. 
Spear was teamed with assistant stage manager Breyasia Scott, a junior and ancient history major from Elizabeth, N.J., with a double minor in theatre and sign language and deaf studies. Sara Outing, who graduated in 2013 and now works at Penn's Platt Performing Arts Center, was brought on as the scenic designer.
"We did everything ourselves, from the set up and running of the show to strike," Spear says. "I really enjoyed hearing people react to the work in ways that I did not expect during the Fringe performances. Since I had been with the piece for so long, it was great to hear fresh reactions and see the play in a new way."
Scott says she was proud of the team's dedication, especially when presented with an unexpected challenge, like when a projector overheated and had to be fanned to keep cool. "I just felt like we were such a well-oiled machine even when faced with adversity," she says. 
Also attending the performances was Provost Wendell Pritchett, during a trip to Europe. "The program was creative and thought-provoking," Pritchett says. "We are proud that Penn was so well represented at the Edinburgh Fringe Festival."
As an artist-in-residence, Bainbridge visited the class once a month to help the students create a one-hour play they could stage and perform, going through multiple drafts of writing. 
"I was proud of the way they made the show their own, and they really exceeded my expectations," Bainbridge says. "They brought new angles and ideas to our process that I wasn't even thinking about originally. So I was happy with the production, and especially happy with the work our cast and crew did to make this happen."
Carnival music opens the production, and the two actresses, in their roles as researchers, are dressed nearly identically with white tops, black capris, ballet flats, and identical red glasses. They relate a modern-day interpretation of the McKoys' lives. 
"Two heads. Four arms. Four feet. One body," the actresses say in unison. 
To become the twins, they climb into a shiny red dress joined at the hip, tied at the waist with a green sash. Their speech takes on a Southern accent, and in harmony they explain the sisters' biography, explaining how they were born into slavery and sold to James P. Smith in North Carolina, who put them in a sideshow. 
The backdrop of the set is a framed screen that projects images of historical photos and documents. "What's unusual in this play is that so much of the dialogue is drawn directly from archival material, including letters and articles," Malague says. 
Scott discovered many of those documents and images. "Finding all these articles and pictures about the McKoy sisters made them real to me," she says. "They weren't just characters in this play; they were actual sisters that went through years and years of torture because of the one thing that made them unique."
Modern images are also part of the play, starting with when the actresses turn their cell phones on the audience and instantly project those images on the screen. In their role as researchers, the pair embody Bainbridge's viewpoint, juxtaposing the history of the McKoy sisters with her life growing up in New Rochelle, N.Y., with references to television sitcoms, game shows, and commercials. 
"At some point I stopped describing the play as a play about the McKoy sisters," Proctor says. "It really isn't about them, although they are instrumental. It's about this researcher who becomes so connected to them, at some point she becomes them."
An important thread throughout is created by hand bells, which Spear taught Courteau and Proctor to play for the production. The bells are played by the actresses when they sing a song performing as the McKoy sisters, and later are part of a modern-day game-show segment. The stand for the bells is later used to demonstrate a method of punishment and torture of slaves.
"The set is so vital to the piece," Proctor says. "Every prop we use is multiple times and in multiple ways, at least twice, in thematic twinning."
The two actresses, who had not met previously, formed a real-life bond by working together so closely in the play, they say, developing a kind of mental telepathy. "I've gained not only a trusted work partner but a good friend," Courteau says. 
Spear said she recognizes their connection on stage. "It is beautiful to see you guys in synch like that," she says. "That is part of what makes the show work, that you are so in synch."