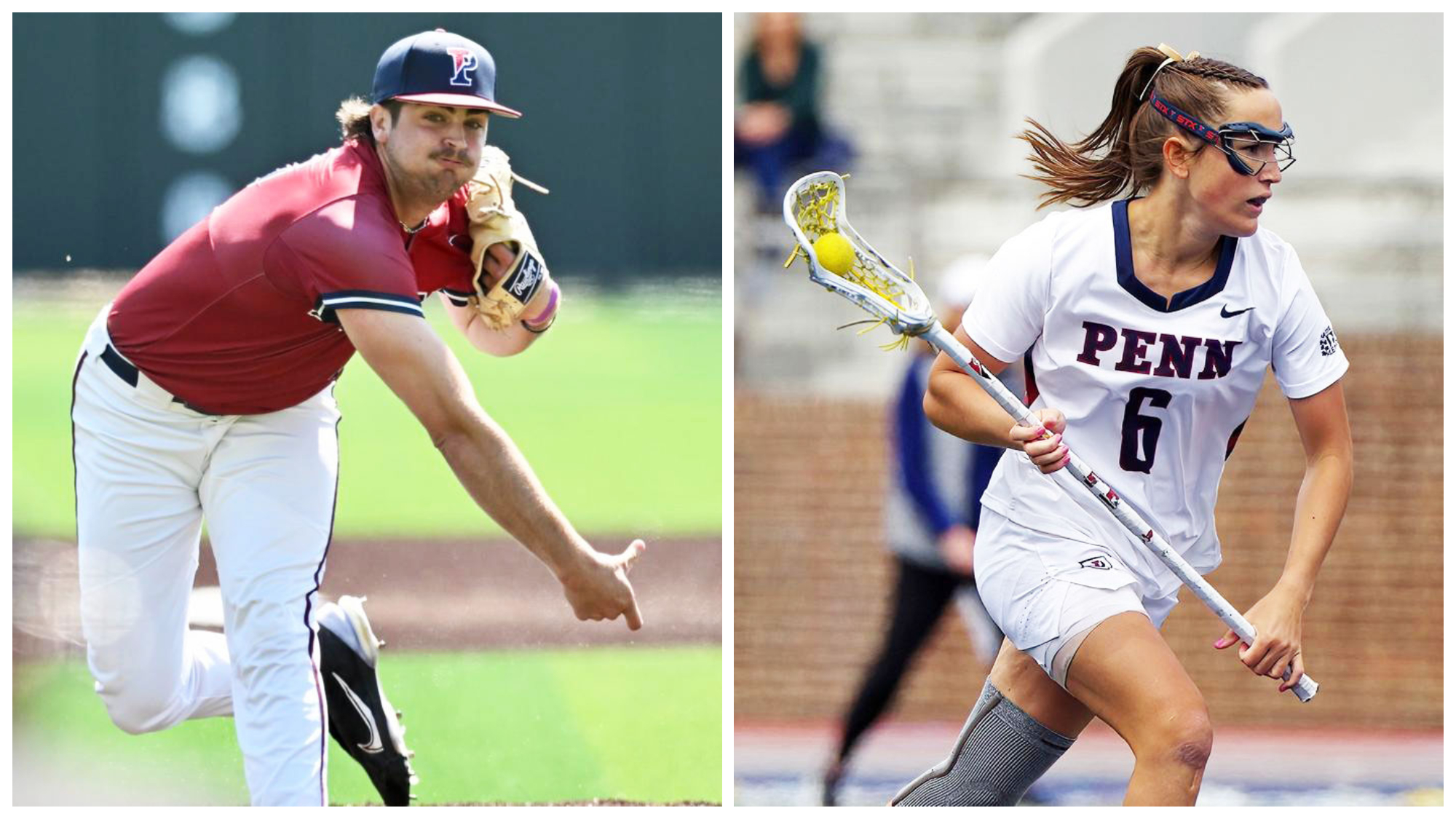 Two Quakers, both alike in dignity, have been honored by the Ivy League for their performances over the past week. Second-year Ryan Dromboski of the baseball team has earned the conference Pitcher of the Week award and fourth-year Izzy Rohr of the women's lacrosse team has received Ivy Defensive Player of the Week recognition.
Dromboski, from Columbus, New Jersey, struck out a school-record 15 batters in Penn's 5-2 win over Princeton on Sunday at Tommy Lasorda Field at Meiklejohn Stadium. In 7.2 innings, he gave up three hits and two unearned runs, and walked two batters. He had nine strikeouts through four innings, and 14 strikeouts through six innings. He picked up his record-breaking strikeout in the top of the eighth inning, striking out the Tigers' Eric Marasheski looking. He was pulled in the eighth and received a standing ovation.
2022 alumnus Joe Miller held the previous school single-game strikeout record. On May 15, 2022, he struck out 14 batters in the Red & Blue's 9-0 win over Princeton, the second game of a three-games-in-one-day series.
Rohr, of Malvern, Pennsylvania, caused five turnovers and recorded four ground balls—both game highs—in No. 22-ranked Penn's 16-6 win over No. 13-ranked Yale on Saturday at Franklin Field. She helped the Quaker defense hold the Bulldogs—the highest scoring team in the conference entering the game—scoreless for more than 37 minutes. Penn forced Yale into 18 turnovers and caused 11.
Twice so far this season, Rohr has been named conference Defensive Player of the Week. She was previously honored on Feb. 20.
The baseball team is 16-11 overall and a third-best 6-3 in the Ivy League headed into Wednesday afternoon's matchup against Villanova (6-24) in Plymouth Meeting, Pennsylvania.
The women's lacrosse team is 7-4 overall and a league-leading 3-0. On Saturday, they take on Cornell (6-6 overall, 2-2 in conference) at Franklin Field.