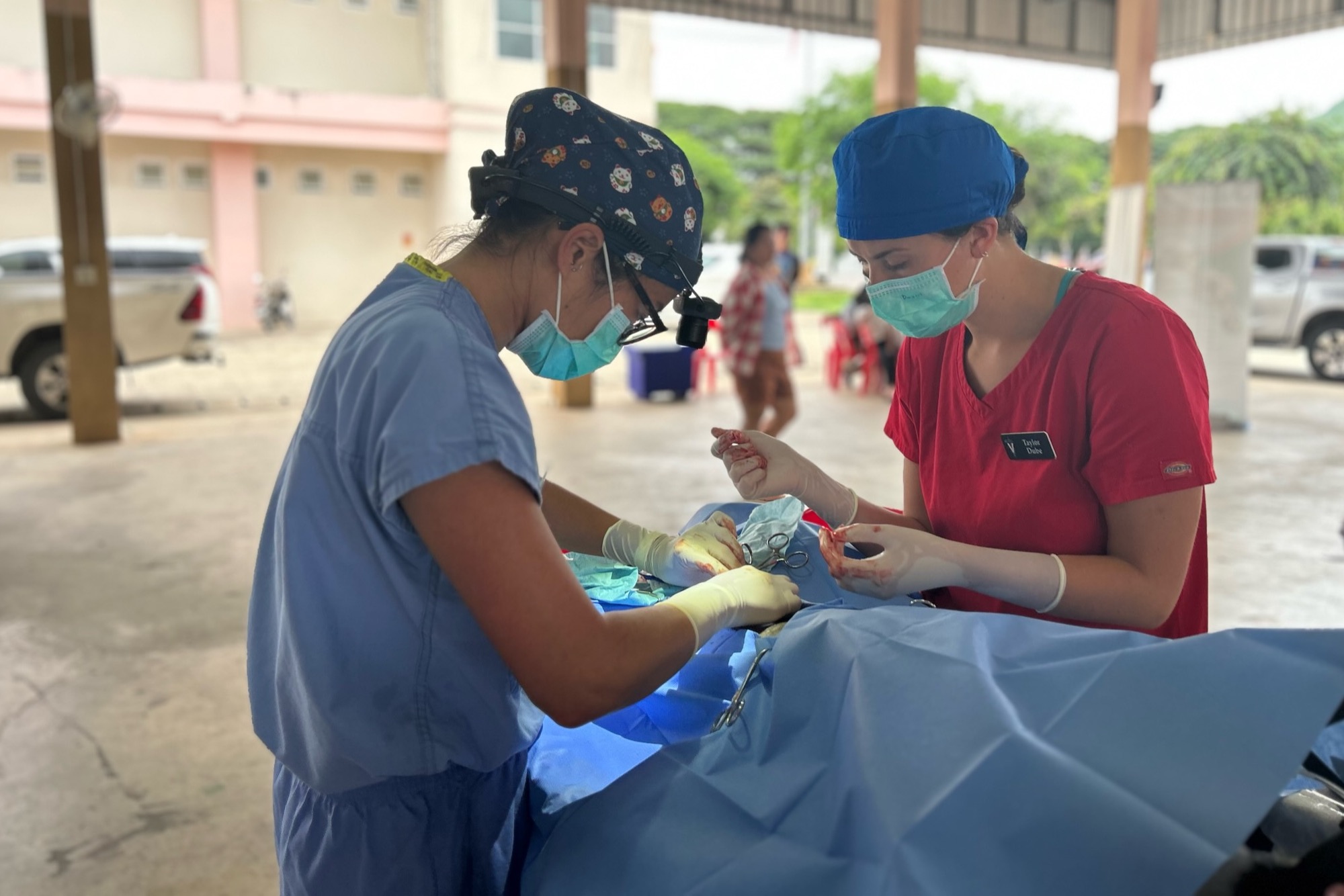 This summer, 14 students from the School of Veterinary Medicine traveled to Thailand to spay and neuter cats and dogs for owners who would otherwise be unable to afford the procedures. 
 
For students at Penn's School of Veterinary Medicine, an annual Thailand spay and neuter trip is an opportunity to help Thai communities that lack veterinary resources while honing their clinical skills. 
In July, 14 veterinary students made the journey to Thailand to conduct two clinics during a ten-day visit. In partnership with staff from Vet4 Animal Hospital in Bangkok and the Mount Laurel Animal Hospital (MLAH), the students provided free veterinary care for cats and dogs.
The primary service provided was a spay and neuter clinic, but each animal was also vaccinated against rabies and treated for parasites. These services benefit the animals and owners by preventing the burden of unwanted litters, and help mitigate Thailand's stray animal population. 
​"Most of the animals roam outside, but they are owned by people," says Kara Anderson, who is entering her fourth year in the veterinary program and traveled to Thailand for the second time this summer. "Our main goals are to stop more stray animals from ending up on the streets and to help these pets stay with their owners for the longest amount of time they can."
This year, the team provided veterinary care at two sites in Thailand: urban Bangkok and Petchaburi, a small rural town that is a 3-hour drive southeast of Bangkok.
Though the trip is a valuable opportunity for the students to practice their surgical skills, they are well prepared and versed in the procedures before they arrive in Thailand. All the protocols are standardized, and the students practice spaying and neutering in the U.S., both at Penn and at MLAH. 
"The students are remarkably well prepared for this," says faculty adviser and veterinarian Bruce Freedman, associate professor of pathobiology, chair of the gene therapy and vaccines  graduate group, and director of the Imaging Core Facility in the School of Veterinary Medicine. "It reminds me how impressive our students at Penn Vet really are," says Freedman, who joined the Thailand trip for the first-time in 2022.
In Thailand, the surgical suite is an outdoor pavilion. "There's a sort of paradox because it's a fully professional (sterile) surgical setup with surgery tables, anesthesia machines, and autoclaves, but it's outside under a pavilion," Freedman says. "The students scrub in and don gloves, masks, and hairnets, and then the people start to arrive with their animals on tuk tuks." 
The students work in teams of three, taking turns as surgeon, anesthetist, and assistant. "We relied heavily on teamwork and communication in order to make our clinic a success," says Lindsay Sprague, a fourth-year veterinary student.
After surgery, the pets recover in a nearby area while their owners look on. "They seem super grateful," says Anderson. "A lot of the owners hang around while the surgeries are happening, and they're really interested in watching and asking the Thai vets questions."   
Christopher Torre, co-owner of MLAH, founded the Thailand spay and neuter trip in 2009 while studying at Penn Vet. This year, Torre traveled with the group again in a mentorship capacity.
"I'm excited to see this legacy live on," Torre says. "Over the past 14 years, the trip has provided spay, neuter, and other medical services to over 1,300 animals." 
The students were also joined by Elizabeth Antzis, a recent Penn Vet graduate who works at Unity Animal Hospital in Wallingsford and does local shelter work. 
The experience leverages funds raised by the students and provided by MLAH, and, critically, sponsorship and on-the-ground logistical support from Vet4 Animal Hospital in Bangkok. "This program wouldn't be possible without the Thai doctors," says Amanda Patev, a rising third-year student in the veterinary program. "They've given us a place to go, and this wouldn't be possible without them." 
As well as providing a lot of the heavier equipment like surgical tables and anesthesia machines, the Thai Vets oversee all procedures and help bridge the language gap between Penn's ambassadors and members of the Thai community.
"They're walking around helping us with anything we need," Anderson says. "They're very good at speaking both languages, so if we have questions, they're able to help us, but they're also able to communicate with the owners, which is super helpful." 
Several students said the Thailand clinic was their favorite part of vet school so far.
"I absolutely loved being a part of the trip," says Amanda Nimmo, who is entering her third year in the veterinary program. "Between traveling and bonding with students and faculty, amazing hands-on training, exploring an entirely new culture, and helping both the animals and residents of an underserved community, I was amazed with how much a small group of students was able to accomplish in under two weeks."