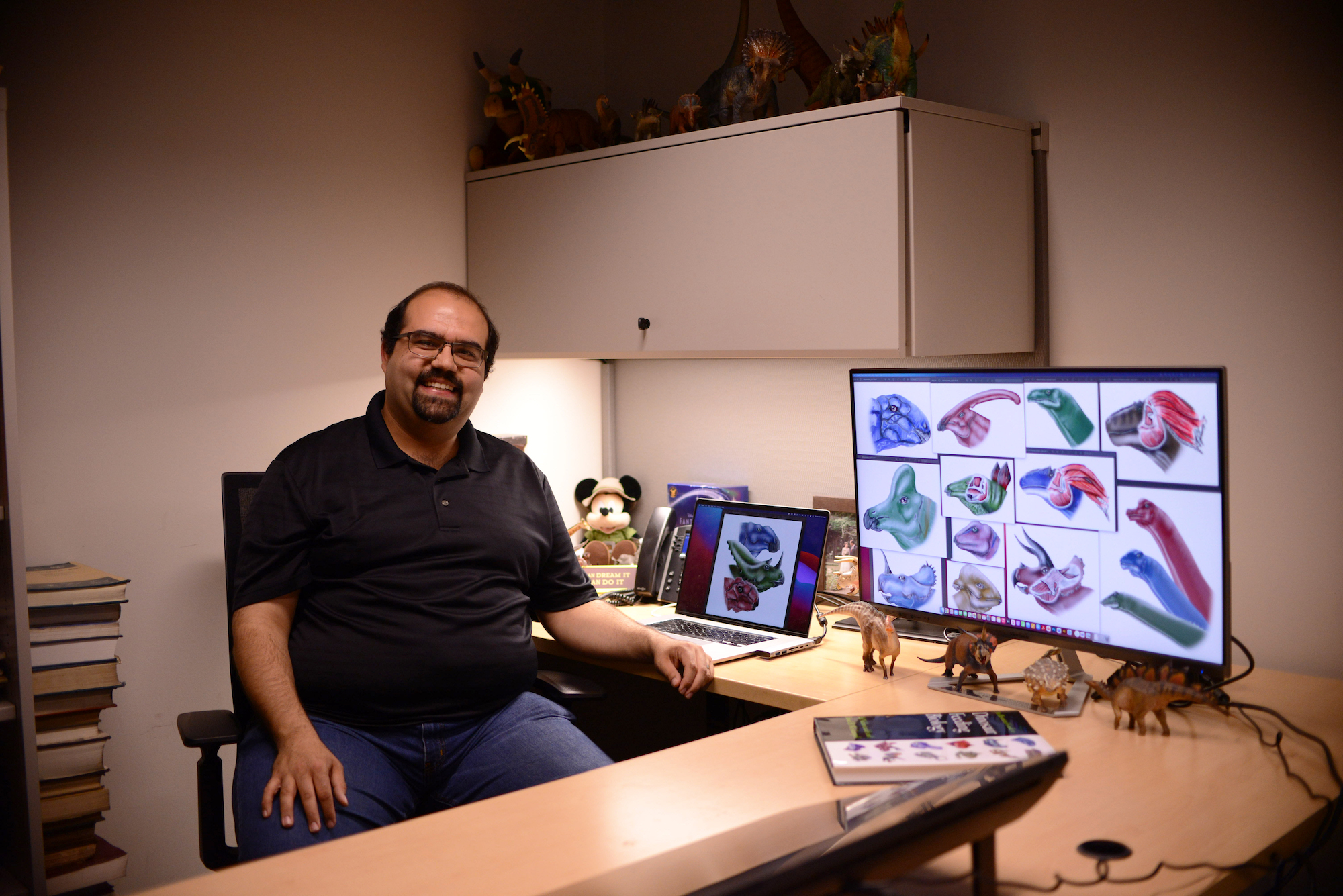 Dinosaur paleontologists are detectives, piecing together clues from fragments of fossils to decipher what a whole organism looked like, how it moved, and how it behaved. While even a preschooler could tell you a Tyrannosaurus' sharp teeth helped it eat meat, more subtle evidence—from microwear on a tooth to the shape of a jaw muscle attachment site—has helped scientists paint a rich picture of the ancient animals' ability to obtain and consume food.
In "An Illustrated Guide to Dinosaur Feeding Biology," to be published by Johns Hopkins University Press in June, paleontologists Ali Nabavizadeh, a clinical assistant professor of biomedical sciences at Penn's School of Veterinary Medicine, and David B. Weishampel, professor emeritus at Johns Hopkins University's School of Medicine, present a chronological narrative tracing more than a century of findings related to how and what dinosaurs ate. The book "is very much a synthesis of all of the research that's ever been done in dinosaur feeding, since practically the beginning of dinosaur paleontology," Nabavizadeh says.
The authors' goal was to trace the arc of discovery, illustrating how each insight built upon those prior or in some cases challenged old beliefs. "It was important to me to include everyone's research that we could," Nabavizadeh says, "trying to make it as strictly objective as possible."
The result is a 353-page, 14-chapter chronicle of paleontologic discovery, with 250 illustrations, many in full-color, to drive home the information. The authors hope it will be a valuable resource to researchers and students interested in dinosaurs and animal scientists interested in feeding anatomy and biology, as well as one with appeal to "any dinosaur enthusiast," Nabavizadeh says.
Anatomy lessons
Nabavizadeh began his undergraduate studies at the University of Kansas on a pre-med track, but, after taking courses in zoology and paleontology, realized that anatomy was what captured his attention and wrote his undergraduate thesis on dinosaur feeding behaviors. 
He pursued a doctorate in functional anatomy and evolution at Johns Hopkins, where he met Weishampel. The connection forged Nabavizadeh's connection to Penn, as Weishampel was the first doctoral student to study under Penn paleontologist Peter Dodson, professor of anatomy emeritus, a renowned dinosaur paleontologist.
"I went on to work with Dave for five years and did my dissertation with him," Nabavizadeh says. His doctoral research examined the diversity of cranial structures—jaw muscles, teeth, beaks, and more—in a group known as ornithischian dinosaurs, which includes most herbivorous dinosaurs, including iconic species like Stegosaurus and Triceratops.
It was as Nabavizadeh was concluding his Ph.D. that he and Weishampel formulated the idea of a book on feeding behaviors. They've since worked for nearly a decade to bring it to fruition.
Charting a century-plus of discovery
Nabavizadeh and Weishampel begin the book with a history of important scientists and key findings in the field. A chapter on general dinosaur anatomy follows, then from there each of 10 chapters focuses on a different dinosaur group, comprehensively conveying how decades of research have led us to the current understanding of the animals' feeding biology. A final chapter discusses paleoecology and dinosaurs' place in the ecosystems they inhabited. 
Some of the earliest studies, from the 19th century, relied primarily on the morphology of fossil jaws and teeth to determine dinosaur species dietary preferences and behaviors. Later, other aspects of an animal's anatomy came into play. 
"The claws and limbs and tails could help answer questions like, Would they run after prey? How might they hunt and capture other animals?" Nabavizadeh says. 
More recently, tooth wear has become an important source of information on dinosaur diets. "You can see a lot of scratches and pits and gouges on the teeth of these dinosaurs, which is fascinating, because you're essentially looking at their last meal, because their teeth are constantly being worn down," he says. "And from there you can say things like, What direction were their jaws moving? What types of foods were they eating? Was it a tough material? Was it a soft plant material?" 
Paleontologists and anatomists can also rely on marks on fossils that indicate where muscles attached to gain information about how an animal's jaw moved. A burgeoning direction for the field is to incorporate advanced technology, such as computer modeling and finite element analysis, to model how bones and soft tissues would have worked together and allowed different types of motion. 
"Modeling has turned up a lot of surprises in what we know about the movements of the jaw," Nabavizadeh says.
Another mainstay of imagining how the anatomical structures captured in fossils may have once propelled living dinosaurs is comparative anatomy. Paleontologists look to animals that roam Earth today and share family tree connections to dinosaurs to form hypotheses about their movements and habits.
"We know birds are living dinosaurs; they're a very specialized version of the dinosaur," he says. "But you also have things like crocodiles and lizards that you can look at to consider their cranial hump, their muscle morphology, the sites of muscle attachment to the skull," he says. "You can look at the evidence in the fossil record and say, OK, well, there's a muscle scar here where we also see a muscle attachment in this lizard, and so we compare it back."
Visual learning and open questions
Right in the book's title is a tool that Nabavizadeh relies on to learn new anatomical concepts: illustration. When he was a graduate student at Johns Hopkins, he was delighted to find that the university housed a medical illustration program. 
"I got to know the professors, and they allowed me to audit courses," he says. "That was kind of my track into illustration. It's kind of secretly my favorite part of what I do."
Nabavizadeh himself drew all the dinosaur illustrations in the book, demonstrating how, for example, jaw muscles might attach to the skull, or which parts of a dinosaur's anatomy support its biomechanics.
"I love drawing. It helps me learn; it helps me teach," he says.
Despite Nabavizadeh and Weishampel's comprehensive approach, the field is awash in unanswered questions. On a microlevel, for instance, Nabavizadeh would like to know more about the precise plant species some herbivores were eating and what physiological structures in their skull they used to crush food. On a broader ecological level, more research is needed to understand how their feeding behaviors impacted the other species—both plant and animal—that shared dinosaurs' habitats, and how each carved its own niche in order to thrive.
"We present a lot of evidence in the book," Nabavizadeh says, "but there's always more to find out."