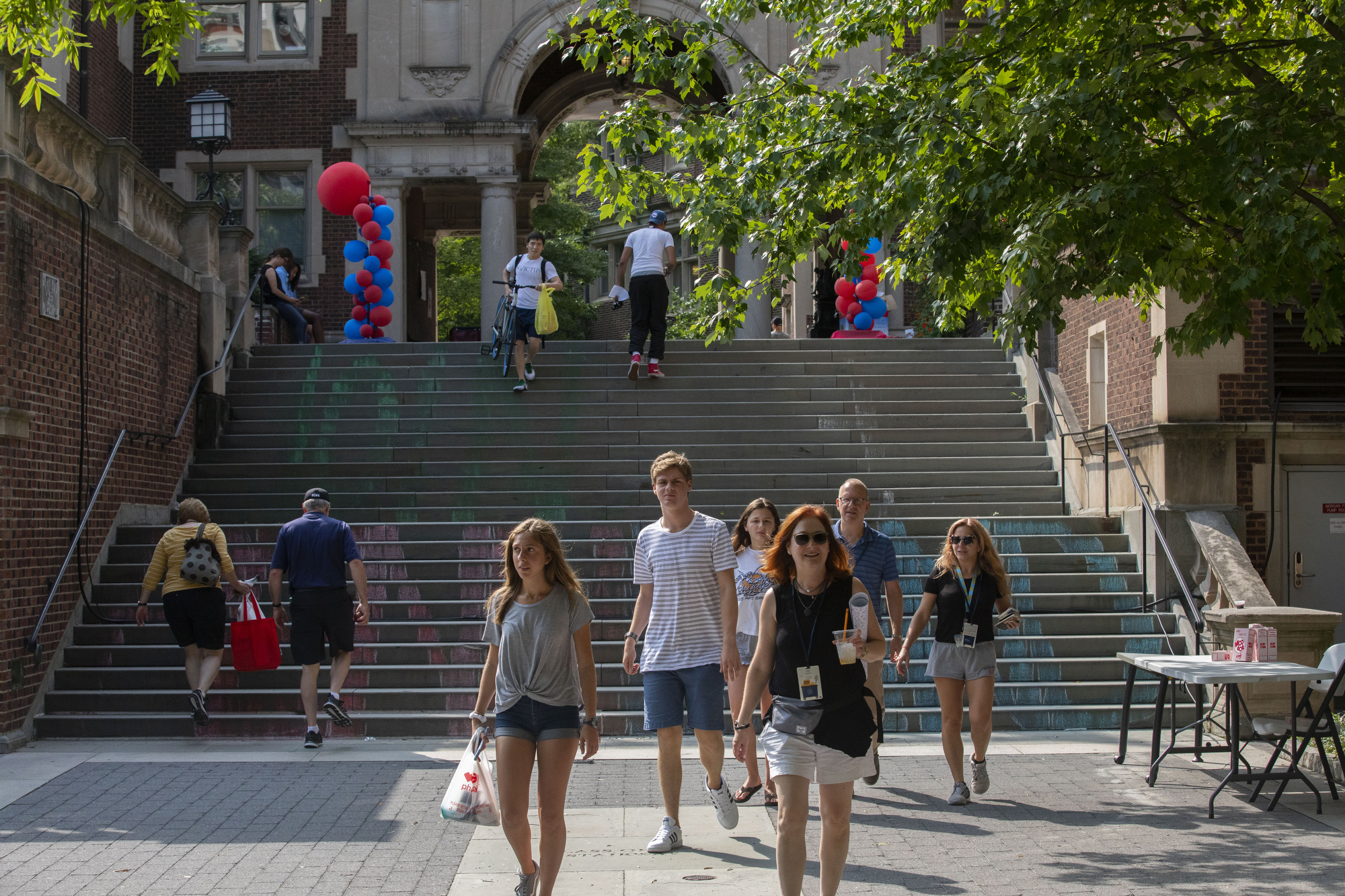 On Wednesday, Aug. 22, parents and loved ones energetically rolled carts filled with the most-treasured belongings of the newest cohort of Quakers: 2,552 undergraduates that make up the Class of 2022, who moved into 12 College Houses across Penn's campus.
At Kings Court English College House (KCECH), Shaktivail Arunachalam, from Overland Park, Kan., moved into a room on the third floor. A freshman enrolled in the Huntsman Program in International Studies and Business, Arunachalam will earn a dual-degree from both the Wharton School and the School of Arts and Sciences.
His family, including his mother, father, and younger sister, all flew to Philadelphia together from Kansas City. With all of the layovers and weather-related delays, it took them 10 hours to arrive on campus, he says.
They stayed at the University City Sheraton, located directly across the street from KCECH. That made moving in a breeze, he says. They loaded his belongings into two carts, and rolled them right across Chestnut Street.
Arunachalam says he's looking forward to experiencing a newfound sense of independence and freedom. He's hoping to join the Wharton Consulting Club and the Economics Society.
"I want to experience new things and grow as a person—and as a student," says Arunachalam, who likes to stay active playing tennis.
His dad, Arun Subramanian, easily found all of the information that he needed in advance of their journey to campus on the Penn website. He says he is excited for his son, while simultaneously experiencing a little apprehension.
"It's quite a distance from where we live, so there is a bit of trepidation, as well," says Subramanian, who didn't expect the move-in process to be so well-organized and flexible.
Arunachalam's family will stay for the remainder of the week, taking time to do some sightseeing and possibly take a bus tour. But their first stop on the itinerary was to pick up a mini-fridge after getting a cheesesteak for lunch. That's one of the advantages of moving in first thing in the morning, Subramanian says.
"Now we can go to some of the parent programming," says Subramanian, who specifically is interested in the seminar for Huntsman parents, and the "Info to Know Before You Go: Penn Parent Orientation Panel and Farewell Proud Penn Parents" event in Irvine Auditorium.
Meanwhile, on Locust Walk, the Phillie Phanatic rolled through on a golf cart to get the crowd pumped and to take photos with members of the community, including Penn President Amy Gutmann.
Later Wednesday morning, Gutmann headed over to brick pathway leading to Hill College House, where Faculty Director Julie Sochalski and House Dean Deona Hatley bestowed upon her an official "Hill College House" white, button-up Oxford-style shirt.
Gutmann and the Quaker mascot posed for photos with new students and their families after spending some time cheering on the Penn Band. Gutmann also spoke with local television stations, reminiscing about her own experience as a first-generation college student and providing information about the Class of 2022:
43 percent of U.S citizens in the incoming class identify as students of color
55 percent of the incoming class is female
146 students are from Philadelphia
One resident of Hill College House, Lauren Joost, a freshman in the Wharton School, opted to live alone in a single room.
Her family drove 29 hours from her hometown in Parker, Colo., located near Denver.
Joost, who is on the gymnastics team, is also interested in meeting new people and making new connections. That's why she is planning on joining the Wharton Sports Business Initiative and becoming a volunteer in the local community.
"I look forward to expanding my education and learning as much as I can to prepare myself for the business world and life after school," Joost explains. "And, of course, to make lifelong friendships."
Her mother, Donna Joost, was excited to help unpack and get everything organized.
"Maybe it hasn't hit me just yet," Mrs. Joost says, "but right now, I'm just thrilled for her."
Mrs. Joost was especially impressed with how smooth everything ran during the move-in process. She appreciated the frequent communications their family received over the summer so that they could learn as much as they possibly could before they even got here. She says it really ensured a flawless transition.
Another resident of Hill College House, Madelyn Strohm, a freshman in the School of Arts and Sciences from the Manayunk neighborhood in Philadelphia, took advantage of the early move-in program for first-generation, high-need students. Her mom and her sister helped her to move into Hill College House on Tuesday.
One of every seven students in the Class of 2022 self-identifies as first-generation, high-need students, that is, the first in their family to attend college.
Strohm is looking forward to meeting people from all over the world and explore the city more with new friends. She's also hoping to join Penn First, a student-run organization that aims to build a campus community by providing support and mentorship to first-generation students.
"I want to try out different classes and subjects that I didn't get to study in high school," says Strohm, who hopes to embrace everything Penn has to offer. "There are so many resources and opportunities here and I just want to make my family proud. I worked very hard to get here and they supported me every step of the way."
The day concluded with a "New Parent Welcome" reception on College Green, where Gutmann offered words of inspiration for 2,552 incoming students: The cohort of new Quakers comes from 49 states (all but Wyoming), Puerto Rico, and 88 nations around the world.
"But for all the incredible global diversity among you and your students, all of you now have something in common: As you get ready to say 'goodbye,' you're missing them already," Gutmann said. "As a mother and a grandmother, I know this feeling well."
After drawing parallels between a classic tune from The Beatles and the adventures that await the Class of 2022, Gutmann took the time to reassure proud, but tearful loved ones.
"In Penn, your students have a caring partner and a supportive family. This is a tight-knit community of friends, mentors, professionals devoted to health and well-being, and outstanding services—every one of us committed to the success of all of our students," said Gutmann, who stressed that nobody succeeds without help. "Their emotional and physical health, their successful adjustment to university life, the resources they can depend on when challenges and setbacks inevitably occur—these are among our highest priorities."
The 5,519 returning undergraduates will move-in before classes begin on Tuesday, Aug. 28.
View more photos of Move-in on Flickr.