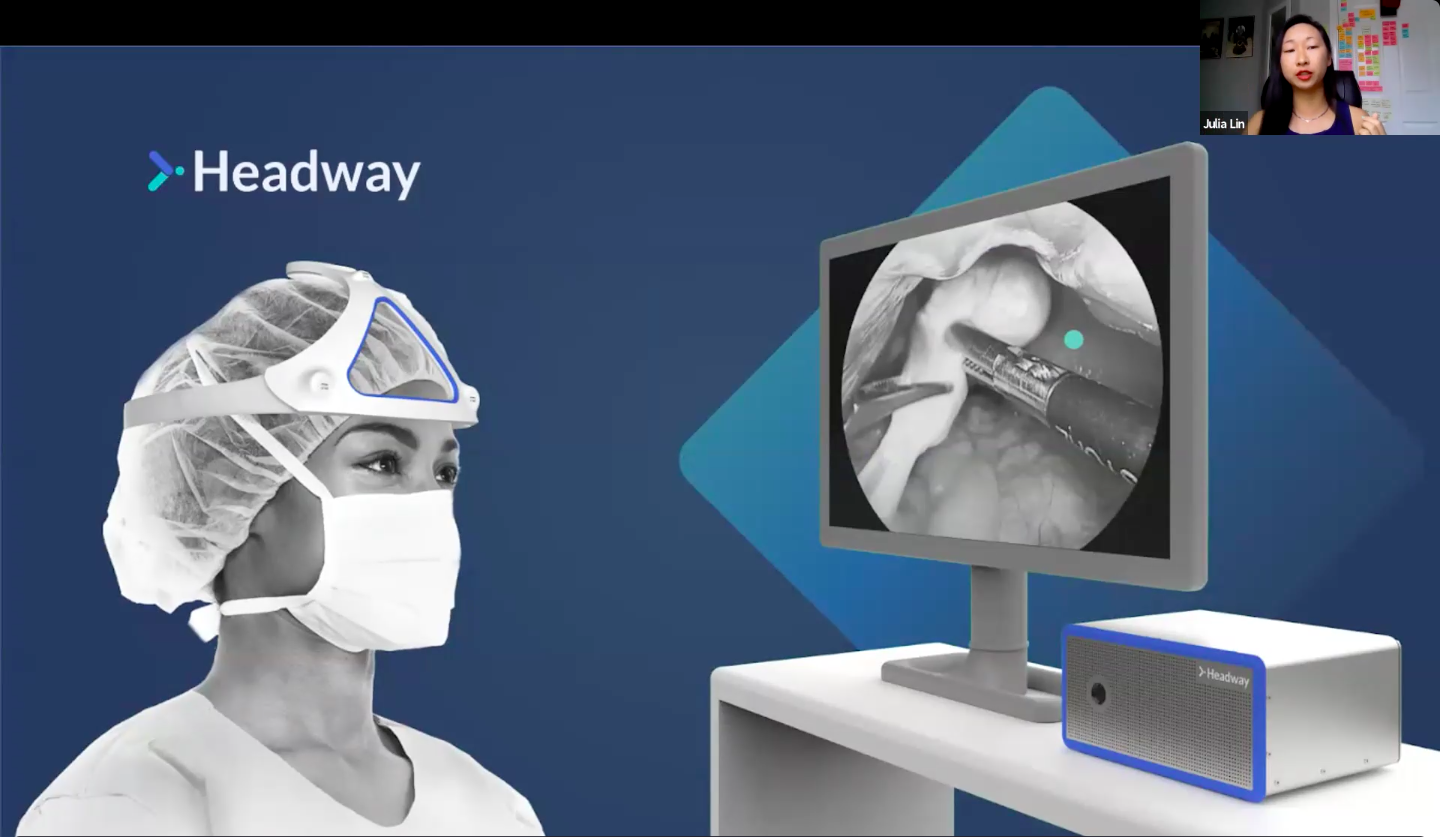 Even while working remotely and staying socially distant this summer, 10 startup companies made progress on developing their businesses as part of Pennovation Accelerator program at Pennovation Works. Launched in 2018, the six-week summer program is designed to support Philadelphia's entrepreneurial community. This year's online program, presented by the Pennovation Center, PCI Ventures, and 1776, was still able to provide high-quality training, mentorship, and networking opportunities. The program culminated in a virtual pitch day that was attended by mentors, local investors, colleagues, and members of the Penn community. 
Innovation moves online
This year's cohort includes 10 companies working on a range of products and services including software, medical devices, and consumer products, with five of the companies run by recent graduates or current students at Penn. Companies participated in workshops with subject matter experts who shared their knowledge on market assessment, business modeling, team building, branding, storytelling, and "the ask," or the reason that something is being pitched. The goal of the program is to help each company develop its pitch and also includes mentors for each company as well as weekly pitch practice and networking sessions with investors and program alumni. 
While moving the entire six-week program online was no simple task, organizer Jaime Sweet of PCI Ventures says that the pandemic provided each company with a unique learning experience in adaptability and creativity. "We've had companies where progress might have been derailed who have had to think creatively about how to continue that discovery process and make connections," says Sweet. "It's definitely been a topic of conversation, and a lot of companies thinking about how to adjust their strategy given where things are currently."
Pivoting due to the pandemic was certainly the case for Pawsitive, co-founded by Penn Integrated Product Design (IPD) program graduate Samaya Sinha and current student Echo Wan. Their social media app for pet owners needed to adapt when socializing became more difficult. "We had to rethink how to facilitate connections when you can't be in person," says Sinha. Thanks to the Accelerator program, and conversations with their mentor Aksel Güngör, Pawsitive is now focused on the timely need of alleviating new pet owner anxiety by providing access to curated resources, personalized pet care advice, and specialist recommendations. "The Accelerator was crucial to helping us form an entirely new business model and recognizing new challenges, and now we're tweaking the app to make it sustainable," says Sinha. 
Learning and making connections
For Philippe Sawaya, co-founder of Percepta, who recently graduated from Penn's School of Engineering and Applied Science with a degree in computer science, joining the Pennovation Accelerator program was the natural next step for furthering their ethical AI video surveillance software. After developing the technology as part of a senior thesis project and receiving startup funding through the Wharton Entrepreneurship Startup Challenge and Penn iCorps, the Percepta team was looking for additional training and mentorship that could help transform their technology into a marketable product. "We liked the idea of having real-world mentors, says Sawaya, adding that their mentor Tom Crowley pushed Percepta to dig deep into their hypotheses and assumptions. "It's given us insight into the research we need to do," he says. 
Networking, both with their mentors and with other cohort companies, is a key component of the program. Accelerator organizer Genevieve Moss-Hawkins of the Pennovation Center and 1776 says that despite the challenges of making connections online, she is pleased with how the companies have found ways to collaborate. "They've been super engaged—always willing to share resources on Slack, to give feedback. And it's been nice to see because we worried that would be one of the things that was missing," says Moss-Hawkins. 
"Compared to other accelerators that we did before, it feels like we have more connections here," says Wan about Pawsitive's experience as part of the Pennovation Accelerator. "In others, it was more individuals working on their own project, but here we learned more from each other. That's helpful, and really one of the highlights of this program."
Buoyant, a dedicated telemedicine service for patients with migraines, was an idea stemming from founder and CEO Sherry Wu's own frustrations with treatment as well as her professional experience in health care consulting. After hearing about the Pennovation Accelerator program, the Wharton MBA student was eager to become part of an entrepreneurial support community that also had a Penn connection. "Part of the benefit is being able to do the Accelerator program and develop the business in parallel," she says. 
The program has also provided Wu the opportunity to work with her first female mentor, Sofija Jovic. In their weekly conversations, Jovic, who is also a mentor-in-residence with PCI Ventures, focused on preparing Wu for fundraising by sharing perspectives from her own experience working in health care and pharmaceutical businesses. "I have found the mentor sessions to be extremely useful," says Wu. "I'm working with someone who was a CEO of a company that she founded, and it's really inspiring." 
After developing their initial prototype this spring, four recent IPD graduates were looking for the right startup ecosystem for Headway, a hands-free device to help improve communication during minimally-invasive surgeries. Co-founder Julia Lin says that being able to work with experts in health care technology and business has provided the company with essential new perspectives. "We had the big picture but not as much the business side; our aim was the product," says Lin. "Now, we know we're grounded in a real problem, and it's reinformed the development of the business." 
Headway's mentor, Jordana Barmish from PCI Ventures, met with the group online on a regular basis and was impressed with how dynamic and adaptable the team has been, especially after only officially becoming incorporated in the first weeks of the program. "It's impressive to see their progress from one week to the next, and it's been a lot of fun," she says about her experience being a Pennovation Accelerator mentor for the first time. 
Pitch perfect
Several participants say that they enjoyed the iterative and layered approach to pitch development that enabled them to improve and refine their idea. "We were in the mindset that a pitch is a pitch, that it doesn't matter who we are pitching to," says Sawaya. "They helped us know how to tailor it to different audiences and make it clear what the takeaway is."
The results of six weeks of training and practice to fruition during the virtual pitch day, where companies had five minutes to share their company's vision and technology using impactful storytelling and a solid business plan. As one example, MielBar's Samantha Rodriguez, a Wharton MBA student, shared her personal challenges of finding conditioning treatments for curly and wavy hair before discussing her personalized and subscription-based strategy. Each pitch was followed by a Q&A session with a panel of judges who asked questions about pricing, intellectual property rights, product scaling, and market selection.
After the judges deliberated, Pennovation Works Managing Director Anish Kumar announced Headway as the overall winner and SOLUtion Medical as the winner of the best pitch award. As the overall winner, Headway will receive six months of Pennovation Center desk membership and $5,000. 
Moving forward as an entrepreneurial community
In the coming months of continued uncertainty, Jovic's advice is for the cohort to demonstrate that they can still execute on a vision even in the current environment. "That means thinking about what will I have done between now and December that meaningfully changes the value of my company. Showing that record, amidst all this, and that you were able to get tangible and meaningful things done that move the company forward is especially important," Jovic says. 
And even though the companies have yet to meet in person, their support network is already well-established, something that Barmish says is essential for future growth. "The biggest advice is to nurture those connections, not letting it be a six-week-and-done kind of thing. The more they can maintain and expand those networks, the more it will help in the future when they are ready to fundraise," says Barmish. 
Lin adds that being able to meet people from a variety of backgrounds while having Penn as a shared thread was one of her favorite parts of the program. "Being part of the entrepreneurial community means learning from people who are constantly learning," she says. "It's always good to surround yourself with people who you can learn from."
The Pennovation Accelerator program is supported by Pennovation Works in partnership with PCI Ventures, 1776, the Office of the Vice Provost for Research and Penn Center for Innovation.