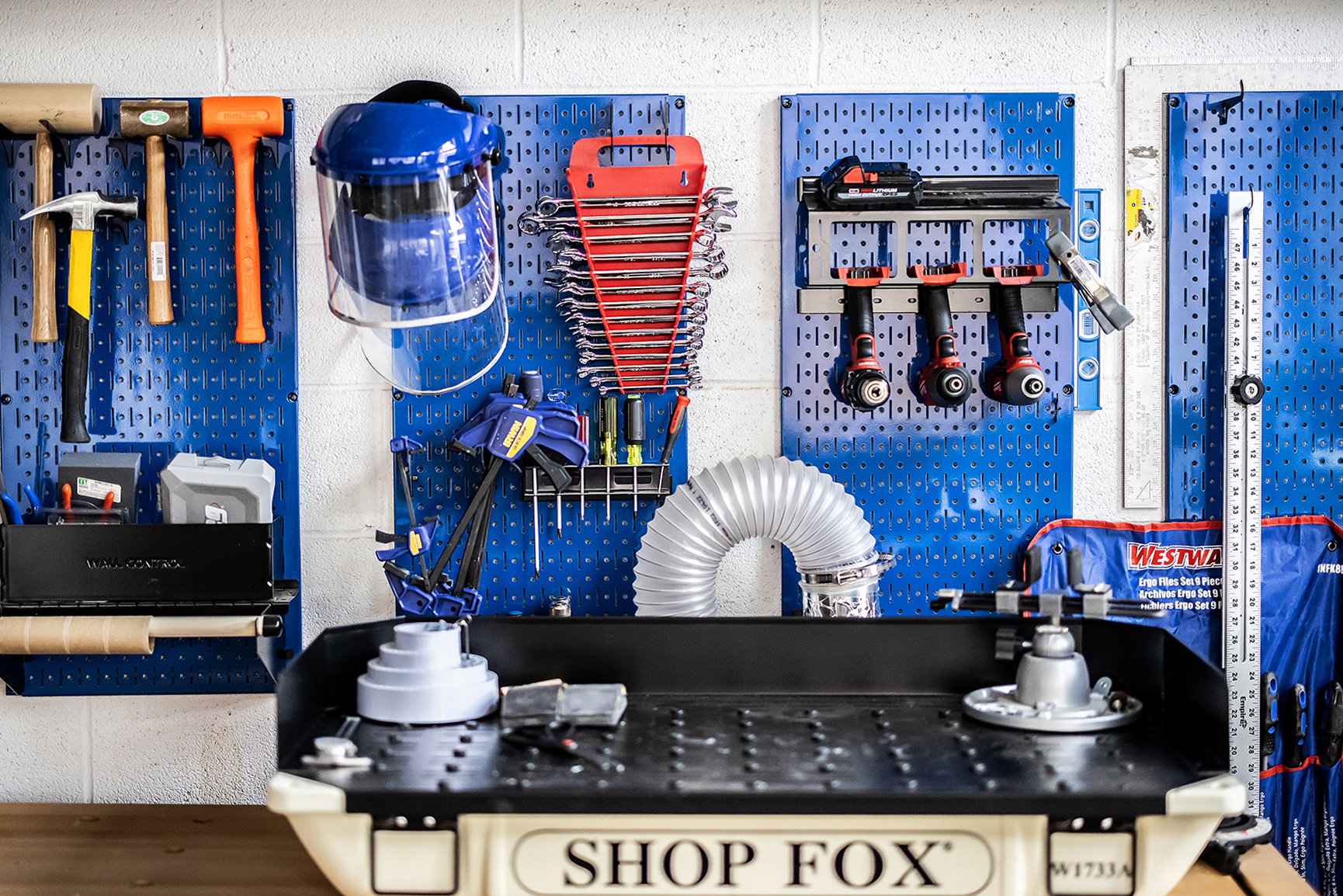 In the 21st century, universities don't just teach students about the known world—they help students to navigate the next horizon. What does this look like? In addition to lessons about critical reasoning, communication skills, and analytics, sometimes the best way to teach problem-solving and self-reliance is to ask students to create something with their own two hands.
Whether it's a highly technical place for trained engineers building metal engines, like the Precision Machining Laboratory, a place to brainstorm ideas and how to take them to the marketplace like the Venture Lab, or an open-access place to tinker like Education Commons, makerspaces offer a place to play with power tools, blast Metallica, and drive robots into one another. Essentially, they're where students can figure things out, fail, and try again. And sometimes swing a hammer.
Education Commons: Where to start
A faint wisp of acrid smoke wafts up from the laser-cutting machine at Education Commons. "Don't mind the smell," says Tex Kang, the digital program coordinator of technology and play. "It's literally wood burning."
Following a series of commands, the laser machine is burning precise cutouts in thin wafers of wood. In seven days, these wood wafers will be assembled into fully functional battle bots, capable of competing in an obstacle course race, a soccer game, and a death-match battle. (Death, in this instance, refers to the popping of a children's balloon.) But today, the wood is just wood, one of many build-your-own-robot kits offered free to Penn students, faculty, and staff by Kang and Christine Kemp of Education Commons, a makerspace that is part of Penn Libraries.
Located in a mezzanine above Franklin Field, Education Commons is a rectangular space with domed, steel framed windows giving a sense of light, space, and expansive possibility. Kemp and Kang are here to make those possibilities into reality. They help the Penn community navigate for class projects and team-building exercises—and manage school stress—with a laser-cutting machine, three 3D printers, and creative vision.
Open to anyone with a PennCard, Education Commons is part of an initiative to make the high-tech accessible, Kang says. "Like, the printing press was awesome. Now we have digital machines at home." Times have changed, and education changes with them. "Libraries being a source of wealth, knowledge, and accessibility … we lend out technology, laptops, programs, so students have education beyond just books or academic needs," he says.
3D printers are open-source technology, Kang says. "We want to share it with everyone and that's kind of the philosophy behind makerspaces. We want accessibility, we want freedom to just start building. We don't want any hindrances—monetary or education—because anyone can join."
As such, Education Commons can help a student design a physical model of a brain using that student's CAT scan (an actual project) or provide a kit to make wood-cut earrings or a template to 3D print a Minecraft-themed guitar pick.
If someone came into Education Commons and was nervous or unsure of how to get started, Kang says he asks them what they like. If they are into Star Wars, he can help them make a lightsaber. If they have a dog, in 30 minutes he can help them make an NFC (near-field communication) dog tag with the canine's medical information, veterinary practice, and favorite food. "I want to ease them into something they're passionate about, because that's what drives me, and I imagine that's what drives them," Kang says. "They'll be more motivated to learn."
In April, Education Commons hosted two makerspace "build your own robot" events and a final battle with about a dozen bots. Kang built an obstacle course that involved robot vehicles racing around cones and across a minefield of golf balls and plastic that looks like clear, sparkling crushed ice.
Except now the vehicles are getting stuck.
"Tex," Kemp says, "I think your obstacle course might be …"
"Too difficult? I can adjust the difficulty." Kang comes over and pulls up some of the intervening obstacles. Once again, vehicles zoom around the course. Spectators note which models do well, and which have trouble, cheering and egging one another on.
"Oh," says one student. "This is fun."
Precision Machining Laboratory: Where engineers learn how to build
On the ground floor of the Towne building are a cluster of makerspaces, or, as they're known to engineers, laboratories. This is the home of Mechanical Engineering and Applied Mechanics (MEAM), a department within the School of Engineering and Applied Science. All of the laboratories support student coursework and research. There's one with 3D printers. There's one with laser cutters and 3D printers. There's the Garage Lab and Tool Library, where students can borrow a miter saw or an orbital sander.
Then there's the Precision Machining Laboratory (PML), with four manual mills, five manual lathes, three Prototrak hybrid mills, three Computer Numerical Control (CNC) mills, and various other metal prototyping equipment with increasingly opaque nomenclature. There is Metallica on the stereo. There are metal shavings on the scrubbed concrete floor. There is very exclusive access to machines.
The only way to gain entry without being an employee is to enroll in MEAM 201, a hands-on, project-based course designed to teach second-year undergraduate students to design and manufacture mechanical systems. Students spend the spring semester building their own heat engines, putting their own flash on the system. On engine test day, every machine is running, says Peter Bruno, the educational laboratory coordinator, one of four mechanical engineers who staffs the labs.
Bruno's job, he says, is "helping students figure out how to make the stuff they want to make." The idea is to help students learn about the fabrication process from top to tail by making their own products.
There's a lot of moving parts, he says. There's getting from a conceptual design to a real, fabricated product. Then there's the budget. Can shelf parts be used for the fabrication, or does everything have to be custom? "The way you spec something out changes how much money you're going to charge," Bruno says.
Plus, digital design is very different from physical design, he says. "The numbers that you put in, the shape that you create, it's not the final thing," Bruno says. Like many engineers, he has the mind of a problem-solver. "When you're actually making a physical product, you need to be able to know: What's it going to feel like when I get to the end? How is it going to move? What's it going to sound like? All those bits and pieces. Is it going to look the way I want it to? All that matters."
All throughout Bruno's explanation are affirmative interjections from Joe Valdez, one of two instrumentation technicians on staff who started machining more than four decades ago as an apprentice at the Navy Shipyard.
"Students love Joe. He's got a lot of experience and a can-do attitude," Bruno says. The feeling is mutual. Students, Valdez says, are the best part of his job.
"For me, it's more technical," Bruno says. "I'm in the education side of things because I love the idea of getting somebody from, you never thought you could even do this to, you're ready to kick some …"
"And I'm more a therapist," Valdez says. "Wipe down the tears."
Tears happen, he says. There's the workload, there's general college stress, and sometimes personal issues, Valdez says. He's been known to do some light relationship counseling.
Then students stress over finding internships, Bruno says. "Sometimes they just need somebody—not their parents—to say, stuff's hard, but you're going to be okay."
"The other piece of this is, and there's a ton of research on it, making is a mental health benefit," Bruno says. "Like, actually being in, touching the stuff, doing the things."
When students get in the zone, they lose track of time. "It's very Zen," he says. "You're turning the dials, you're getting your numbers …"
"It's therapeutic," Valdez says.
In the background, a mechanical engineering student hammers a metal plate into place. "And sometimes you get to hit stuff with a hammer," Bruno says. "That feels good."
Venture Lab: Where entrepreneurs learn how to manufacture and market ideas
Soaring over 40th and Sansom streets with blue-green plates of rectangular glass, Tangen Hall isn't hiding its light under any bushels. Built in 2020, it's a 68,000-square-foot space with seven stories of communal working space and nine laboratories and studios. It's the home of Venture Lab, the center for entrepreneurship at the Wharton School.
It could be easy to feel intimidated, but Sebastián Jaramillo, the director of operations, is here to make students feel welcome. Jaramillo, a 2010 graduate, is also a first-generation, low-income (FGLI) student. Born in Elizabeth, New Jersey, he spent his childhood in both Colombia and Staten Island, New York and is now passionate about making Tangen Hall (open Monday through Saturday, 7 a.m. to 9 p.m.) accessible to all Penn students, who, with a free membership, can secure additional after-hours access, along with 50 free 3D prints per semester and free headshots.
Students can also submit applications for project ideas or apply to programs within one of Venture Lab's four "pathways:" Explorers, Founders, Investors, or Navigators. You don't have to wait for that million-dollar idea to develop skills, Jaramillo says.
Jaramillo cut his teeth in the food industry, building community "shared/ghost" kitchens and starting a food business. "You don't have to be a unicorn to be an entrepreneur," he says. "Although sometimes, you just need a little time to figure it out."
Time, along with resources, support, and encouragement are all needed, he says. The test kitchen alone, had it existed when Jaramillo was a student, "would have shaved five years off my timeline," he says. "If I had been in this building and community, I would have learned a lot before launching my own venture."
The fabrication labs on Tangen Hall's first floor are geared towards physical creation, Jaramillo says, with students making everything from furniture to Bluetooth speakers to stress balls that look (and smell) like pan dulce, the Mexican pastry.
Kausi Raman, a second-year master's student in the Integrated Product Design program at Penn Engineering, has used the fabrication lab to develop "a kid-safe power tool," she says.
The idea grew out of conversations that Raman and her co-founder, Max Liechty, had with educators. They wanted to teach design to children. But the children were frustrated at working with cardboard, their design material. It was bulky and hard to manage with oft-blunted scissors, tearing or folding easily.
Raman and Liechty's model is a green-and-blue square, printed on a 3D machine. They've built about 10 prototypes over the last year. It cuts seamless curves and lines in corrugated cardboard, without any blades or sharp edges.
It's impossible to stick even a pinky through the hole-punch guard, and the byproduct is tiny, little semicircles of cardboard. "How it works, is kind of like a really fast hole punch," Raman says.
When she graduates in May, Raman will become Tangen Hall's first designer-in-residence. She'll help students with their projects and continue to work on her own, which she hopes will become widely accessible for primary-school students.
The second floor houses the Food Innovation Lab, a test kitchen with wide, garage-style doors flung open to reveal gleaming stainless-steel surfaces. Here, Jessica Ramses, also in the Integrated Product Design program, is working on crackers and a new kind of pasta, made from an ancient Mediterranean grain.
Compared to pasta made from white flour, this mystery ingredient has 40% fewer calories, 60% fewer carbohydrates, 50% more protein, and twice the amount of fiber, Ramses says. It cooks in three minutes. Also? It tastes impossibly delicious, somehow both cheesy and nutty, without containing either cheese or nuts.
"Everybody kept eating it dry," Ramses says. "We were so confused. The pasta tasted great, but the first thing people did was eat dry pasta. So we thought today, we're actually going to try to make a nut-free cracker using the same harvesting process and see if that tastes good, because it's a potential expansion avenue for us."
She hopes her product will disrupt the industry. "Pasta is something that I'm passionate about because it's comfort food. It's a meal, and people consume a lot of it. It's easy. And if we can make pasta—but make it really healthy—then I think the impact levels will be huge," Ramses says.
Tangen Hall was designed with the premise of creating a zero-to-100 space for entrepreneurship, Jaramillo says. Staff works with students on developing products or recipes, cost, market strategy, packaging, design, legal issues, licensing—everything from the nuts and bolts to the finishing touches.
Managing Tangen Hall is like tending to a plant, Jaramillo says. "We, as an organization, are really positioned to help these ideas germinate and flourish. And I think that starts with a welcoming atmosphere."