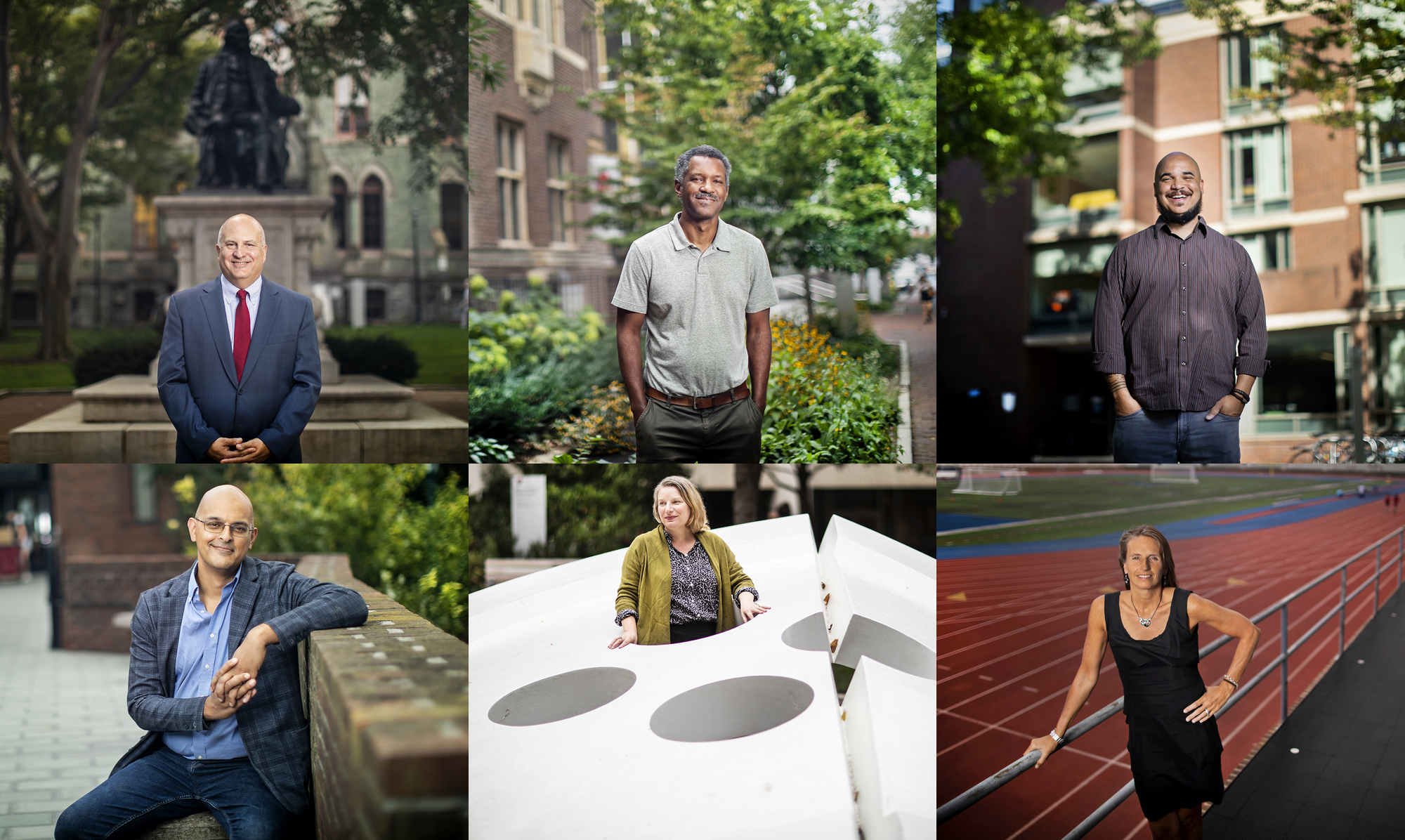 Penn students are encouraged to engage with the wider world, to be curious about their passions. In the case of the six alumni profiled here, the wider world eventually led them back to Penn. These alumni share their favorite campus spots—and how they found their niche, whether the road was slow and steady or circuitous and surprising. 
Several alumni, like Brian Peterson of Makuu and Heather Calvert of mindCORE, pursued advanced degrees while working for the University. As an athlete and anthropology major, Alanna Shanahan chose Franklin Field and the Penn Museum as her favorite spots. Chaz Howard is energized by the intellectual life at W.E.B. Du Bois College House and contemplates major life decisions at the BioPond. Craig Carnaroli—who climbed up the Benjamin Franklin statue to take a picture with the founder on graduation—is undergoing a "second education" at Penn, in addition to his Wharton degree. Kushol Gupta, wearing "two hats," serves as both assistant director of the Penn Band and studies drugs that target HIV.
For many in the Penn community, campus rhythms have become intertwined with family life. Carnaroli, Peterson, Gupta, and Howard all met their partners at Penn—Gupta proposed to his wife in Hill College House, her freshman dorm. Calvert recalls the Penn Relays playing while she was in the maternity ward after the birth of her son. "One thing I really like about Penn is it feels like there's a unique set of seasons," Calvert says: the dynamic energy of Move-In, the crunch of autumn leaves and dim rumble of leaf-blowing, the holiday decorations, the calm during Winter Break, the sprucing-up that happens in spring: mulching and painting. "Your seasons are marked by the ebb and flow," she says. Throughout the changes, here are the spots these alumni have chosen as touchstones. 
Alanna Shanahan
"I spent many an hour on Franklin Field as an undergraduate," says Alanna Shanahan, who graduated from Penn in 1996. She was a lacrosse midfielder, and spring training would start on Feb. 1. "If it snowed, the field would be plowed and the coaches would incorporate the huge mounds of snow into their drills, Shanahan remembers. "Often we had practices at night, so you're out there and it's freezing," she says. "Just some of the memories created through those moments where you're like, 'Oh my goodness, are we going to get through this?'" 
Franklin Field is now one of her favorite Penn places, along with the Penn Museum, where she spent time as an anthropology major. Later, she had her wedding reception in the rotunda. 
Shanahan, who is now the T. Gibbs Kane, Jr. W'69 Director of Athletics and Recreation, "was not someone who went through Penn with a grand plan," she says. As a student-athlete with a part-time job, "I was always running from one thing to the next." Shanahan started working in the athletics department after graduation and earned first her master's degree and then a doctorate in higher education administration from the Graduate School of Education. 
As her career blossomed, Shanahan discovered that she also enjoyed being a part of a professional team and providing people with transformative opportunities. "I am absolutely someone who loves watching people and organizations advance and grow," she says. As an athlete, she loved the "aspiration of a common goal." As athletics director, Shanahan is still pushing through the tough days, supporting her teammates, and working toward a greater whole. 
Brian Peterson
Brian Peterson is the director of Makuu: the Black Cultural Center, housed in the ground floor of the ARCH building, one of Peterson's favorite spots. While doing his undergraduate work at Penn (Peterson graduated with a degree in engineering), the ARCH building housed a restaurant called the Palladium. "I never went there," he says. "The restaurant was in the center of campus, with the castle, and all the frats. … It was like passing through something that wasn't really yours." 
Now, he says, "There's so much that happens here: Sister, Sister and Black Men United [both discussion groups], Makuu's open house, Penn Spectrum events. Having Makuu be in the middle of campus is representative of the work we do; how important it is."
Makuu's Kwanzaa celebration is traditionally held in Houston Hall's Hall of Flags, currently being used for COVID testing, which Peterson loves for its "Harry Potter feel." 
"Kwanzaa is a great way to close out the semester," he says. The event ushers students into the finals period "with a positive affirmation," Peterson says. "We nourish you with food and have a great cultural reminder for why you are here."  
Chaz Howard
Chaz Howard carries in his pockets a clean, white handkerchief and a Russian icon of Jesus on his phone. As University Chaplain and University vice president for social equity & community, Howard has need for both. As he paces the paths encircling the BioPond, he is constantly greeted by warm nods and playful banter. Everyone wants to say hello, to elicit a smile, to reach out, to connect. Yet for Howard, the BioPond is often a place of meditation, of reflection. "Before any big decision," he says, "I came here to pray." 
The BioPond is a bit hidden, tucked away on campus, but that's part of its appeal, Howard says. 
It was here he decided to propose to his wife, here he decided to accept the call to go to divinity school, here he decided to accept the offer to become University vice president for social equity & community, a position with added responsibility and weight for the father of three. 
Howard first arrived as a freshman on campus in 1996. He lived at W.E.B. Du Bois College House, where he felt excited and moved by the Black intellectual life he found there, discussions on slavery, leadership, and political activism, often organized by classmates. Howard ultimately chose to double major in urban studies and Africana studies, motivated by his passion and curiosity. In his senior year, he decided to further his studies to become a chaplain—and also to reach out to his good friend Lia to tell her, right before leaving, that he was falling in love. "I kind of put that on her," he says. "My timing was terrible." But like any of Howard's decisions, it was not without careful reflection. Howard and Lia stayed in touch. After a few years, and a few more walks around the BioPond, she became his wife. 
Kushol Gupta
After graduating in 1997, Kushol Gupta had friends clear the 5th floor balcony at Hill College House, waited for his girlfriend to arrive, and proposed. "Kids nowadays wouldn't dare do that at 22, but back then, we knew," he says. Gupta, research assistant professor of biochemistry and biophysics in the Perelman School of Medicine, met his wife, now an ER veterinarian, in the Penn Band where he played trombone, she clarinet. 
When he first came into Penn, Gupta thought he would major in science, but then started taking music classes. "The moment I got of hit of it, I just wanted more," he says. Gupta ended up double-majoring in biochemistry and music. "It became a part of who I was," he says. "And then I never really left the band." Gupta is now the Band's assistant director, and one of its many passionate advocates. To join, "all you need is a passion and a pulse," he says. "We teach you the rest."
On March 5, 2020, Kushol Gupta was in his element: with the Band, at the Palestra, watching A.J. Brodeur surpass Penn's career scoring record. This was also the same night HUP documented its first COVID case, Gupta recalls, foreshadowing the pandemic shutdown and the end of March Madness. "We were already cleaning surfaces and started using elbow bumps." 
It was then that his "two hats came in handy." With his scientific background, Gupta became deeply involved, translating medical language into vernacular, helping the performing arts community at Penn implement new ways to keep students safe while continuing to make music. (Making recordings virtually was a challenge.) If Gupta could teach a tone-deaf kid to play the tuba, he could figure out how to play through a pandemic. 
Heather Calvert
"One thing I try to do every year is go to Commencement," says Heather Calvert, executive director of mindCORE, an interdisciplinary research center for studying the mind. "My son was born April 28, 2005, during the Penn Relays. And I was on maternity leave during graduation, but I pushed him in a stroller from my home in West Philly to go to Commencement," she says. It ended up being the first time Calvert breastfed him out of her house, "a weird new mom moment," she says. 
The next year, when her son was 1, Calvert pushed him through campus on the way to drop him off at Penn Children's Center and stopped to watch the parade. "He was wearing a Penn sweatshirt and I remember these graduating seniors who were like 'Hey, this will be you someday, little buddy.'" It was a touching moment and one that brought her into the pageantry of the event. "I love when the band plays on the Button. I love the speeches. I love all the proud parents," Calvert says. As both a staff member and alum, the ebb and flow of campus has become tied up with her family life, Calvert says. 
Calvert graduated from the Fels Institute of Government with a master's in public administration in 2015. "It was hard to have a family and work full-time and go to school," she says. Fels held their graduation ceremony in the garden, and it was a meaningful accomplishment for Calvert with her parents in attendance, especially as she didn't walk after earning a B.A. from Villanova in 1992. 
Claes Oldenburg's 'Split Button' sculpture is another tie to campus life for Calvert. She would walk through campus to drop her son off at daycare and he would want to get out of the stroller to play on the sculpture. During the early part of the pandemic, when everything was shut down and quiet, Calvert and a friend who walked daily with Calvert's foster dog from the Working Dog Center, stopped to take a picture while walking through campus: dog, son, friend—everyone at the Button. "We were all a little depressed and freaked out, but it felt grounding in some sense to be back on campus," she says, a little bit of constancy in the midst of so much uncertainty. 
Craig Carnaroli
Senior executive vice president Craig R. Carnaroli vividly remembers the day he got a call from President Amy Gutmann's office. "'I think there's a tree growing out of the chimney at 38th and Locust,'" he remembers her saying. "She was right," he says. "It spurred us into how to reimagine that location." That location turned into what is now Perry World House, which recently celebrated its fifth anniversary. He loves the public lectures and the open space that "invites everyone in," offering an education that extends beyond the classroom, Carnaroli says. 
"There is no typical day at Penn," where a conversation about building maintenance can lead to a world-renowned policy hub, Carnaroli says. "The strength of Penn is the people, from top to bottom. People really buy into the mission of what we're trying to achieve." 
Carnaroli, who graduated from the Wharton School in 1985 as a finance and economics major, is currently undertaking what he calls "my second education at Penn, in that I continue to learn a lot" on the job. "That's because I have great colleagues, and because of the culture here, the collaboration," he says.
At his graduation, Carnaroli and his closest friends climbed up the Benjamin Franklin statue on College Green to take a picture. "We were admonished by our parents and the onlookers," he notes. That statue continues to serve as an inspiration point. What Franklin wanted in a university, "I think we've all worked together to make sure that vision was realized: an education that improved society and the world."