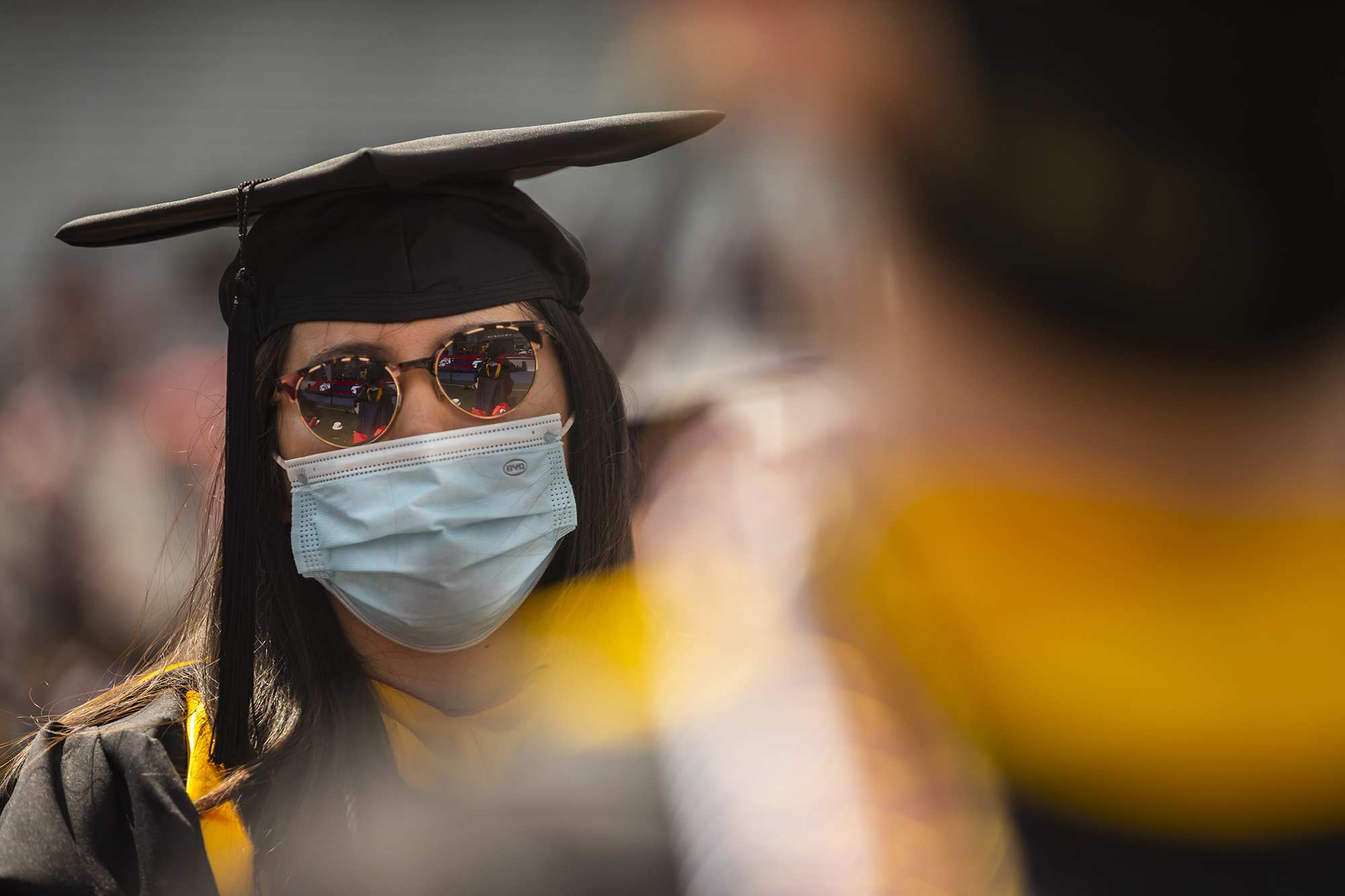 Talking just before Commencement on Monday morning, three graduating seniors Camilo "Cam" Duran, Moksh Jawa, and Karen Herrera were asked to reflect briefly on their four years at Penn. A common theme quickly surfaced: Exponential growth.
"I've grown in a lot of ways as a person, and I've gotten to explore a lot of aspects of my identity and who I really am," explained Herrera, who is the first in her family to graduate college in the U.S. "Penn really gave me the confidence to thrive here, and that's something I will always be grateful for."
A remarkable group of students defined in large part by their resilience and perseverance, the Class of 2021 participated in the University's 265th Commencement in a hybrid model due to the pandemic, with only a limited number of seniors in-person and socially distanced at a sunny Franklin Field. The rest of the graduating class, along with family members and friends, celebrated virtually, with a live stream of the event online.
"Every Commencement at Penn is historic, but none quite like this," Penn President Amy Gutmann said to the crowd. "To each graduate on the field, and to every graduate joining us online: You have done it. Here, at the turning of the tides, you make history."
Commencement kicked off with an hourlong video of family members and friends hailing from across the world wishing the best for their graduates. Touching and heartfelt, as well as quirky and creative, each 20-second clip—some even featuring beloved pet cameos—showcased their true pride and joy in the individuals they helped guide to this tremendous accomplishment.
Aptly describing the day as emotionally amplified, University Chaplain Charles "Chaz" Howard noted in his invocation, "Each graduation is already a whirlwind of emotions—joy, excitement, grief, fear, pride, and gratitude—yet who could deny how this graduation is very different, for a class that is very different?"
Seeing graduates gathered together in one place, once more, after so long and so much, Howard said oft-cited phrases like "congratulations" seem to "fall short of the gravity this occasion is due." Thus, he concluded his opening remarks with a very simple, but very meaningful "thank you."
"Thank you for this class," Howard said. "Thank you for this day."
The feeling of gratitude seemed to encapsulate much of the 2021 graduates' sentiments.
Jawa explained how it really hit him this year, when life slowed down with COVID-19, just how thankful he was to be in this position, "while remembering that it's not the same for everyone else."
Duran also expressed his appreciation, noting how he's been reflecting a lot lately about how proud he is of himself, a first-generation, lower income student, and his other first-generation college student peers who are graduating, especially amidst a pandemic. "It's a huge thing, and I'm really thankful," Duran said.
Gutmann, who surprised students during the ceremony with canes and flat-brimmed hats to commemorate their missed 2020 Hey Day, the celebration in which juniors move up the ranks to become seniors, described the Class of 2021 as "incomparable," and one that acted in complete unity this past year for the good of others.
"It is your collective everyday acts—some as weighty as voting and some as simple as masking up—that brought us to this moment of growing, glowing hope," Gutmann declared. "Your solidarity with others is key. I saw it when you and millions marched for Black Lives Matter, speaking and singing out and kneeling for racial justice now. I saw it when the specter of violence struck our Asian and Asian American friends and families. When we together join to fight racism, when we shield others from social and viral ills, we make it clear, clear as can be: Each of us gets through this only when all of us are through this."
She described the moment as a "threshold of a bright future," thanks to students' everyday acts in solidarity with others. "I couldn't be prouder," Gutmann said.
Much of this year's Commencement remained as close as it could to tradition, with some extra safety protocols in place to ensure everyone's good health. The National Anthem was sung by graduating senior Henry Platt, Provost Wendell Pritchett recognized those with academic honors, and Chair of the Faculty Senate William Braham provided greetings and remarks. Honorary degrees were conferred to an impressive list of recipients, including Andrew W. Mellon Foundation President Elizabeth Alexander; Nobel Prize-winning chemist Frances H. Arnold; Senior Adviser of Comcast Corporation and Chair of the Trustees of the University of Pennsylvania David L. Cohen; 23rd United States Poet Laureate Joy Harjo; President and CEO of the International Rescue Committee David Miliband; Academy Award-winning composer John Williams; United States Secretary of the Treasury Janet L. Yellen; and Laurene Powell Jobs, this year's Commencement speaker.
Powell Jobs, a 1985 graduate of both the College of Arts and Sciences and The Wharton School, is an impact investor and social justice advocate. Founder and president of the Emerson Collective, she announced the organization would make a donation to the education nonprofit DonorsChoose in honor of all the Penn students graduating. Such a gift will provide for 3,000 teachers preparing their students for college.
Powell Jobs' remarks detailed her background—one full of ups and downs—and how she was inspired to pursue her current work. She described for students how she's learned there is "no higher or better use of your time on this planet than to be helpful to others."
"It's important to partner your joy with humility," Powell Jobs added. "Even as we use our heads, we must learn to bow them. Humility and ambition need not contradict each other. We should all be ambitious to be good stewards of our planet, and good caretakers of one another during the brief time we have together. Because sometimes our time here is briefer than we desire."
Speaking of her late husband Steve Jobs, Powell Jobs noted how she hopes his words guide students, just as they've guided her. "The only way to do great work," she said, recalling her husband, "is to love what you do, and while you're doing it, love who you do it for, and love who you are while you do it."
She also noted the importance of "tending to your soul, and to your community."
"Infuse your values into every part of what you do, and how you live," she said. "Your values should be like your fingerprints: proof of where you have been and what you have touched."
Ben Berman, graduating from Wharton with his master's in management and health care management, already knows a thing or two about inserting his values into his everyday existence. Out of the kindness of his heart during quarantine this past year, he started Good Pizza PHL, an initiative in which he made homemade pizza for the community and donated 100 percent of his proceeds to local charities. Right now, he's in the process of ensuring his project lives on in a meaningful and impactful way after he heads back to New York City for work.
Chatting about his time at Penn, Berman said the biggest surprise for him was the people he interacted with, and how he felt they were "so invested in me."
"I think I didn't expect business school to feel quite so collaborative and community driven, from the students that I met, to the professors who I feel like moved mountains to try to maintain some sense of normalcy over the past year, to some of the folks running the school, I feel like almost everyone you interact with is so focused on helping you in some way," he said. "I think that's what made it such a special experience."
Degrees were conferred at the ceremony by Gutmann, Pritchett, and the schools' extremely proud deans, with the four undergraduate deans in person, and the remaining deans via video. In congratulating graduates of the School of Engineering and Applied Science, Nemirovsky Family Dean Vijay Kumar said each student has an "unwritten line" on their resume that reads: "graduated amidst a global pandemic." In other words: "You exemplify resilience," Kumar said.
Howard's dismissal at the end of the ceremony brought forth the optimism of a glorious future ahead for all. He spoke of the Penn Park Orchard, just a minute or two walk from Franklin Field, and how its planted seeds are now starting to blossom, making for what will surely be a beautiful and healthy harvest this spring. "May the same be true for you and for all of us," Howard said, anecdotally.
"Graduates, as you move into this new season, may you emerge from the dark soil of the last year, feel healing rain hit your face, move up toward light, and may your lives grow and blossom into something new and something beautiful," Howard said. "Some of the most nourishing and flourishing things grow in the harshest conditions, in the rockiest gardens. May it be so for you."
To view the University photo collection from Commencement, visit Penn's Flickr.