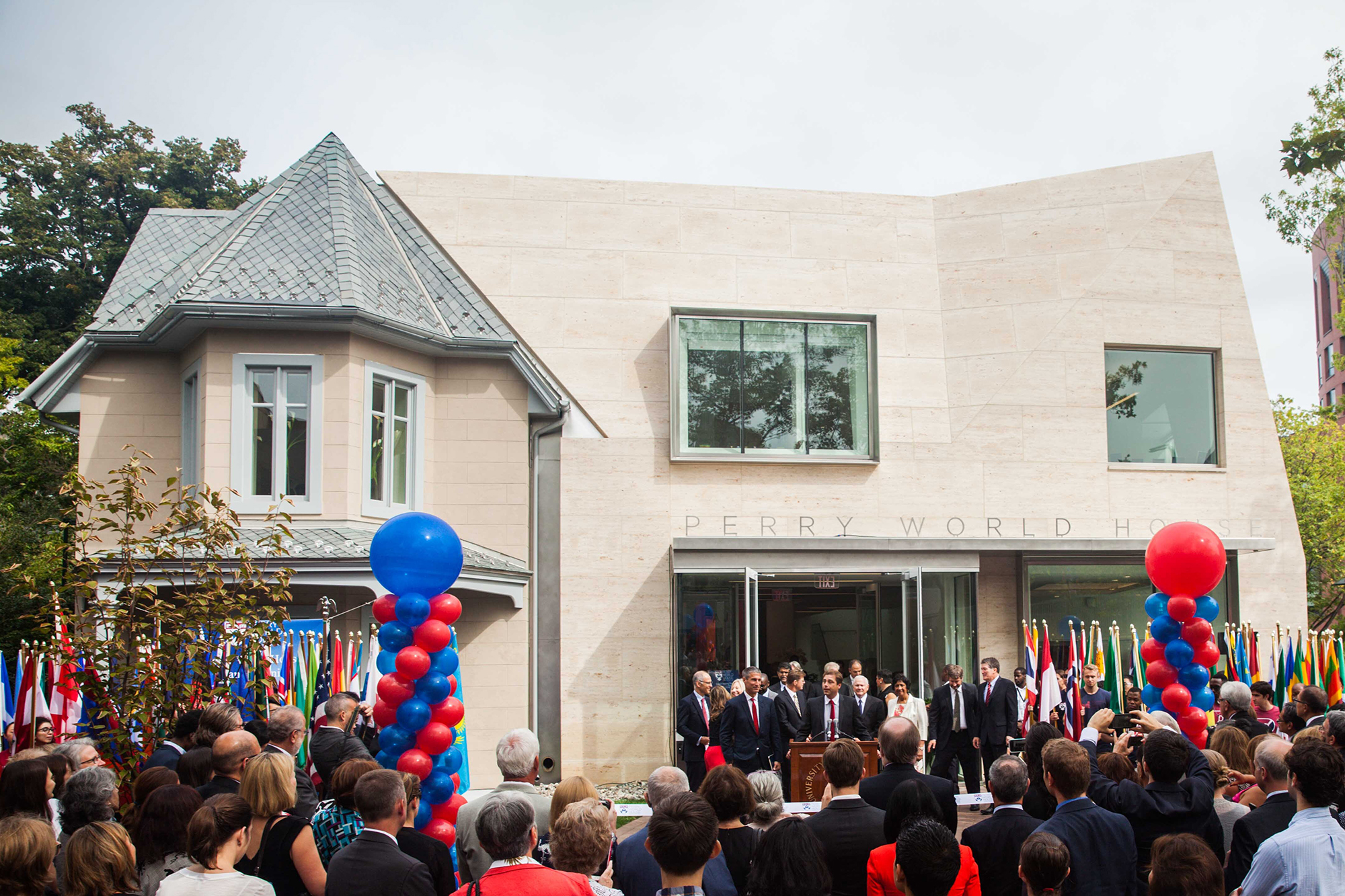 This month marks the fifth anniversary of Perry World House (PWH), the University's hub for global engagement.
In the five years since President Amy Gutmann cut the ribbon in front of the just-completed building, PWH has hosted dozens of world leaders and cutting-edge practitioners and convened high-level workshops, conferences and engagements, establishing Penn as a global agenda setter.
"Perry World House has achieved so much over the past five years," says Michael C. Horowitz, PWH's director and Richard Perry Professor. "In addition to building a network of policy experts that stretches across the world, it's become a real cornerstone of the Penn experience here on campus. It's a place where everyone from first-year students to our most senior faculty spend time and share their ideas and insights about the world's biggest issues. We're so excited to see what the next five years bring."
PWH's mission is to bring the academic knowledge of the University to bear on some of the world's most pressing global policy challenges, and to foster international policy engagement within and beyond the Penn community.
Located in the heart of campus at 38th Street and Locust Walk, PWH draws on the expertise of Penn's 12 schools and numerous globally oriented research centers to educate the Penn community and prepare students to be well-informed, contributing global citizens. At the same time, PWH connects Penn with leading policy experts from around the world to develop and advance innovative policy proposals. Their experts include Distinguished Global Leaders-in-Residence; visiting fellows and scholars, and postdoctoral fellows.
Undergraduate and graduate students from across the University are offered a number of opportunities to use PWH to connect on urgent global affairs and policy issues, including through the World House Student Fellows Program and Graduate Associates Program.
PWH was established through a gift from Richard C. Perry, a Penn alumnus and a member of the University's Board of Trustees, and his wife, Lisa Perry.
"When Perry World House opened back in 2016, it was the culmination of almost a decade of planning," says Richard Perry. "In the five years since, it's been incredible to see those plans come alive on Locust Walk and online. I've watched global leaders meet with students in the World Forum. I've sat in on debates about the latest research in the conference room. And I've seen undergraduates and graduates trying to reshape the world in policy projects and presentations.
"I'd like to thank Penn's President, Amy Gutmann, for the opportunity to be part of this institution, and the Perry World House team—including William Burke-White [inaugural director from 2014-19], Michael Horowitz, and [PWH Deputy Director] LaShawn Jefferson—for all their hard work over the years to make it the unique place it is. We've brought Penn to the world, and the world to Penn, and everyone is better for it."
In honor of this fifth anniversary, Penn Today is highlighting some of the center's memorable guests and events.