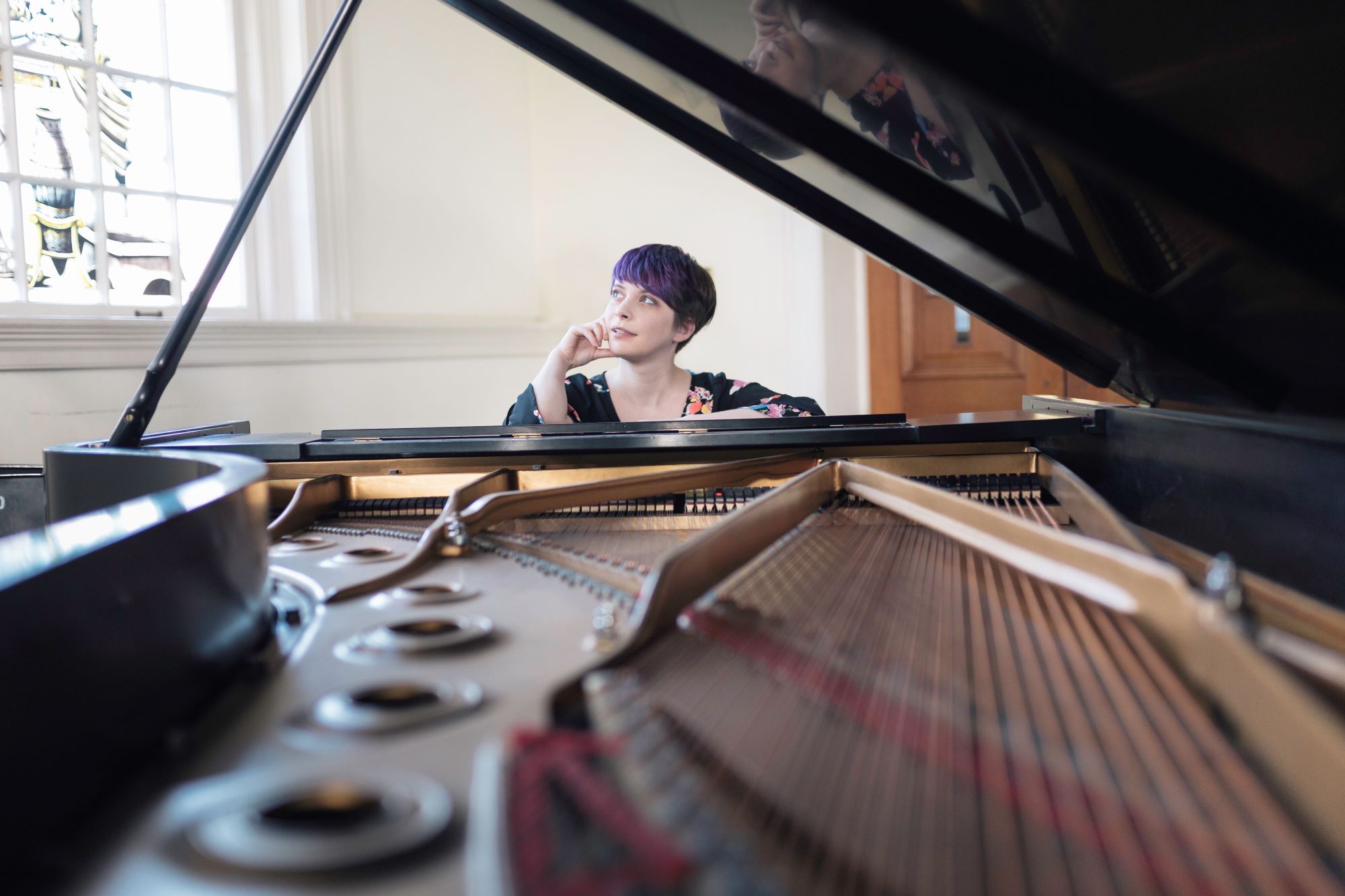 As a child, geneticist Beth Burton wanted to be a music teacher. At age 6, she started playing piano and later spent years accompanying school choirs in her hometown of Wilmington, Delaware. 
But in high school, she took her first biology class, and she was hooked.
More than a decade later, Burton now studies the genetic causes of Alzheimer's disease as a Ph.D. candidate in the Perelman School of Medicine. But pivoting to science didn't mean abandoning her art; she earned a bachelor's degree in piano and still practices often.
Now in her fourth year, Burton moves through grad school without compromising her love for music, her creativity, or any of the other traits that she says define her. In doing so, she says she hopes to inspire others as she finds her own path to success.
A passion for genetics
Not long after that first influential biology course, Burton was diagnosed with Ehlers-Danlos syndrome, a genetic disorder that affects the development and function of collagen and can lead to joint pain and digestive issues. It's a rare condition, not well understood and currently without a cure.
The diagnosis only deepened Burton's interest in biology and genetics. Alongside her degree in piano, Burton pursued a bachelor's degree in biochemistry and molecular biology at Gettysburg College. Within her first year, she developed an interest in genetic research, so she applied to the Children's Hospital of Philadelphia Research Institute's Summer Scholars Program.
There she began working with Struan Grant, a professor of pediatrics who researches the genetic causes of disease and disorder. Her experience in Grant's lab the summer before sophomore year confirmed that she had made the right choice. "I just loved the culture; I loved how collaborative everyone was," says Burton. "I had a fantastic 10 weeks in lab."
She returned the next summer. And the summer after that.
When she finally graduated from Gettysburg in May 2018, she knew that she wanted to pursue a Ph.D. in genetics and to do it at Penn. That fall, she started at the Perelman School of Medicine. During her first year, she spent some time in the lab of Christopher Brown, a professor of genetics who, like Grant, researches how mutations in certain genes may cause disease. Together, the three of them developed a new project that would use genetics to understand the causes of Alzheimer's disease.
Alzheimer's is the sixth leading cause of death in the United States and the only one in the top 10 without a cure or effective treatment. By studying differences in the genes of people with and without Alzheimer's, Burton wants to help change that.

In order to do so, she heads to the lab. She takes microglia, the brain's immune cells, with the genetic variations for Alzheimer's, then edits out a variation of interest. By observing the differences between the edited and unedited cells, Burton can determine whether the genetic variation was implicated in Alzheimer's, offering potential targets for drugs and treatments in the long term.
For now, Burton is still on the hunt, narrowing her search to a few sections of DNA that she has strong evidence are associated with causing Alzheimer's. Even at this stage, Grant says that the methods Burton has developed to connect genes to disease might work for all kinds of genetic health issues, from diabetes and obesity to sleep and bone disease.
"What we learn from her deep dive on a particular genetic signal will really inform research beyond Alzheimer's," says Grant.
Leaning into her identities
Even while investigating the causes of the disease, Burton has refused to let unique aspects of herself take a back seat. In her day-to-day and on social media, Burton is vocal about her experience with Ehlers-Danlos syndrome. In part, this serves as a gentle nudge to peers in the scientific community. "Scientists want to help, but it can be so easy to just talk about genetic disorders in scientific jargon and forget that we're studying things that affect real people," says Burton. "I'm one of those real people."
Burton says she hopes that being open about her own struggles might help others believe that they have a place in science regardless of their physical limitations.
For similar reasons, Burton speaks freely about her identity as a bisexual woman. Burton says she knew from a young age that she wasn't only attracted to boys, but didn't make sense of what that meant until college, when she encountered people like her who identified as bisexual.
"Seeing those people out and open with their experiences is what helped me to figure out my identity," she says. "If I can be that person for someone else, that would make it all worth it."
After finishing her Ph.D., Burton plans to pursue a postdoctoral fellowship. Ultimately, she wants to become a professor in genetics and run a research lab.
While working toward her professional goals, Burton plans to enjoy the rest of her time at Penn doing what she loves: Spending time with friends, petting her rabbit, Mr. Penguin, and unwinding at the piano, a passion that influenced her time in lab, Grant says. "Beth is very artistic. She can't help but bring her creativity to research."
Often, after a long day in lab, Burton goes back home and sits at the piano, where she can turn back to her first love.
"At night, I can just play whatever," she says. "The music has given me a lot."