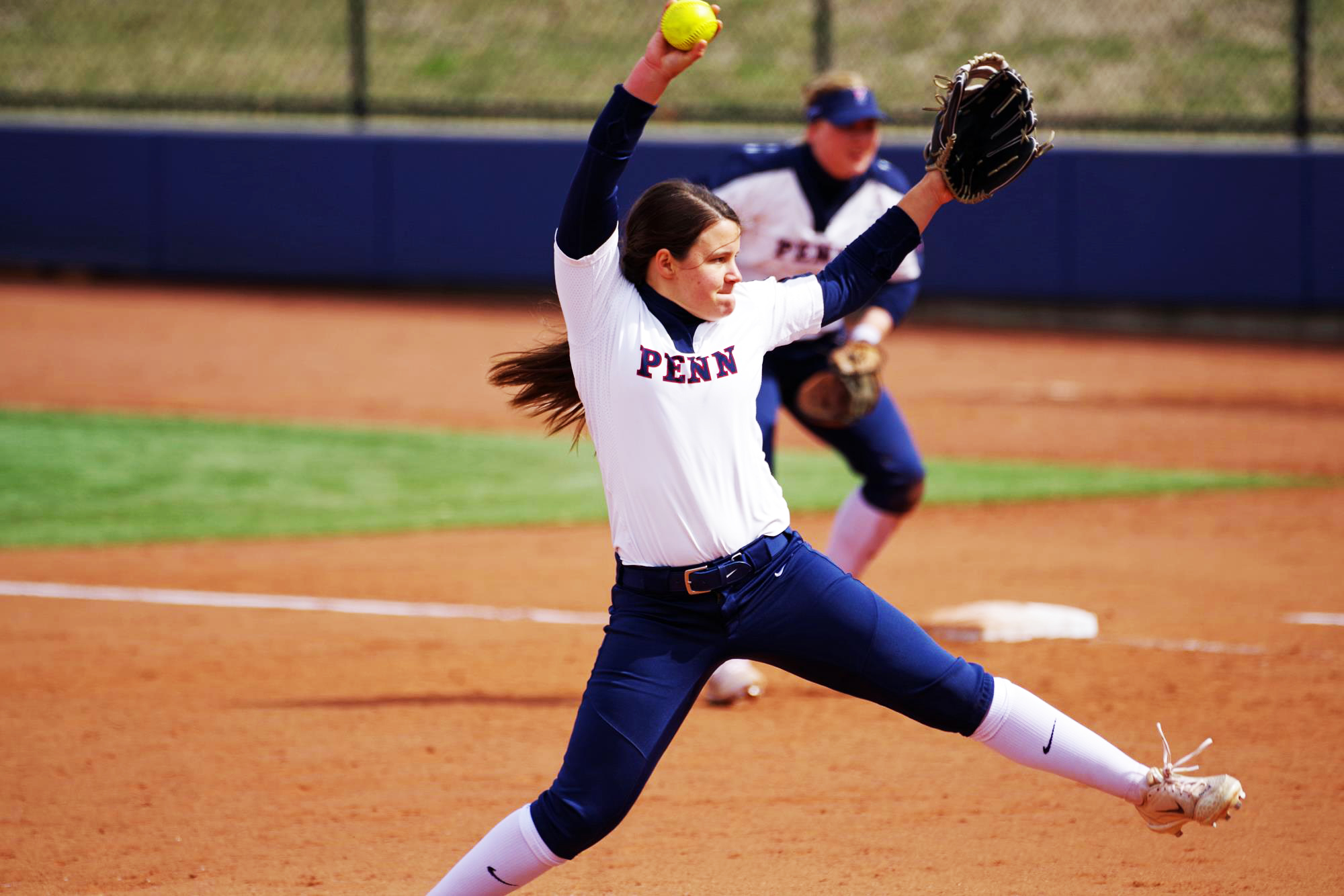 No runs, no hits, no errors, no walks, and 10 strikes against Brown on Sunday afternoon at Penn Park equaled a seven-inning perfect game for junior pitcher Jennifer Brann of the softball team. Occurring on Senior Day, it was only the second perfect game in program history. Penn beat the Bears 5-0 to improve to 21-14 (12-6 Ivy).
In the third game of a three-game series against Brown, Brann struck out two batters in the first inning, one in the second, and two in the third. The Quakers crossed the plate for the first time in the bottom of the third via a one-run single by sophomore infielder Lucy Yang and a two-run double by senior third baseman Hannah Gibbons.
Three Brown batters struck out swinging in the fifth inning, and the Red & Blue added two more runs. After freshman outfielder Corrie Phillips hit a double to left center, junior outfielder Clare Sebastianelli hit a two-run dinger to score them both.
Brann fanned two more batters in the sixth to bring her total to 10. In the seventh, she was three outs away from a perfect game. The first batter grounded out to senior second baseman Sam Pederson. The second batter flied out to right field, put away by sophomore outfielder Kayla Katring. Yang made a leaping grab near third base for the third and final out, and Brann was mobbed by her rejoicing teammates.
Yang finished 2-3 with one run, one RBI, and one stolen base. Gibbons batted 2-3 with two RBIs. Senior shortstop Jessica England was 1-3 with one run, and reached base for the 26th consecutive game.
The 10 strikeouts by Brann matched her career high, and she pitched her 11th career complete game. Her immaculate outing was aided by key defensive plays from Yang, England, and senior infielder Sarah Cwiertnia.