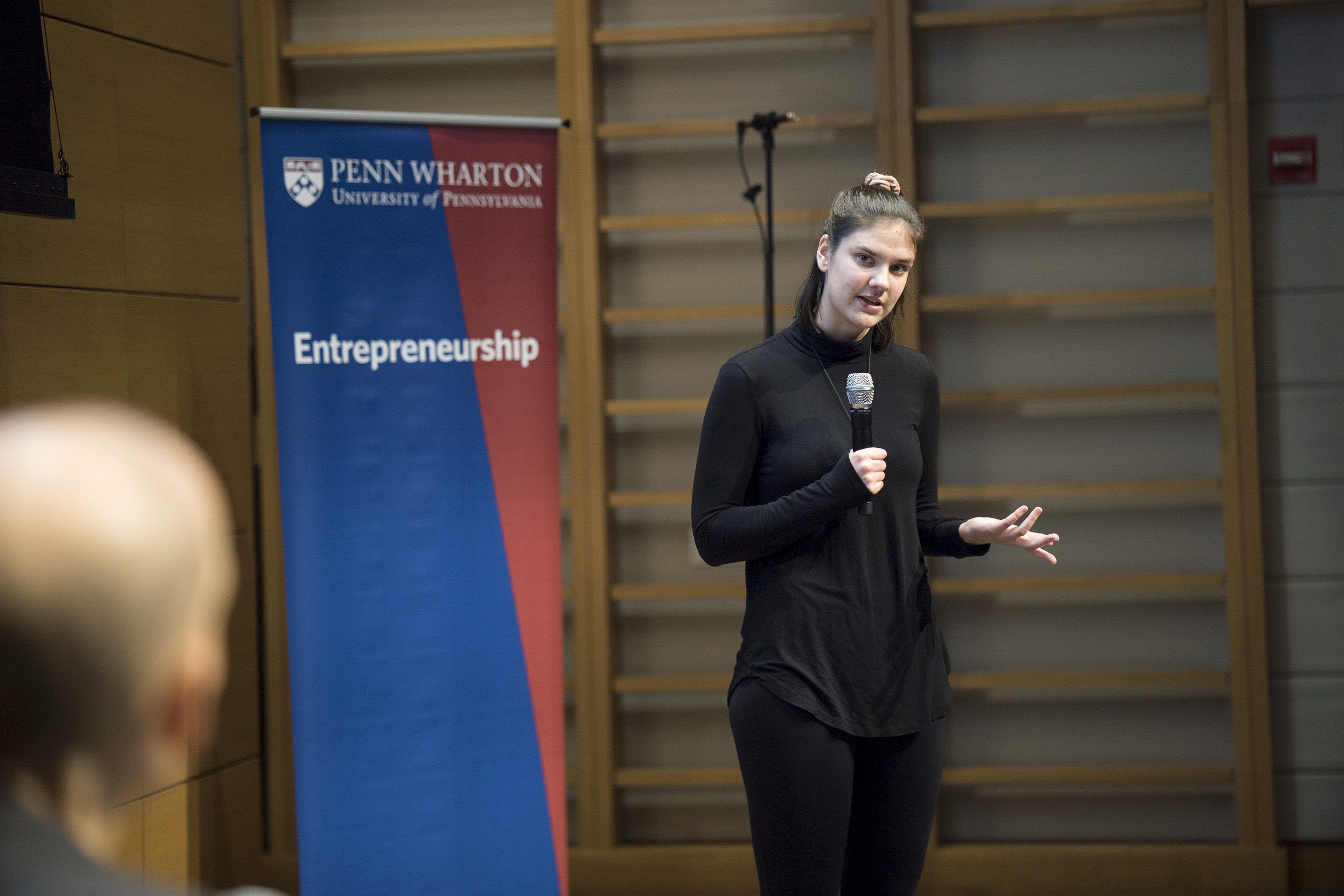 In front of a packed auditorium with hundreds of students, professors, and investors in the Wharton School's Jon M. Huntsman Hall, Penn senior Katherine Sizov gave her pitch for startup Strella Biotech—a fruit biosensor company she founded last year. The opportunity was all thanks to Gimlet Media's traveling podcast "The Pitch."
Garnering laughs for her endearing personality as soon as she stepped on stage, Sizov ultimately won the appeal of the two investors she was pitching to, serial entrepreneurs Jillian Manus and Phil Nadel, taking home the top honor (to pitch again on the podcast) and some constructive criticism.  
"I feel awesome," Sizov said after hearing the news.
The "Shark Tank"-like show, recorded on campus on Nov. 27, aired this week with the title "Investors Get Feisty at Our Philly Pitch-off." Strella, which creates biosensors that are installed in produce storage rooms to monitor goods as they ripen, beat out the other two Philadelphia-based startups. The Strella product is coupled with a user interface that allows produce packers to know exactly where their under-ripe, maturing, and ready-to-sell produce is.
"Right now, 40 percent of all fresh products are wasted before they even get to a person, mainly because they are stored in big facilities where it's hard to keep track of everything," Sizov said, chatting after the show. "It's crazy. When I learned about that, I thought, 'Why the heck not solve that problem?'"
A molecular biology major from Washington, D.C., Sizov put her mind to work alongside fellow Penn students Reginald Lamaute, an undergraduate studying chemistry and nanotechnology, and Zuyang Liu, a master's student studying electrical engineering. They ultimately created a novel solution that mimics natural mechanisms found in fruits to monitor fruit ripeness by measuring ethylene gas.
The Strella product, which was developed and tested at the Pennovation Center, where Sizov rents lab space, is now being tried in the field at one of the largest apple packers in the U.S. Sizov also has already filed patents on the technology. 
"By buying our sensors, which are a little over $1,000 each, they are definitely saving [the users] money," Sizov said. "If even one room of fruit gets spoiled, they just lost $1 million. It's a pretty big issue."
"The Pitch" wasn't Sizov's first go at presenting Strella to a crowd, although she admits it was the largest. Throughout the past year, she's gained traction, mentors, feedback, and more than $100,000 worth of equity-free funding for Strella by participating in various programs on and off Penn's campus, including the Penn Wharton Innovation Fund, the M&T Innovation Fund, and Penn Wharton Entrepreneurship's Startup Showcase, Summer Venture Awards, and VIP-Xcelerate program.
With the podcast show now live, Sizov is mostly hoping to gain more followers of her product, and to ultimately raise her first round of funding from an investor. (She said she's stayed in touch with Nadel, a Wharton alumnus who co-founded Forefront Venture Partners with Barbara Corcoran.) She also has her eyes on President Amy Gutmann's President's Innovation Prize.
"I think the agricultural industry is incredibly important, but behind, and could benefit a lot from new technologies," said Sizov, who plans to stay in Philadelphia after she graduates. "I'd love to continue to innovate within this space."
"The Pitch" at Wharton event was hosted by Penn Wharton Entrepreneurship, a resource for students across the University interested in entrepreneurship and innovation.