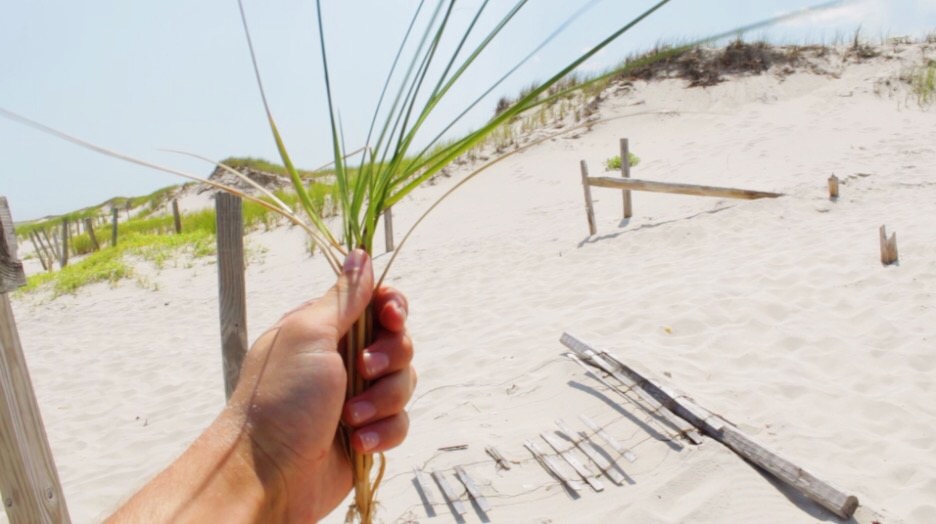 "D-P-F-N; Dig, Plant, Firm, Name," says Bianca Charbonneau, as she demonstrates how to plant beach grass on New Jersey's Island Beach State Park dunes. "With these four steps, you not only get to own your dune grass planting experience, but you plant the grass properly so that you can build a dune that's healthier and stronger, which leads to a better coast."
Charbonneau, a fifth-year Ph.D. candidate in biology in the School of Arts and Sciences, teamed up with Yoni Gottlieb, a senior biology major with a minor in film studies, to produce a video with the Friends of Island Beach State Park that educates viewers on why beach grasses are so important, and how to plant them effectively. Charbonneau, whose doctoral research examines how dune grasses affect dune integrity, expanded the scope of her research to encompass action on the beach, where she leads planting sessions for volunteers alongside coastal managers. While well-meaning, volunteers sometimes struggle to listen attentively to directions for planting, especially on cold, rainy, or windy early mornings.
"I've led a number of public beach grass plantings," she says. "We used to send instructions in a PDF before the planting, and even though it was fine, I found myself looking for an easily digestible video on YouTube. There wasn't one, so I saw this need."
Plants like American beachgrass are essential to dune health. The roots of the plants act as a net to hold the dune together. When wind blows sand across the beach and dunes, the sand hits the plants and collects around the base. The plants also serve as key components of the dune ecosystem—without these plants, there would be no dunes, which provide resources to a surprising array of animals, such as foxes, snowy owls, and many migrating bird species. 
Dunes also serve as a natural line of defense against storm surges by preventing or limiting coastal flooding. Beach grasses hold this natural barricade together, and also prevent too much sand from being washed into the ocean, which causes coastal erosion. Unfortunately, beach grasses can be easily damaged when people walk on them, which is why beachgoers see so many "Stay off the dunes" signs. Luckily, ecologists like Charbonneau and Island Beach State Park biologist Kelly Scott can lead large plantings of beach grasses, which helps to offset or even get ahead of damage done to the plants, but most importantly strengthens the dune system to combat storms. 
Gottlieb was a student in a marine biology course taught by assistant professor Katie Barrot, when Charbonneau, Barrot's teaching assistant, announced that she would like to help students with research projects. Gottlieb approached Charbonneau hoping to conduct research, but after learning that Gottlieb had an interest in film studies, she suggested that they create a video for volunteers to watch before planting sessions. 
"I didn't know much about beach grass, just the basics from biology class," Gottlieb says. "Bianca taught me all about the importance of these grasses, and in this video, I was able to reteach the stuff that she taught me."
For Gottlieb, it was an opportunity to combine his two areas of interest.
"I was excited to combine my qualitative and quantitative skills. As a biology major with a film studies minor, people always ask if I'm going to make films about biology, and I say 'yes, I am.'"
With funding from the Friends of Island Beach State Park, the duo set out to make an easy and entertaining video that explained not just how to plant beach grasses, but why people should plant them. The four-minute film features instructions from Charbonneau and Gottlieb, as well as instructions from Scott, and the repetition of the simple acronym "D-P-F-N" that encapsulates the basic technique of how to plant the grasses.
Gottlieb integrated an idea that Charbonneau really liked. The last component of D-P-F-N is "name," which provides volunteers, particularly kids, with a fun way to interact and connect with the beach. 
"I thought it was important to keep the pace moving and to keep it easy enough for kids to follow," he says. But I also aimed to make the video interactive. I wanted people to realize that volunteering isn't boring, and that they can own their experience. I wanted them to think, 'I planted something on the beach. Part of me is here now, and I should always care about this ecosystem.' It felt great to make a movie that will be an actively used tool."
They hope that people will share this video because the message and method for planting beach grass is universal across coasts and accessible to all age groups.
"The component of connecting with the beach and connecting your experience to the ecosystem was entirely Yoni," says Charbonneau. "He was given all of the tools and information to put together the video, but I was blown away when I watched it. He took what I had in mind and made it reality—actually he made it even better than what I had in mind. It's a great tool, and I'm really excited about it."
Charbonneau says that coasts are a unique place, but that we have a responsibility to keep them healthy. "For people to experience dunes," she says, "we need to understand how to protect them. The first step is having the right tool."
How to plant your dune grass will screen at the American Beach and Shore Preservation Association's National Coastal Conference at the end of October in Galveston, Texas.