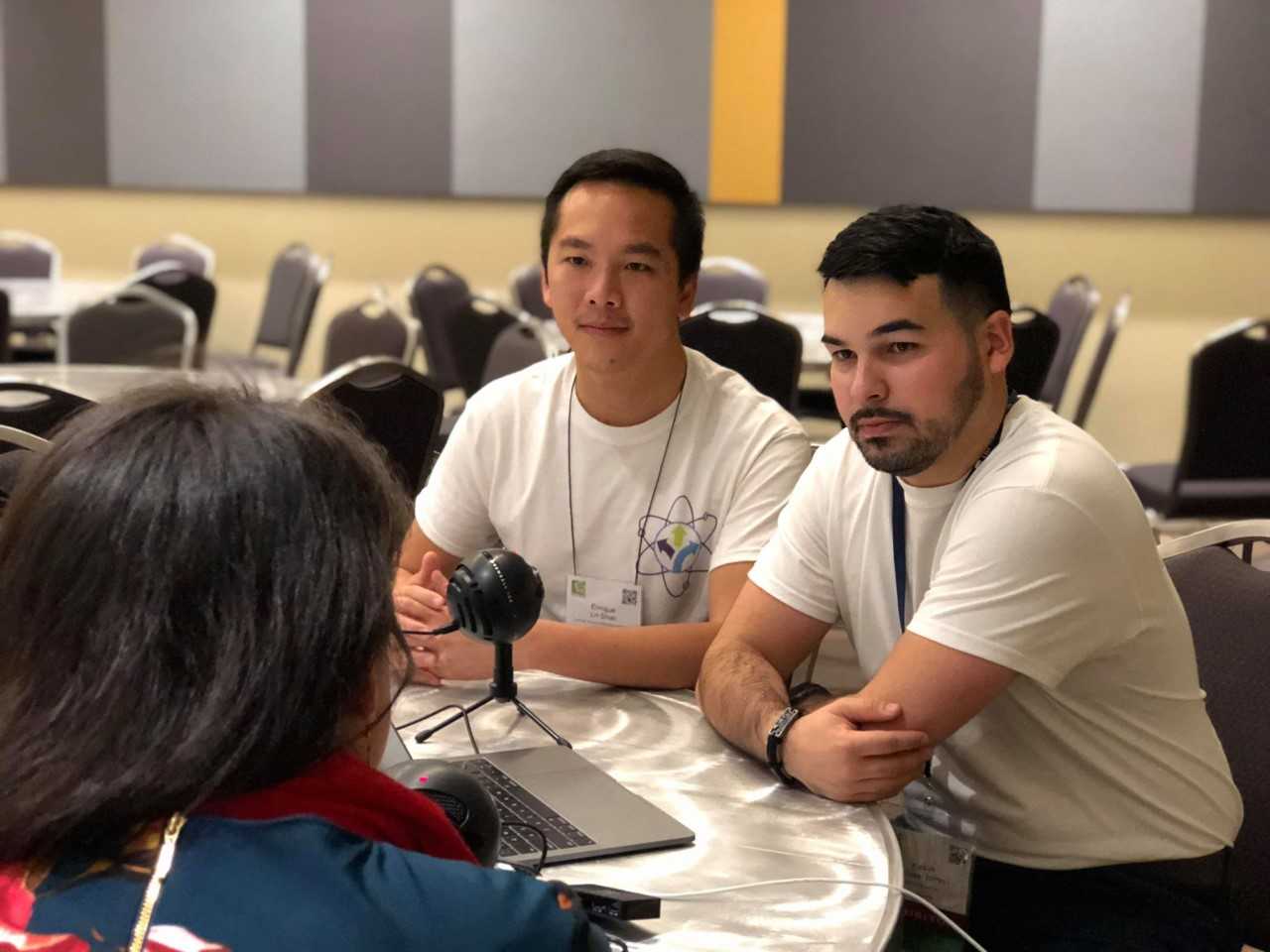 It started around the 2016 election. Enrique Lin-Shiao, a doctoral student at the Perelman School of Medicine, began confronting portrayals of immigrants, and specifically Latin American immigrants, that were unflattering and untrue. "What we needed," he says, "was some other way of reframing what Latin American immigrants are doing here in the United States."
Originally from Costa Rica, Lin-Shiao was also acutely aware of a dearth of Latin Americans pursuing careers in science. Speculating on the reason, he says, "I think for a lot of people in Latin America, science seems like a career that is very far-fetched." 
Rather than wringing his hands about the problem, he reached out to fellow biomedical graduate student Kevin Alicea-Torres, who helped found Penn's chapter of SACNAS, the Society for the Advancement of Chicanos/Hispanics and Native Americans in Science, to discuss starting a podcast. Alicea-Torres, a native of Puerto Rico, agreed, and "Caminos en Ciencia" ("Pathways in Science") was born.
With a full season of 10 episodes now under their belts, Lin-Shiao and Alicea-Torres are launching a second season this coming week, and production for a third season has already begun. 
"The impetus for starting the podcast also came from our personal experiences," Alicea-Torres notes. "For example, I'm first-generation; I come from a low-income family, and I didn't know about research as a career until I was in my second year of college. I felt like I really needed something like this when I was back in high school."
The first season of the podcast features mainly faculty, graduate students, and postdocs from Penn. In the interviews, which generally run between 30 and 60 minutes, Lin-Shiao and Alicea-Torres let the conversation flow freely, but they always ask about where and how the person grew up and how they got their start in science. They also elicit stories about obstacles or challenges faced during the path to a career in science.
For Carolina López, an associate professor of microbiology and immunology in the School of Veterinary Medicine and the subject of the podcast's first episode, personal drive was never an issue. She knew from an early age that she wanted to pursue research. And, although she was well prepared by her studies in Chile, she looked outside of her home country when it came to beginning her Ph.D., sensing that she would find more robust resources elsewhere. Despite being pregnant, and concerned about the language barrier, López and her husband chose to move to the U.S. to begin their scientific careers.
López says the podcast offers "an opportunity for us to share facets of our careers that we normally don't talk about and, through this, help those thinking 'this is impossible' see that if you love it you can do it."
A lack of comfort with English is a common challenge cited by the array of interviewees that Lin-Shiao and Alicea-Torres have featured on the podcast. 
"A lot of people have said that it was frustrating when they came to the U.S. for their Ph.D. because others thought they didn't understand the science, when it was really a difficulty with the language," says Lin-Shiao. "Some did mention that they had a mentor who recognized that it was the language barrier and not that the person wasn't capable."
"We have one story," says Alicea-Torres, "where the person started graduate school and failed the first course she took. The professor took the time to look for alternatives to navigate the situation, allowing her to retake a test. It turns out she knew the content, it was just taking her too long to translate the answers into English."
The podcast subjects share other common challenges, such as balancing family life with research, being a female—and especially a Latina—in science, and experiencing culture shock after traveling far from home to follow their passion.
With the release of the pocast's second season next week, the "Caminos en Ciencia" co-creators are excited to share interviews with impactful personal stories, including from students who are undocumented.
"Given the current political climate," says Lin-Shiao, "it's interesting to hear the perspective of undocumented immigrants who came here as children and then chose to pursue science and give back to society through their work. I think making their stories visible is really important, not just to students who want to pursue scientific careers but for others to understand who these people are, and why we should fight for them to stay."
The podcasts are conducted in Spanish. That's by design. "The main focus of the podcast is to get the message out to the Latinx community," says Alicea-Torres. 
But to bring their non-Spanish speakers into the fold, the hosts have created a blog in English that offers summaries of the podcasts written by students and trainees in science, ideally those who hail from the same town or country as the interviewee.
"There was one episode where we interviewed Jorge Henao-Mejía, who is working with CRISPR in mice," says Lin-Shiao. "He's from Colombia, and we identified a postdoc here at Penn, Paula Agudelo García, who was from Medellin, to write the summary of his interview. Turns out they talked with each other and now they're considering possible collaborations."
For the second season, the hosts have expanded their reach beyond Penn, interviewing attendees they met at conferences, such as the national SACNAS meeting, or visiting scholars on campus. Their geographic coverage is considerable, having featured scientists from nearly a dozen Latin American and Caribbean countries. In the future, they're hoping to more directly connect with budding scientists in those regions, forming partnerships with schools. "We'd like to work closely with teachers to integrate the podcast into their science courses, not only in Latin America and the Caribbean but also elsewhere, even here in the U.S., so students can expand their pool of role models," says Alicea-Torres. 
As both Lin-Shiao and Alicea-Torres near the end of their doctoral studies, neither intends to leave the podcast behind. 
"I'm very committed to doing science and research," says Lin-Shiao, "but working to increase diversity in science is equally important to me. To get where I am there had to be a lot of mentors along the way. Now with social media and things like this podcast, there are a host of new ways to open those doors."
With a growing Twitter presence and listeners tuning in from across the globe, the podcast seems to be resonating with its intended audience.
"It's very satisfying when you realize people you've never met before are listening to your podcast," says Alicea-Torres. "We've seen whole threads pop up on Twitter discussing an episode, and it's amazing to think, 'Wow, we're really having an impact.'"
"Caminos en Ciencia" is available on the podcast's website, iTunes, and the Podcast app.