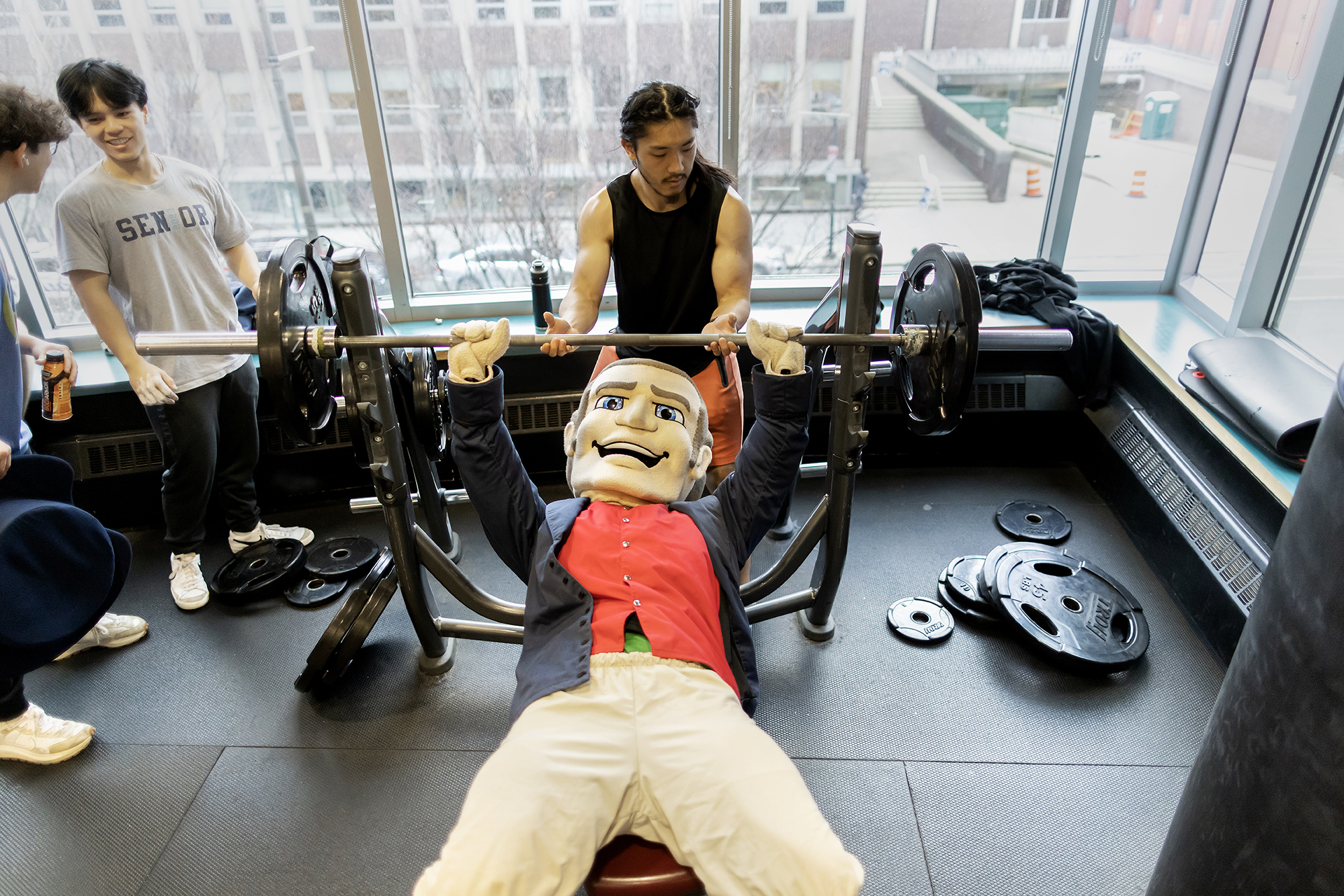 The Penn community came together on Jan. 20 for a birthday bash celebrating the 20th anniversary of the David S. Pottruck Health & Fitness Center. The jamboree, held at the Pottruck Center at 3701 Walnut St., featured birthday cake, a DJ, tours and demos of the facility, prizes, and free T-shirts for the first 500 attendees.
Named after principal donor, alumnus, and former University Trustee David S. Pottruck—who was also standout wrestler, linebacker, and nose guard—the Pottruck Center combined the extant Gimbel Gymnasium with a new four-story tower to create a 120,000-square foot structure offering cardiovascular, weight training, and fitness equipment, a 40-foot climbing wall, an indoor golf simulator, and studio space with hardwood floors for dance, martial arts, aerobics, and spinning. The site also features the Jon M. Avnet basketball courts, the Ellen and Howard C. Katz Fitness Center, Bill and Louis Meiklejohn Way, and Sheerr Pool.
The Pottruck Center had a soft opening on Sept. 9, 2002, before its official grand opening on Jan. 17, 2003. According to the Sept. 10, 2002, issue of the Daily Pennsylvanian, students "clamored all day" for spots on treadmills in the new and improved cardiovascular center, very much pleased that they no longer had to wait in long lines for the machines, as was required at Gimbel and Hutchinson gymnasiums before Pottruck was built. Students were also excited about the upgraded weight room, the three full-length basketball courts, and the addition of central air conditioning.  
In honor of the Pottruck Center's two decades, enjoy sights from its birthday bash.