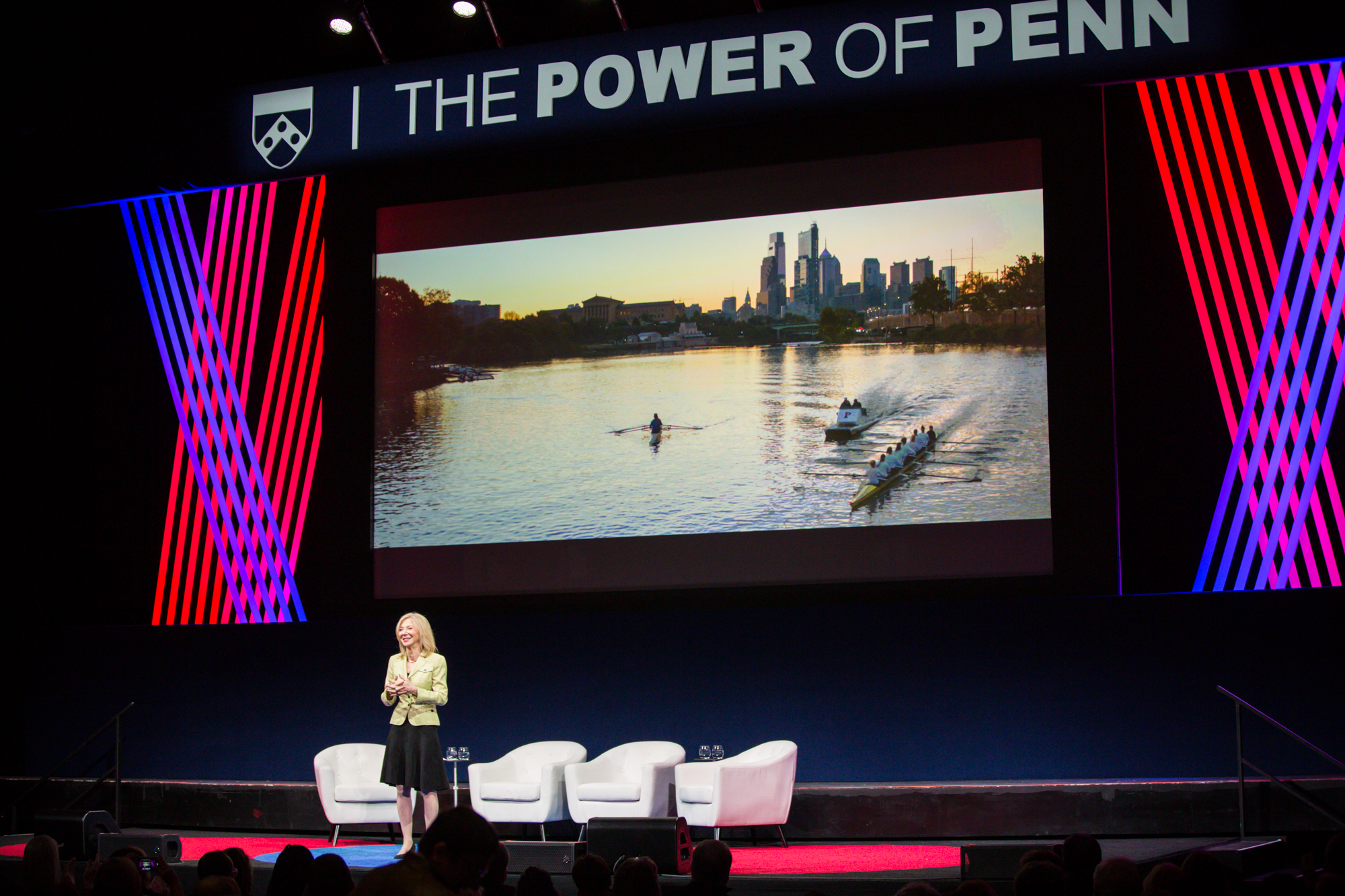 The Metropolitan Opera House in Philadelphia was a fitting venue to cap the first year of the Power of Penn campaign, following a year of events in the U.S. and abroad. The Met, newly restored by Weitzman School of Design alum Sam Olshin, is not only a sight to behold, but boasts the city's largest performance stage and auditorium. The size and grandeur were the perfect backdrop for the evening, celebrating the Power of Penn: Advancing Knowledge for Good campaign, as it propels into another year. The $4.1 billion campaign has a lofty goal: to advance knowledge for good and have a social, educational, and economic impact on the city and the world. A big task, but, as the night proved, one Penn is already reaching and exceeding.
Penn President Amy Gutmann introduced the event centering Penn and the goals of the campaign in the City of Philadelphia itself. As the city shifts from a historically manufacturing economy to a knowledge economy, Penn, as the largest private employer in the city, makes a local impact on a global scale. A video illustrated her point. "Inclusion, innovation, and impact are more than just words," it began, and went on to highlight the breakthroughs in cancer research with CAR T therapy, data science, museum curation and galleries, to name just a few, and the hybrid culture at Penn that weds disparate disciplines for innovative projects and research. But the biggest goal, and one that is most important to Gutmann, is to grow inclusion and increase access for students who are the first generation to go to college, and who are from low- and middle-income families. 
"Growing inclusion," she said, "lifts up entire communities. The most transformative thing is when great talent is given a chance."
Joining Gutmann on stage for the evening's discussion were three faculty members whose work in their fields embodies the goals of the Power of Penn campaign: Gwendolyn DuBois Shaw, an associate professor of art history in the School of Arts and Sciences; Robert H. Vonderheide, director of the Abramson Cancer Center and a professor at the Perelman School of Medicine; and Mark Yim, a professor of mechanical engineering and applied mechanics at the School of Engineering and Applied Science. Each is a pioneer in their field, and each cites the cross-discipline, hybrid possibilities at Penn as formidable in their work. 
An image of a teenager was projected over the group onstage when the discussion began. It was of Emily Whitehead, holding a sign that read "6 years cancer-free." Whitehead was one of the first recipients of CAR T therapy, which was developed at the Abramson Cancer Center and received FDA approval in 2017. When Gutmann asked Vonderheide why she thought CAR T was so important, he gestured toward the screen. "Emily's father is here in the audience tonight. He told me she is just about to start high school," having been diagnosed with leukemia as a child eight years ago. For Vonderheide, Carl June, and the team at Abramson, chimeric antigen receptor T-cell (CAR T) therapy not only revolutionized cancer treatment, and received a second FDA approval last year, but immunotherapy is expanding into treatment and preventative medicine outside of cancer. (The Wall Street Journal called CAR T the "greatest breakthrough in cancer history," Gutmann noted.)
As a curator and educator, Shaw spoke to the importance of sharing art with people, not just creating it. 
"Art is what makes life worth living," she said, and described her latest course, where she brought students to Havana to meet with landscape artists, whose work will go on display at the Arthur Ross Gallery on April 5. Shaw cited the importance of digital humanities in fine art, and spoke about a project she led with students to digitize catalogs for gallery shows, and make 3D scans of images, to help students and the public see artwork in three dimensions.
Yim held up a tiny object that was barely visible. From the oldest robotics lab in the U.S., he explained, Penn built the world's smallest drone. Developed by Matt Piccoli while he was a Ph.D. student in Penn Engineering's GRASP Lab, Piccoli stayed on at Penn after graduation to further his work with these tiny robots. ("Many of our students don't disperse once they graduate, they keep their work in the community," said Gutmann.) 
Not only are these drones tiny, but they are relatively inexpensive. Yim pointed out that while Penn is not the only engineering school to do research on robots, its focus on practical, affordable, and accessible projects have a greater impact than, for example, a robot that can fold laundry, but costs $500,000. 
"It would make a nice brooch, too," Gutmann observed of its size and elegance, with a smile. 
As the professors spoke about art, robotics, and cancer research, the themes of the campaign kept surfacing. With Philadelphia as a backdrop, "a multicultural city with a rich, multicultural history," Shaw explained, the research and impact having a profound effect on the local communities was on par with the contributions to the global good. 
As Yim said, "We are innovative entrepreneurs." He described a biodegradable pregnancy test in the works, beneficial for the environment, and women's privacy and safety. Shaw described artists working with engineers, dancers working with the Wharton School, and how the work they do for the world also gives Penn a competitive advantage. 
"We are competitive for good," Gutmann explained. "No other place works the way we do." 
For CAR T research, the team reached out to the Leonard Davis Institute of Health Economics and Wharton to work on evaluating the cost impact. Yim explained that "lots of engineering is pretentious. Our work is more pedestrian, more low-cost projects. We want our work to have an impact for everyone, to be accessible." Even with cancer research, Vonderheide spoke to extending the reach of immunotherapy not just for cancer treatment but cancer prevention. 
"We want to focus on the entire organism, and shift from immunotherapy to immunohealth overall," he said. 
Gutmann ended the talk with a lightning round of questions: "What is the coolest thing about being a Penn professor?" Shaw was quick to reply: The students. Yim and Vonderheide agreed. 
"When you were a student, what object in your dorm room really defined you?" Gutmann asked. The answers were surprising. For Shaw, an art major, her Apple II computer seemed to be a precursor to her hybrid way of teaching that embraces digital humanities and technology. For Vonderheide, leading a rock star cancer research center, his answer was a stack of punk rock albums. For Yim, whose work on flying robots combines engineering, design, and business, his response was not an object, but a plan. "It was the way I arranged the furniture, designed to make sleeping as comfortable as possible." 
It is not hard to believe that in a couple of decades, a Penn undergraduate who is a pioneer in his or her field will be on stage answering a question about his or her dorm room, and might respond with an object or plan they are building right now. 
That is the goal of the Power of Penn.