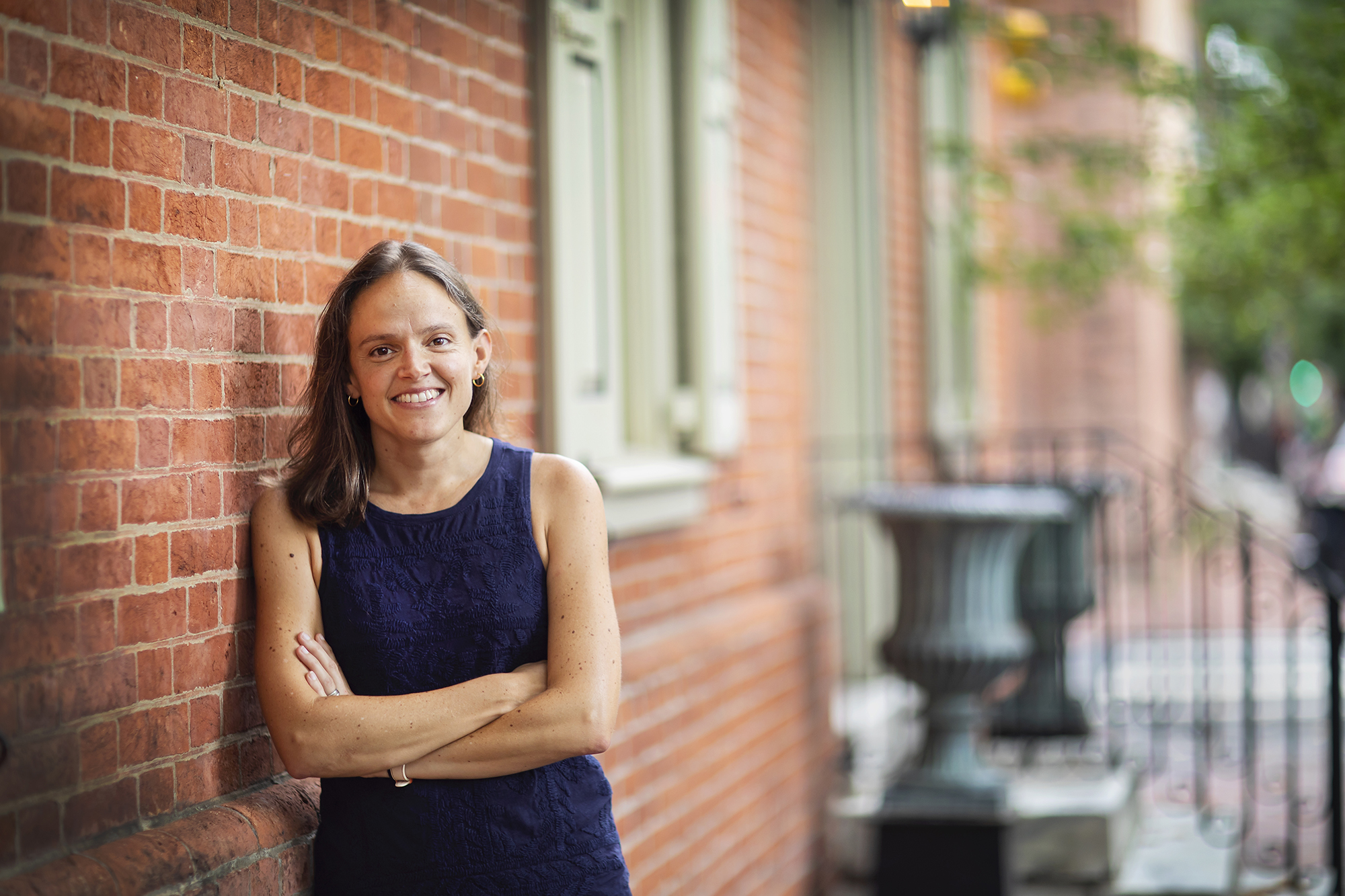 Philadelphia's storied neighborhood of Society Hill has proven to be the perfect place for urban-renewal research by Francesca Russello Ammon.
In the 1950s, many of the properties in that neighborhood of Philly's Center City had fallen into disrepair. A few shops filled the first floors of buildings—barbers, five-and-dimes, ice cream, candy, laundromats—with rooms for rent above. 
The city's 1958-1961 redevelopment plans emphasized preservation in its effort to transform the neighborhood, known for centuries-old red-brick row houses and historic landmarks.
A newly launched website based on Ammon's research, "Preserving Society Hill," tells the stories of more than 1,500 of those properties through an interactive map that combines architectural details, photographs, and oral histories for each site. 
"We are trying to preserve the history of Society Hill, while also studying the neighborhood's history of preservation," says Ammon, an assistant professor of city and regional planning in Penn's School of Design, who also teaches in the historic-preservation program. 
Ammon will present her research publicly at the September meeting of the Society Hill Civic Association, which in July gave the City Planning Commission its new master plan proposal for the neighborhood, defined during urban renewal as bordered by Walnut, Lombard, Front, and Eighth streets.
An expert on post-World War II urban renewal, Ammon's 2016 book, "Bulldozer," examines the approach taken by cities to demolish neighborhoods to rebuild. Her current research for her next book looks at the opposite tactic, to preserve and renovate.
"I am interested in places like Society Hill that didn't tear everything down, where people thought they could modernize by rehabilitating and preserving, as well as building new construction," says Ammon, who lives in the neighborhood. "Philadelphia was really a leader in doing this type of renewal in the post-war period."  
Ammon developed the project to systematically examine, property by property, how the neighborhood transformed, tracking the centuries-old buildings through the urban renewal of the 1950s to 1970s. She drew largely upon planning and preservation reports, deeds, building permits, and photographs. 
The resulting interactive map geotags key historical data from the Philadelphia City Archives and its PhillyHistory.org site, as well as the Philadelphia Historical Commission. In future updates to the website, she aims to also incorporate historical data from the census, city directories, and insurance surveys.
"The map gives a spatial dimension to this wealth of information, and consolidates what we know about each individual site," Ammon says. "To begin to understand patterns in urban renewal, we have to organize the data. To publicly engage in a discussion, we need to know the history." 
If a website visitor clicks on 401 Pine St., up pops the home's story, with construction details, a photo timeline, and oral histories from past residents. Built in 1792 by a lumber merchant, the red-brick row house was renovated in 1967 as part of Philadelphia's urban renewal.
The idea for the map and website was the result of Ammon's experience as one of the inaugural Andrew W. Mellon Fellows with the Price Lab for Digital Humanities in Penn's School of Arts and Sciences. 
Applying modern mapping technologies to academic research is used in many of the Price Lab's projects, says Stewart Varner, managing director. 
"I am particularly happy to see how well this project engaged the residents of the neighborhood, and how excited they were to see it happen," says Varner. "I think the ability of digital humanities to connect academic work with larger communities is one of its most valuable attributes."
The "Preserving Society Hill" website has two main parts: the map created by Ammon's team, and the oral histories of "Project Philadelphia 19106," created over a decade by a dedicated group of neighborhood women who, starting in 2004, interviewed nearly 90 current and former residents and business owners. 
The interviews are presented on the site as short summaries and full texts, alongside personal photos. The texts are also tagged to the map, to show where narrators lived or worked before, during, or after urban renewal. An extended memoir about the protracted effort to cover a neighboring stretch of Interstate 95 rounds out the social-history portion of the website.
"There is no other resource like this about urban renewal that I know of. Much of what we know is from government documents. The resident experience is not easily available," Ammon says. "By combining these materials, the website makes them accessible. We hope people will go to the site and learn more about the social side, about the buildings but also about what urban renewal meant to the people." 
Cynthia Jones Eiseman, who earned a master's and doctorate in classical archeology from Penn, was a key member of the oral-history project, transcribing and editing the interviews from cassettes. She and her husband, James Eiseman Jr., moved to Society Hill in 1972, and the next year purchased 314 S. Philip St., where they lived until 2015. They renovated the house twice.
The oral-history project was designed to tell the urban-renewal story from the point of view of those who lived and worked there. "We wanted to collaborate with Francesca because her project gets our interviews out in the public eye," Eiseman says. "And it accomplishes what we wanted, which is to tell the story from the ground up instead of the top down."
Eiseman says she hopes more people will agree to tell their Society Hill stories, which can be added to the website. "Francesca and her team did an outstanding job in creating it. It is attractive, readable, and easy to use," she says. "It is an exceptional primary source about urban renewal in general and Society Hill in particular." 
To create the website, Ammon and a team of PennDesign graduate students combed through many of the city's urban-renewal and historic-preservation archives. Where available for each property, the site includes architectural and planning details such as the original construction date and builder, when and how the property was altered and by whom, whether a building was targeted for demolition or rehabilitation, a description of planned reuse, and photographs before and after renewal.
The technical aspect of mapping and website creation was funded through an incubation grant from the Price Lab, supporting the work of interns through the Penn Libraries' Digital Scholarship group. That includes lead programmer Rachel Cohen, a doctoral candidate in anthropology who graduated in May. 
The software had to be custom-made to meet all of Ammon's objectives, but in doing so the team made several discoveries, says Sasha Renninger, digital-humanities specialist at the Penn Libraries and associate scholar at the Price Lab. "I think this was an excellent gateway to doing more complex mapping projects," she says. "We learned a lot from this project, which will connect well with a lot of work people are doing."
The neighborhood has become particularly popular. Both the historic brick row houses and new construction from the urban-renewal era have sold for prices in the multi-millions in recent years. A Philadelphia Inquirer and Philadelphia Daily News analysis shows the median price of residential properties sold in the 19106 zip code, representing Old City and Society Hill, was $1.29 million in the second quarter of this year.
Society Hill is one of the earliest settled neighborhoods in Philadelphia, dating to the early 1680s, home to a mix of people and institutions, its fortunes rising and falling throughout the decades. By the mid-20th century it was in decline, many of the grand mansions broken up into rooming houses. A crowded and aging wholesale food market stood at the northeast corner.
"The idea in Society Hill was different and earlier than in many cities. They weren't going to tear down all the buildings, but instead preserve many of them, to attract people who wanted to help guide, or even work on, the renovations themselves," Ammon says. "Quite a few were actually architects, many from Penn, including young couples with growing families." 
The Georgian-style row house at 401 Pine St. is a perfect example. An 1860 photo shows a single-family home. In 1957, an electronics shop was on the first floor and apartments above. An oral history by C. J. Moore describes the restoration resulting from his purchase in 1967. A photo from 1973 shows the commercial business stripped out, awning gone, doorway moved, new windows and shutters throughout. 
"If you walked through Society Hill in the mid 1950s, it would have looked very different from today," Ammon says. "That's where the photographs on the website are key."
Now other neighborhoods are welcoming mixed-use as part of their transformations. "These histories reverse and repeat, and we can learn from them," Ammon says. "These transformations are happening around the city now."
Ammon's team will continue to develop the website, adding more photos and oral histories and including excerpts of the audio recordings. She would also like to create a mobile-based walking tour. And she may teach a future course that will involve more students in the project, with a goal of creating "exhibits" on the website to interpret the data and tell more stories. 
"When people think of historic preservation, they often think of monumental structures, but preservation can be for all socioeconomic levels, not just big-name architects and buildings," Ammon says. "Most of the houses preserved in Society Hill served as homes to everyday people. "Preserving Society Hill" is about uncovering those stories and making those stories known as well."