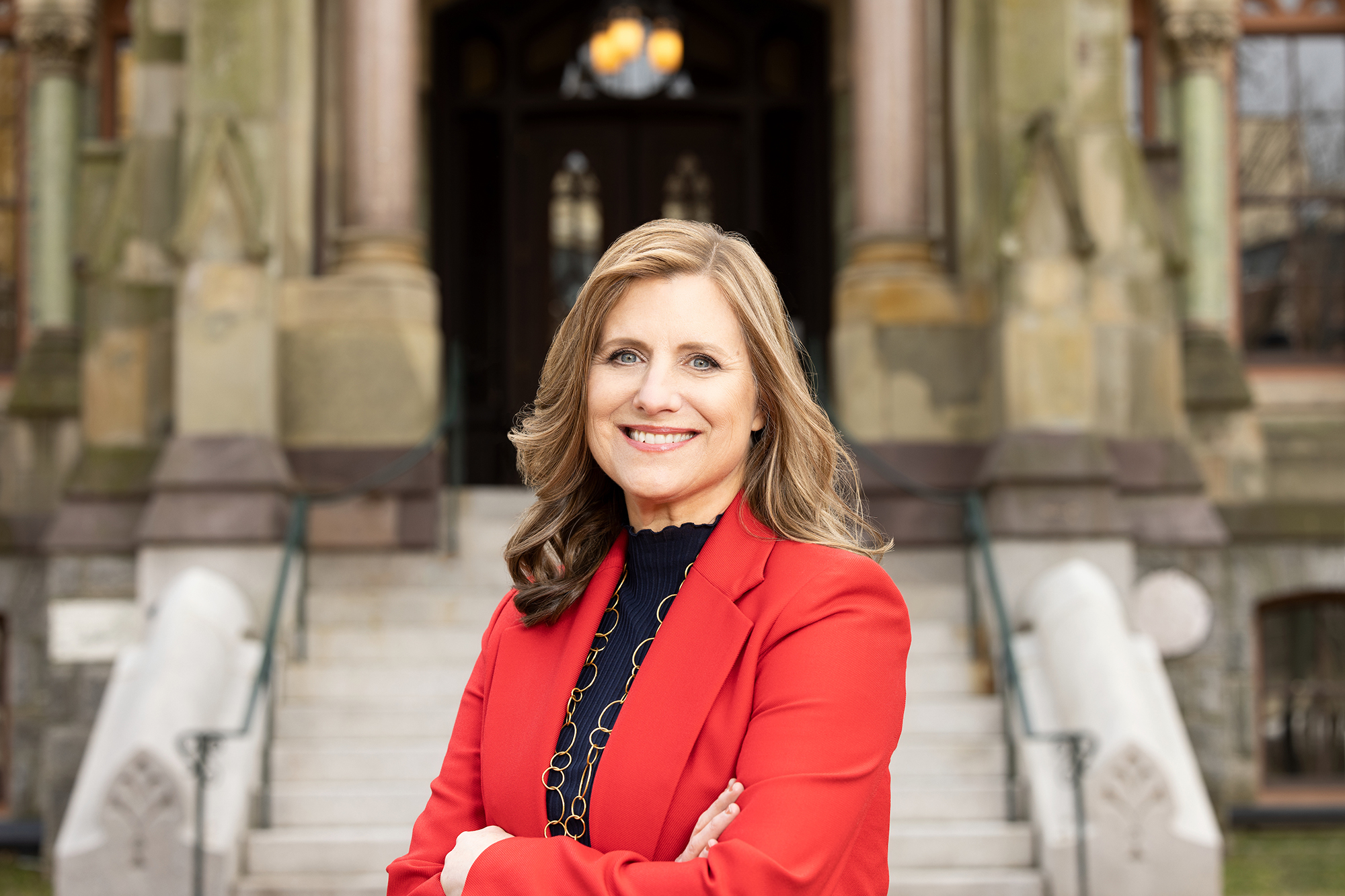 Earlier this year, Liz Magill, University of Pennsylvania President, Trustees University Professor, and professor of law at the University of Pennsylvania Carey Law School, became Penn's ninth president. A legal scholar and inspiring leader, Magill came to Penn after serving as Executive Vice President and Provost at the University of Virginia and, prior to that, as the Richard E. Lang Professor and Dean of the Stanford Law School.
In an effort to learn more about the University's new president, her legal and leadership experience, and even her tastes in music, the Law School's Office of Communications sat down with Magill for a Q&A.
How has your legal training and experience prepared you for leading a university with such a broad range of disciplines?
Leading a university requires a lot of different skills and there are many university presidents who do not have training in law. But training in law does, I think, provide several advantages. First, people trained in law are advocates. One of the most important jobs of the president is to be the chief advocate of and for Penn. I know that's a skill that I will put to good use throughout my time here. The second relates to a lawyer's ability to grasp different perspectives on any given issue. That is important for any leader, but especially for the president of a complex, multifaceted university. Finally, the very best lawyers are problem solvers, which is essential as a university president.
How does Penn's interconnected campus and cross-disciplinary ethos help prepare Penn Carey Law students to navigate an increasingly complex world as leaders and influential decision-makers?
Cross-disciplinary excellence is one of the hallmarks of a Penn Carey Law education, and our compact, urban campus where any school or department is no more than a 15-minute walk away is what helps bring that reality to life. The proof is in the numbers: Nearly 80% of our law graduates have completed a joint degree or certificate from a sister school or program, and 70% of our law faculty hold advanced degrees in fields outside the law. It's inspiring to see our students obtaining their JD degrees from Penn Carey Law while at the same time pursuing MBAs from the Wharton School. They earn their law degrees while pursuing certificates in environmental science, certificates in politics, or certificates in engineering entrepreneurship. They achieve their JD and their MD, or their JD and a master's degree in education policy or a master's degree in public health. The list goes on and on.
I think being in such close working proximity to brilliant thinkers whose expertise is outside the law gives both our students and our faculty a uniquely beneficial understanding of the other ways in which the world works, the non-legal ideas and frameworks that are so influential and important in society. It is, in my mind, a tremendous advantage for anyone who goes to school here.
As the dean of Stanford Law School, you started the Law & Policy Lab and the Global Initiative; can you expound upon why you focused your efforts in these areas for law students?
With a nod to evolving, real-world challenges, we recognized the need to create a program that would formally teach students how to analyze, research, and shape policy—whether it relates to tax code reform or childhood obesity or wildlife trafficking. From this understanding, the idea of a Law and Policy Lab was born. A formal program of the sort hadn't existed before at Stanford, even though many practicing attorneys engage in policy work regularly. Under the program, students participated in Policy Lab practicums that involved assignments for actual clients, such as government agencies and nonprofit organizations, helping them to answer concrete, pressing policy questions. It's an unparalleled opportunity to learn about policy work while also making a difference.
The Global Initiative was similarly rooted in a recognition of the lives of lawyers today and in the future. Law school graduates routinely represent and advise clients who are affected by our globalized world—whether it be immigration law, bankruptcy law, or a wide variety of commercial law fields. Recognizing the necessity to prepare students in a globalized environment, the program has laid the groundwork for better integration of the cross-border aspects of so much law practice within the curriculum. It has also established a 'global quarter,' where students engage in an intensive, customized period on campus and abroad focused on the work of advising clients in a globalized world.
Both are unique programs that were cutting-edge in their formation, and both have since proven to be beneficial to Stanford Law students' preparation before entering the field. I am extraordinarily proud of the faculty and staff who worked hard to make these a reality at Stanford, and the generous donors, that helped bring the two initiatives to life.
What are your most cherished professional and/or personal memories of clerking for Justice Ruth Bader Ginsburg?
Clerking for Justice Ginsburg, a trailblazing lawyer, judge, and women's rights advocate, was a defining experience for me, professionally and personally. I could fill a book with the professional lessons and memories of the remarkable year I clerked for her and the many years after that we stayed in touch and saw each other before she passed away in 2020.
Let me pick just one professional memory. She loved the law. One fond memory is that, on days when the Court was hearing oral argument in cases, she would call from the car on the way to the Court to discuss the cases that were soon to be argued. I would pick up the phone, and she would start right in: 'Don't you agree that the government's arguments are weak on the merits?' She was off and running. Justice Ginsburg was usually a deliberative, slow speaker, but in those phone calls she was a rapid-fire conversationalist, alive with her views of the arguments of the parties and the overall merits of the case.
Read more at Penn Law News.