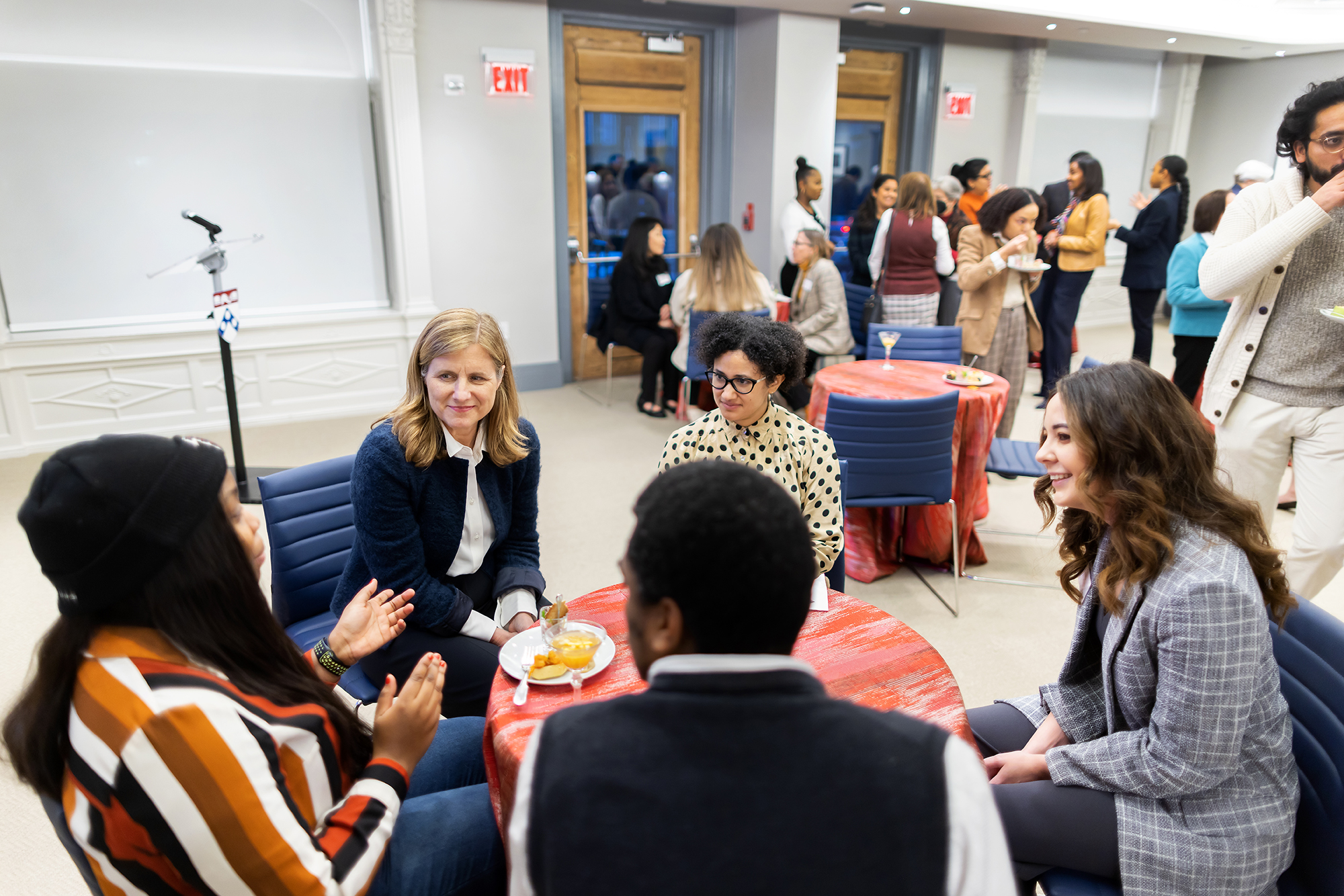 By the end of summer, the third cohort of Presidential Ph.D. Fellows will officially begin their doctoral student journeys at Penn. Benefiting from a $30 million initiative unveiled by the University in 2020, each fellow receives, for up to three years, a 12-month stipend; tuition, fees, and insurance coverage; and research funds of $10,000 per year.
The program, which started during the COVID-19 pandemic to help current graduate students and has evolved as a notable recruitment method, is proving its substantial impact, allowing innovators of all disciplines at Penn the ability to take risks, expand their research, and make major leaps in their fields.
"I think fellowships like this allow you to really lean into the entrepreneurial element of being an academic," explains Linnea Gandhi, an inaugural fellow. "It's just been such a gift to know that I have this buffer to do my work the right way."
The overarching goal of the Ph.D. Fellowship is to specifically assist students who demonstrate exceptional academic promise while contributing to increasing diversity in their fields. The initiative has awarded 60 students already, with an additional 15 accepted into the program this year. At a networking and celebratory event for the fellows this past spring, Penn President Liz Magill told them that they are influencing the way knowledge is produced and fields are understood, and "making this institution and this community so much more dynamic, so much more insightful, more able to pursue the broadest range of scholarly excellence."
"Your research agendas are exceptional," added Beth A. Winkelstein, who served as interim provost last academic year. "You have demonstrated all that you are, all of the reasons we want you here, and all that you will be."
Penn Today recently caught up with three Presidential Ph.D. Fellows, discussing what the program has meant for them and their research, their academic progress, and more.
Jenea Adams
Originally from the Bronx and Cleveland, Ohio, Jenea Adams started her Ph.D. program at Penn in 2019, studying genomics and computational biology at the Perelman School of Medicine.
Today she spends much of her time in Yi Xing's lab at the Children's Hospital of Philadelphia, focused on RNA processing and applying it to different pediatric diseases, such as blood cancers. In other words, she is working to understand how and why patients respond differently to therapies for diseases—ones like acute myeloid leukemia—and to find targetable avenues to better help patients. Her approach is computational, using math and data science to build tools to understand the data from clinical trials and other patient populations.
"We hear a lot about immunotherapy or CAR T cell therapy, especially being at Penn, where those kinds of technologies were developed," she says. "I really want to focus in on the development of new genomics and bioinformatics tools, informed by RNA biology, to improve cancer treatment options with targeted immunotherapies."
She also is completing a dual master's degree in statistics and data science at the Wharton School, where she is working on characterizing and developing statistical pipelines for the analysis of high-dimensional single-cell long-read RNA sequencing data in cancer.
It was 2020, in the thick of the pandemic, when Adams heard of the newly launched Presidential Ph.D. Fellows program, and figured she'd throw her hat in the ring. Officially becoming a fellow in 2021, she says the funds have proven most useful in helping her obtain research supplies—including important technology to do her work—and for conference participation.
"Attending conferences and understanding the latest research, while getting to know people in the field, is so important," she says. "Also getting to present your work at these conferences to a large audience is a huge deal."
A first-generation student and from a low-income household, Adams, who also is a Janssen Oncology Scholar, notes how she feels being at Penn is an "immense privilege" but also one that comes with an "obligation" to spread access and opportunity to those coming behind her. She spends as much time as she can serving in various capacities, including having worked with Penn Rising Scholar Success Academy, which helps rising high schoolers from West Philadelphia prepare for college. She also founded and leads The Black Women and Computational Biology Network, a 501(c)(3) nonprofit that recently earned a grant from Google's Tech Equity Collective Impact Fund, which will help support professional development, training, and conference opportunities for its members.
Knowing that she's secured support from the President's Ph.D. Initiative has helped ease the financial burden that comes with being a doctoral student, Adams says. It has allowed her the flexibility to make important decisions that affect her everyday learning and her bigger-scale goals. Best of all, she said she is recognizing its impact on "leveling the playing field for Ph.D. students at Penn."
"I love that aspect of it," Adams says, "because they all are really making great contributions to their fields."
Kimberly Noronha
Kimberly Noronha has long been committed to doing work that has a big, positive impact on policy, and ultimately people's lives. She hopes a Ph.D. will help her accomplish this in the long run.
A doctoral candidate in City and Regional Planning at the Weitzman School of Design, Noronha—originally from Mumbai, India—has been conducting fieldwork in Accra, Ghana, and in Kerala, India, studying the lived experience of urban informality using photo-voice and participatory mapping. She is documenting the stories of women who live, work, save, and spend informally, an important step to link policymakers and planners with on-the-ground experience.
"Why is one woman with a child running away from the state in one place, and running toward the state in another place?" Noronha asks in her research. "Why is there fear sometimes, but not others, and what role do we as planners have in creating these experiences for people?"
Noronha says she chose to come to Penn because of its inherent interdisciplinary approach to research. Throughout her program, and under the guidance of her adviser Eugenie Birch, she has had the freedom to experiment—to learn and choose the best research methods to explore the questions she wants to answer.
"I firmly believe that a Ph.D. student should at the very least open up new avenues for research," Noronha says. "It should not only be part of the field, but it should challenge it."
Like many scholars conducting qualitative studies, Noronha's research required a pivot during the COVID-19 pandemic. An uncertain period was met with relief when she learned she would become a Presidential Ph.D. Fellow in 2021.
"It has been a godsend, and it came at exactly the right time," Noronha explains. "It's allowed me to continue doing really good, in-depth field research, research that I am proud of, on two separate continents, and because it is funding from the University, it has helped me maintain my visa status as an international student."
"If it wasn't for this fellowship," she continues, "don't get me wrong, I would finish my Ph.D., but it would be structured very differently, and I don't think I would be fully satisfied."
Like Adams, Noronha says the funding has also proven useful in allowing her to attend various conferences around the U.S. and internationally, including several where she's presented chapters of her dissertation.
After she graduates next year, Noronha says she is hoping to continue doing similar research in different communities where people's lives are labeled informal. When policymakers and governments don't fully understand what's going on, she notes, how could they possibly create programs that work?
"Government should serve people, everybody, including the poorest of the poor, in the best way that helps them," says Noronha. "That I firmly believe, and it's ultimately the reason I do this work. And as city planners, we have a huge responsibility toward this group of people. If we're not doing that, then we're not doing our jobs."
Linnea Gandhi
Linnea Gandhi, originally from Milwaukee, became a Ph.D. student at the Wharton School's Operations, Information, and Decisions Department in 2020, hoping to mesh her desire for applying and teaching behavioral science with her drive for producing and generating knowledge within the field. After two years of studies alongside game-changers at Penn including Katherine Milkman, Angela Duckworth, and Maurice Schweitzer, Gandhi landed in the lab of Penn Integrates Knowledge Professor Duncan Watts, who now serves as her main adviser.
Gandhi's work with Watts is on creating different methods to produce more reliable, machine-readable, structured data for building knowledge in social science. Her focus is on behavior change and nudging, a space she's been engulfed in as a practitioner for about a decade. On any given day, Gandhi and her team of research assistants are reading research papers and coding them, creating a living database of hundreds of variables with the intent to eventually be able to use it to predict experiment outcomes.
"Say, for example, you want to run an experiment to help a population of patients take the flu vaccine, and you give me a certain set of variables, I should be able to put it into a predictive model that's trained on the literature, and it should show me what types of techniques are more likely to work than not," Gandhi says. "Then, when you run the experiment, we can see how good the model is."
Researchers already review past literature to inform future experiments, but must do so qualitatively, navigating the varied designs and narratives of each paper. The process is tedious and highly subjective. Turning the prose of papers into structured data allows researchers to "squeeze the most juice" out of the literature, Gandhi explains, and accelerate the cumulation of knowledge.
"I feel like I am fixing something about science, and in a way doing that could be extremely meaningful for practitioners and academics," she says. "If we can constantly be ingesting knowledge and putting it in a database this way, I think it will be a much more efficient way for us to grow what we know, and know what we know, as a field."
Gandhi's passion for her research is palpable. Committed and engaged, she talks with enthusiasm about how she didn't want to settle for smaller projects—the kind that come up here and here—during her Ph.D. program. She also refuses to land on data that is imperfect. That's why the coding, she says, "has to be done or cross-checked by humans, the expensive, slow, painful, right way."
"I'd like to shoot for the moon and try to make a big change," Gandhi says, adding that the Presidential Ph.D. Fellowship, which she received in 2021, has been "huge in me feeling I was able to take this risk."
Saving a large portion of her research funds until now, she says she plans to use them this academic year to accelerate her project.
"It is very liberating," Gandhi says. "Money isn't everything, but it can buy a little bit of freedom. It's really allowed me to go all in this year with confidence. I am very grateful for the opportunity."
To read more about the President's Ph.D. Initiative, visit the Penn Valuing Graduate Students website.